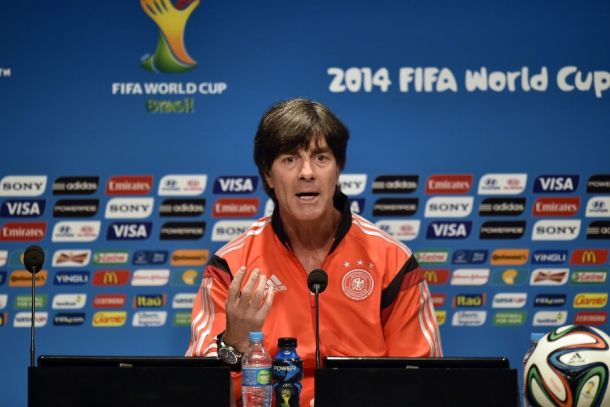 There's an inherent temptation to get all ranty and ravey when penning something about a team that you wish were doing better. See for example anything from the cheap ink pages of many of England's daily red tops when England were delivering their Brazilian blowout.
With Germany, however, the cracks have been well and truly painted over, even wallpapered over, and they seem to be getting a light pass outside of Germany. Without the fantastic form of both Thomas Müller and Manuel Neuer, Germany would certainly not be where there are now.
They face a France side high on energy, form, and adrenaline, a team who will relish a match up against their oldest of enemies and the main focus of France's attack will be on Germany's rather weak midfield. While France's Paul Pogba, Johan Cabaye, and Blaise Matuidi may not be the fastest in the world, they will be chomping at that tasty iron bit knowing they will face the aging knees of Bastian Schweinsteiger, the fullback-who-thinks-he's-a-midfielder Philipp Lahm, and a Toni Kroos who'd rather swish his hair than bother defending.
The Portugal win flattered Germany, but we should remember that Cristiano Ronaldo was basically playing on one leg and the absolute stupidity of Pepe meant the game was over by halftime. Against Ghana they got lucky against a naïve team, while against both the USA & Algeria the averageness and weaknesses of this German side were highlighted. A team with such attacking options could not break down what are effectively teams made up of players from B-list leagues. Like we said above, without Müller and Neuer these lads would probably be sunning themselves in Cancún by now.
Bayern Munich bias has been fired at German coach Jogi Löw before and the more it's thrown at him by the German media the more he seems to let it stick. Philipp Lahm is not a good defensive midfield player. For Pep Guardiola's Munich, he plays in the same position as he does for Löw, but in a completely different system. Löw has somehow convinced himself (or allowed others to convince him) that Lahm is the new Steven Gerrard, who was supposed to be the new Andrea Pirlo. Whoever he's imitating, he's not good enough at it. Against Algeria and the USA, when those teams countered they were both able to rip Germany's midfield to shreds. Lahm doesn't know this position, he can do it as an instigator of attacks but he cannot stop attacks when he's facing them in the middle of the park. Ghana too enjoyed far too much of the ball in midfield.
Against Algeria, Shkodran Mustafi had to be replaced for Germany. The smart thing to do would have been to bring on Sami Khedira and move Lahm back to left back. Simple, eh? No, not for Löw. Khedira came on alright, but Lahm was having none of it and Khedira found himself playing a playmaker role beside Schweinsteiger. The poor chap was getting nosebleeds he was so high up the pitch.
Then there's Mesut Özil and Mario Götze. Where to begin? Löw doesn't seem to have much time for Özil and if he feels he can't do the job he wants the Arsenal man to do then he should be dropped for Chelsea's André Schürrle. However, he can't just simply drop Özil. It's a complicated issue. We all know that Özil is one of the best attacking midfielders in the world on his day. When those days occur though is an open question and it seems that even Mesut himself cannot answer that anymore. Huge sections of the German fanbase have turned on him before. The reasons are varied and too long to get into here.
Jose Mourinho is a great man for scheming. And he knows how to string up a scapegoat. We all know that Özil should play behind the striker(s) in front of a couple of defensive midfielders, like Khedira and Schweinsteiger. But Mou knew that his team needed a scapegoat for when results went wrong. So he stuck Özil out on the wings, insuring that the German would try his heart out for a while and then become frustrated and eventually disinterested. Fans picked up on this and hey presto, a scapegoat was born. Löw doesn't learn from contemporaries like Mourinho and Guardiola, he outright copies them. Özil isn't a winger and shouldn't be played as one, if Löw wants a player to stay out on the right then he should start with Schürrle.
Götze on the other hand looks tired and overweight. Sure, he's always looked somewhat pudgy, but sticking him out on the left wing to run for 90 minutes until he dies of a heart-attack induced aneurysm benefits nobody…..apart from a few upset Borussia Dortmund fans that is. He too must play behind the striker, he's also not the winger Löw is looking for. The man he's looking for his sitting at home watching on what's probably a bigger screen than any of us could ever afford, Marco Reus. Why he hasn't tried Julien Draxler so far is a mystery. Draxler played that role a multitude of times for Schalke and his youth and pace would serve the Germans well. Letting Lukas Podolski start to be taken off at 60 minutes would be a better option than playing Götze in a winger's role.
Germany's back four is in shambles. For some unknown reason Löw insists on playing four CBs across the pitch. Per Mertesacker is dead on his feet in such heat. Jérôme Boateng cannot play as a fullback as he's too slow to keep up with advancing wingers and is not given any cover by Özil. The worst thing is, Löw wouldn't have this problem if he did the proper thing and played the players available to him in their best roles. The back four could be both totally reinforced, and made more attacking, if he put Philipp Lahm at left back and Kevin Großkreutz at right back.
Doubtlessly, the team will be fired up to play one of their biggest rivals. If we see an early goal tactics may have to go out the window and the Germans may have to really go for it. We wouldn't be at all surprised if they win, as they have the players, the talent, and the gumption to beat anyone on their day. They'd just have a better chance though if Löw would cease trying to get square pegs into round holes.