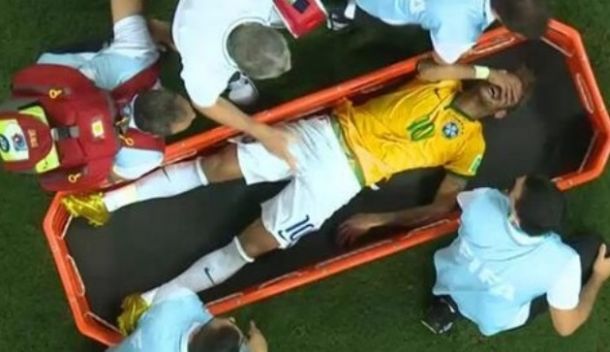 Brazil advanced past a surprising Colombia side by defeating them 2-1. Thiago Silva (7') and David Luiz (68') got the goals for the Seleção, while Jamea Rodriguez (80') added a consolation goal for the Cafeteros late and to his World Cup leading five goals.
But the match will be more remembered for who will be lost. A 64th minute hard challenge on James Rodriguez earned captain Thiago Silva a yellow card and a suspension for the semifinal against Germany, who won their quarterfinal match against France earlier in the day. And an 87th minute challenge by Juan Camilo Zuñiga on Neymar fractured a vertebra in the back of the Brazil number ten on a hard challenge to the back. According to team doctor Rodrigo Lasmar, Neymar could miss the rest of the World Cup.
Brazil started the match brightly with most of the possession, and pushing thenColombia defense inside its own defensive third. Eventually by the 7th minute, a Neymar-delivered corner kick found the Brazil. captain, who headed the ball past Daniel Ospina to open the scoring for Brazil.
Although Brazil would control much of the tempo of the match, they would not get another goal until four minutes after Thiago Silva was booked for a challenge on James Rodriguez in the Colombia attacking third. After Rodriguez was booked for a hard foul on Hulk outside the 18, David Luiz delivered his costless kick up and over the wall, and past a befuddled Ospina to double Brazil's advantage.
But soon after, Colombia started to establish control of the match and started to threaten Julio Cesar's goal. In the 78th minute, one such buildup forced the Toronto FC man to take down James Rodriguez inside the 18 to concede the penalty. Rodriguez converted the penalty to bring the Cafeteros within one goal.
But then, the game took on a more physical tone as Colombia looked to press for the equalizer. In the 87th minute, Juan Camilo Zuñiga tried to win an aerial duel, but came studs high into Neymar's back which forced the Brazil talisman out of the match (via stretcher).
Pedro Velasco Carballo will also have other moments in which many would argue he lost control of the match. On the costless kick after Thiago Silva got booked, several Brazilian players did not stay at the 10-yard line marked out for the wall, and several players, including Neymar, ran out before Velasco Carballo blew his whistle to allow the costless kick to be taken and blocked the costless kick. There were other fouls that were bookable offenses that were let go, and contributed to the increased physicality of the match in the later stages.