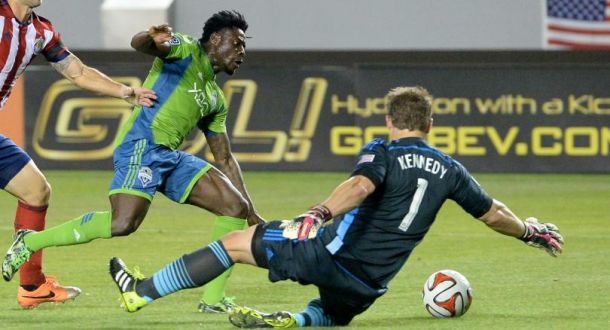 These two teams preparing to play Wednesday night are in two very different situations. The Seattle Sounders, having escaped a mid-season rut, have taken the lead for the Supporters' Shield. Not only that but they have a US Open Cup Final match coming up in a few weeks, a great shot at playoffs, and an amazing team to go along with it all.
As for Chivas USA, things aren't looking so good. Chivas is currently in last place in the Western Conference. They haven't won in their past seven games after a promising start to the season. On top of that, they are missing their leading scorer Erick Torres due to a red card picked up in their previous game with the LA Galaxy.
These two teams have only played each other one other time this season. The game ended 2-1, with Seattle taking the victory.
Players to Watch:
Seattle Sounders FC
Obafemi Martins - Martins is one of Seattle's star players. Martins brings life to the team, creating amazing goal scoring opportunities in tough spots. He was recently MLS Player of the Week, and was responsible for the game-winning goal in the last game against Chivas.
Clint Dempsey - Dempsey is an all-around great player. He scored the first goal of the past World Cup for the US Men's National Team. He is always a threat especially when he and Martins are in sync.
DeAndre Yedlin - This youngster is a great defender and due to the World Cup, has sparked international interest. He has signed with Tottenham Hotspur, and has a bright future ahead of him.
Chivas USA
Dan Kennedy - Kennedy is the first choice as goalkeeper for Chivas and has been for much of recent history. He has had a total of 67 saves out of 24 games. This isn't bad considering that Frei of the Sounders has 78 saves out of 25 games.
Leandro Barrera - This 23-year-old from Argentina has scored one of Chivas' other goals this season. The team may be looking more to him during Wednesday's match with Cubo Torres out via red card.
While the odds are in Seattle's favor, don't count Chivas out just yet. Chivas has nothing to lose, and may very well perform under pressure. Tonight's match kicks off at 10:30 pm ET and is available on MLS Live.