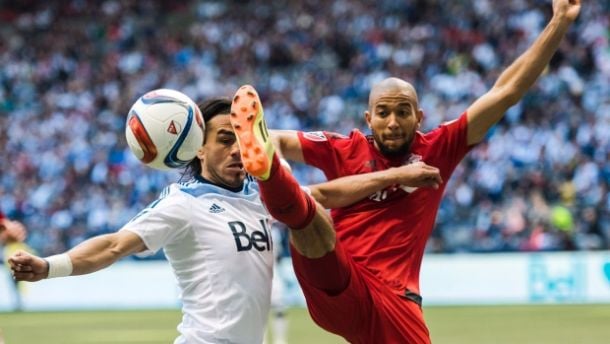 They say that there's nothing like home cooking to cure an ailment. Anyone and everyone connected with the Chicago Fire will be hoping that old saying proves true on Saturday when they host the Vancouver Whitecaps. It will be Chicago's season opener, and they will be looking to get back on track after a disappointing 2-0 loss last weekend against the LA Galaxy.
The Fire struggled mightily throughout the 2014 MLS season, and are hoping for much better things this season. They signed three new designated players, and are hoping for better than last week's poor performance against LA. However, the Fire are not the only team in this encounter who suffered a disappointing loss last week.
Vancouver had the pleasure last week of starting their season with a Canadian derby, hosting Toronto FC. They were superb in the first half, and opened up a 1-0 lead after an Octavio Riveiro goal. That was where the good performance stopped. Toronto came roaring back and wound up comprehensive winners by a score of 3-1.
With that said, both teams are looking to get themselves back on track in this match. Both teams entertain playoff hopes, and know that given how competitive each conference is every point earned will be crucial.
The Whitecaps are confident that they will bounce back from that Opening Day loss, and as defender Pa Modou Kah said in comments made to the club's official website, "Yeah, we lost the first game but there are 33 games to go. Like I always say, it's not where you start it's where you end. We have to set the record straight."
It is not just the players but the coaching staff too who are confident that they will be able to turn things around. "You don't turn into a good team overnight and you don't turn into a bad team overnight," Vancouver Whitecaps manager Carl Robinson told reporters this week. "We just need to find our rhythm and groove. And hopefully that will come on Saturday."
Both teams will look to get into a groove on Saturday, and we can expect some good football on display. Vancouver looked very easy on the eye in their home opener, and both Shaun Maloney and Michael Stephens impressed for Chicago last weekend. Expect a high quality, proper football match on Saturday between these two teams.
Prediction: Vancouver victory 2-1. Both teams have a lot of quality in their attacks, but Vancouver are flat out a better team.