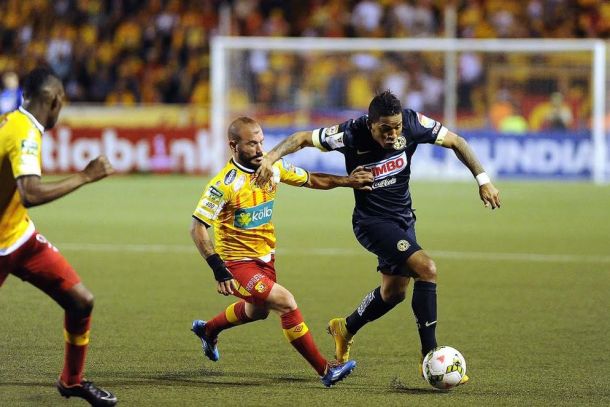 Mexican giant Club America hosted Costa Rican club CS Herediano in the second leg of the CONCACAF Champions League semi-final series at the famed Estadio Azteca. They found themselves down three goals to nil after a rough match in Costa Rica, needing to reverse that scoreline to have any hope of advancing. Even more so, they needed to put in the type of performance that's been lacking in their league play more often than not.
They did that and more.
Dario Benedetto scored four goals in the first half to erase that deficit and then some as America finished the match 6-0.
The match got off to a quick start with Herediano nearly getting an early goal off two chances within minutes of the first whistle with America goalkeeper Huga Duran making a save and the other shot going just wide of the post. Within a heartbeat America went on the counter, forcing a save from Daniel Cambronero. Unfortunately the ball landed perfectly at the feet of Drawin Quintero to give the Mexican side an early lead in the match.
Benedetto got his first of the match just five minutes later to really energize the crowd. He scored again in the 19th minute, completed his hattrack in the 26th and made history in the 32 minute. No player before him had scored four goals in the first half of the match in the Champions League. With the team cuising 5-0 at the half, America took their foot off the pedal for the remainder of the game.
Things were difficult for Herediano when defender Edder Martin was given a tough red-card in the 27th minute. There was certainly contact on the challenge from the defender, worthy of a foul. Definitely a yellow card but a red seemed rather harsh. Playing down a man for over 60 minutes, the club tried their best to be disciplined but not before giving up a pair of goals later in the game.
Club America will face off against Canadian side Montreal Impact for the title of best in CONCACAF, starting with a home match on April 22, just three days after the Clasico against CD Guadalajara. The return leg in Montreal will be April 29 at Olimpic Stadium.