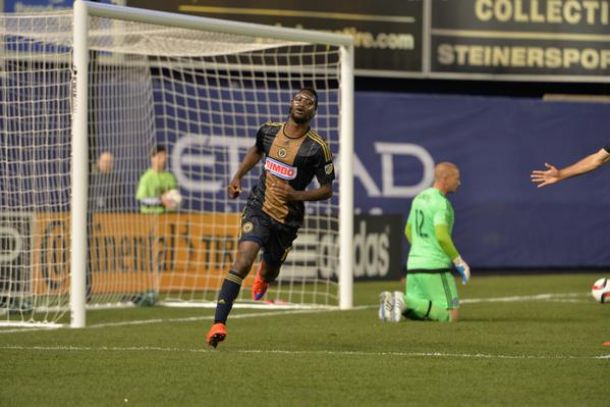 Meeting for the second time in five days, New York City FC hosted the Philadelphia Union at Yankee Stadium on Thursday night. After the Union scored a late winner Saturday at PPL Park, New York started Thursday's match off strong and controlled play from the opening whistle. The Union had a few chances early but New York began asserting itself quickly and former Spanish international David Villa was the catalyst. New York was without star midfielder Mix Diskerud, who played 80 minutes for the U.S. National Team in Wednesday night's 2-0 win over Mexico in San Antonio. Mehdi Ballouchy started in his place and had a rough first half. He suffered multiple hard fouls as the game was chippy from the start and missed a golden opportunity midway through the half. There were eight yellow cards handed out, five to New York and three to Philadelphia.
Ballouchy atoned for his horrible first half miss with a beautiful strike from just inside the penalty area in the 57th minute. He took a pass on the right side of the box and cut back to his left, catching Ray Gaddis flat-footed and fired a left-footed curler into the net. As the minutes ticked away it appeared New York would hold on for the win, but in the 86th minute Union captain Maurice Edu flicked a long ball that was played into New York's penalty area toward C.J. Sapong, who was able to flick the ball past Josh Saunders before he or the defense could react. The match would end after three minutes of stoppage time and a huge save by Union goalkeeper John McCarthy just before the final whistle to preserve the draw.
The short and narrow field at Yankee Stadium makes it very difficult to play good soccer and tonight was no exception. The Union were on their heels most of the game but were able to snatch the equalizer and hold on for the result, something they have struggled to do in the past. Both teams will now prepare for matches on Sunday. New York will host Portland while Philadelphia returns home to host New England.