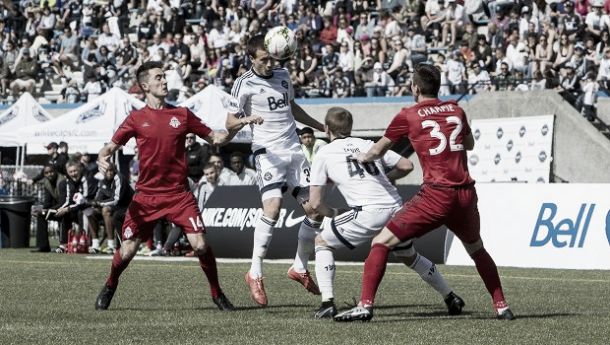 A sellout crowd of 3200 took in the Vancouver Whitecaps 2 USL home opener against Toronto FC II at Thunderbird stadium at the University of British Columbia.
Caleb Clarke scored the first goal in Whitecaps 2 history at home as the home side split the spoils 1-1 with a resilient Toronto side.
Two sending offs in the second half saw both sides finish the game with 10 men, setting up a nail biting finish.
The Whitecaps came out firing right from the gates, dominating much of the possession and pinning Toronto in their own half. Toronto goalkeeper Quillan Roberts was tested early and often with a flurry of chances flung at him, but he stood tall early on and kept the scoreline level.
Much of the action took place on the left flank of the Vancouver attack with Toronto's defence having to deal with the strong west coast winds. Clarke was sprung on a one-on-one with Roberts and he lofted the ball over the sprawling keeper, putting his side out in front in the 33rd minute.
Toronto struggled to get anything going in the early stages and could not provide service for their attacking players. Forward Jordan Hamilton was isolated for most of his time on the field, hardly getting a touch of the ball.
The halftime team talk certainly shook things up in the Toronto side, however. A much different story as the visiting side came out the much stronger of the two in the second half, this time pushing Vancouver into their own half.
After a few attempts on goal, Toronto finally equalized in the 57th minute through a perfectly placed cross from Mark-Anthony Kaye right onto the head of Jay chapman who redirected it on goal past the keeper.
Vancouver went down a men in the 68th minute after Victor Blasco picked up a second yellow card.
With Toronto upping the pressure a notch, they found their best chance of the half from an overhead volley from Adam Bouchard that was cleared off the line by Whitecaps defender Jordan Haynes.
The Whitecaps sat back to preserve the one point and invited the pressure from the opposition. Toronto continued to break them down after a save from keeper Marco Carducci landed at the feet of Marcos Nunes who skied it over a wide open net at the mid point of the half.
Just five minutes after that, Toronto themselves went down a man after Kaye picked up a second yellow card of his own.
Both sides briefly exchanged fast breaks as the game opened up with more space, but to no avail.
The teams picked up their first draws of the young season, as Toronto fell to 1-2-1 and Vancouver to 1-3-1.