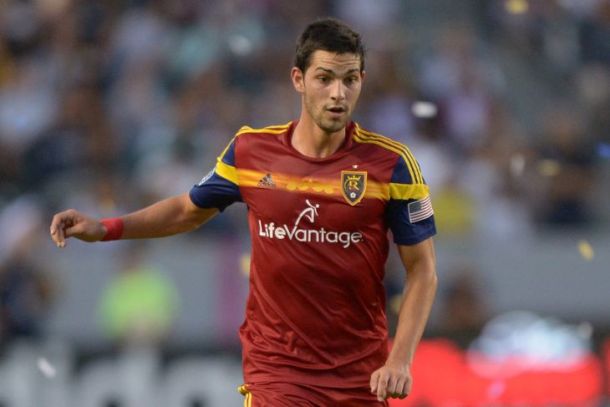 It's that time of the week when the MLS Disciplinary Committee hands out their punishments from the previous weekend's action. Three players were suspended for their upcoming matches. The Chicago Fire will lose Matt Watson, Real Salt Lake will lose John Stertzer and Sporting KC will lose Servando Carrasco. If you want the full list of the players that will be suspended this week, head here.
Watson was suspended one game and fined an undisclosed amount of money after a tackle that was deemed to endanger the safety of his opponent. During the match, referee Ricardo Salazar issued Watson a yellow card for the dangerous play. Want to see the play, go here.
Stertzer was also suspended for one game and fined an undisclosed amount for serious foul play on New England Revolution player Juan Agudelo just ten minutes into their match this past Saturday. He was issued a yellow card for the reckless challenge on Agudelo. Simon Borg mentioned in his weekly series "Instant Replay", that he felt it should have been a red card. This writer agrees as well. See for yourself here.
Lastly, Carrasco was suspended for one game and fined an undisclosed amount for violent conduct on a player. The incident happened in the 52nd minute of the match this past Saturday in Houston. As you can see in the video here, Carrasco appears to swing at the head of Brad Davis after Davis confronted him for fouling his team mate. Both teams were also found in violation of the mass confrontation policy implemented by MLS.
This week becomes just another week in where the Disciplinary Committee had to suspend players because the officials on the field couldn't get it right the first time. This writer isn't naïve enough to expect the officials to see everything, but there are four on the field. This writer also feels that the head referee is afraid to issue a red card sometimes. You may ask why? It's because the officials don't want to alter the course of the game. If you watch highlights from all games, you will see at least once or twice a player should have received a yellow card, second yellow or sometimes a straight red.
It supposed to be something they are working on, but it's hard to see it getting better anytime soon.