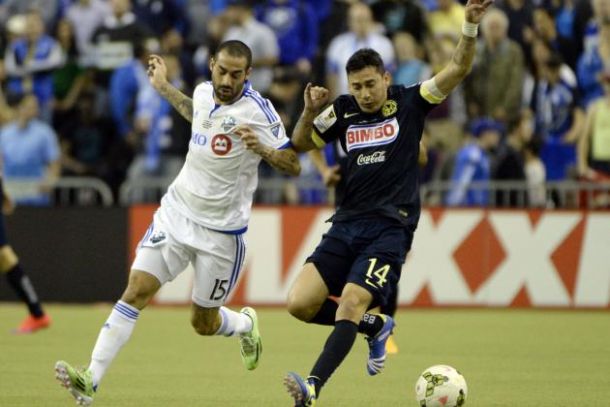 There will be pleny written about the Montreal Impact's run towards CONCACAF glory. Plenty that will be analyzing their run; where their strengths were that allowed them to make this run and where their faults were that led to their collapse. What matters is that we have a winner, and it's Club America who secured their 6th confederation title with a 4 - 2 win in Montreal over the Impact, giving them a 5 - 3 aggregate series win.
The Impact started the game good by scoring a goal in the first half. It was a typical goal for the Montreal side: excellent passing from the wings with clinical finishing in front of goal. What really impressed was the defending, though. Belgian International Laurent Ciman was excellent in the first half, as was his partner Bakarey Soumare. Strangely enough, one of the better defenders was Dom Oduro as the lone striker for the club.
So many times Oduro collected a desperately cleared ball and started the break only to get fouled, repeatedly, by the America defense. This allowed the team to collect their breath and reset their shape. Not a whole lot was asked of newly acquired goalkeeper Nicht as America looked frustrated and stale offensively.
Then half time happened.
Whatever it was that the America players were told during the break, it worked. Benedetto scored a hat trick, including a jaw-dropping scissor kick from close range. Oribe Peralta added another (of course he did) and Montreal had no chance once the Eagles found their finishing touch. Jack Mack added a consolation goal just a hair before stoppage time but it was too little, way too late.
In a different world where the Impact defense didn't collapse, what would a victory have meant for Major League Soccer? Nothing. They would not have earned much of anything. Fans would not all of a sudden be fans of the league or its teams with this victory. No one would wake up and say that it's now a league worth following.
The Impact earned quite a bit by placing second in the tournament. They learned that they can do this and what kind of formula is needed to compete. Montreal also earned a heap of respect from around the region with their grit and never-say-die attitude. They broke in their newly acquired players, specifically Ignacio Piatti and Ciman. The pair were very impressive during this run and are set to take MLS by storm. Caleb Porter, the rookie who scored against Pachuca, looked impressive before a devastating injury.
For now, Montreal fans should rejoice and be proud of their effort. They came up 45 minutes short of the title against one of the most talented teams in regional history.
Perhaps another MLS team will follow the example laid forth by the Impact and find glory next time.