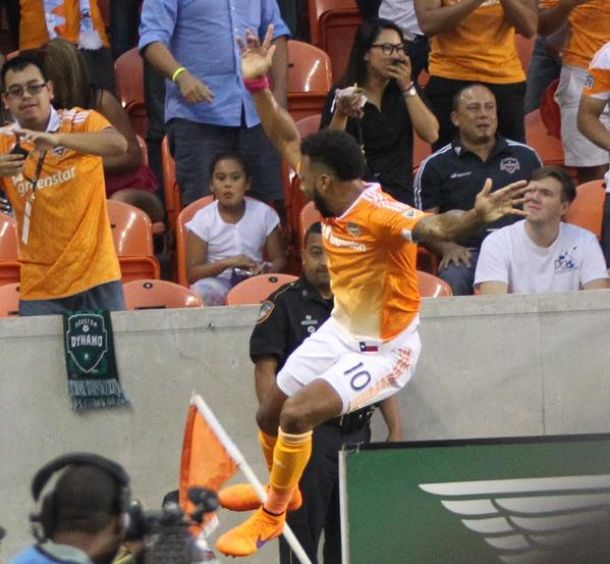 Last week when the Houston Dynamo tied Sporting KC 4-4, some of the blame was shoved off onto the referee's decision to eject centerback Jermaine Taylor for a handball on the line later into the second half. When the league came back later in the week to rescind the suspension, fans felt justified in that belief. The woes were chalked up to bad luck and an outlier on an otherwise stellar defensive performance so far this season.
Perhaps we, fans and media, shouldn't have.
FC Dallas came into Houston for the second consecutive year and dropped four goals on the Dynamo to win the first of three rivalry matches this season 4-1.
Much like the previous week, the Dynamo got off to a horrid start, giving up a pair of goals within the first twenty-one minutes. Both goals came off of bad turnovers in midfield that caught the defense flat footed. Dallas countered quickly with minimal touches on both plays, not giving the defense time enough to think.
After Alex Lopez was fouled just outside the box in the 32nd minute, Giles Barnes stepped up to take the free kick and bent it into the side netting to bring the Dynamo within a goal of tying the game. With the team dominating possession throughout the first half, things looked good going into half time and it seemed inevitable that they would find not only the tying goal, but possibly the winner.
Dallas put a quick end to such hopes, netting their third goal on the night just seven minutes into the second half. Mauro Diaz sliced through the defense, leaving Taylor in his dust and sent a shot into the upper netting, leaving goalkeeper Tyler Deric no chance.
The final goal on the night left DaMarcus Beasley stopped dead in his tracks as Fabian Castillo juked the veteran defender out before toe-poking a shot past Deric in off the post. This goal came after another quick sequence of passes from the Dallas midfield left the defense out of whack and unable to cover.
This goes down as one of the least-fouling matches in the rivalry's long history, with just 15 total fouls on the night. With only a single yellow card handed out, to Dallas' Moises Hernandez in the 39th minute, it was an unusually clean afair.
Houston will be looking to take out their frustration on visiting San Jose Earthquakes on Tuesday night as they end their three-game homestand. Dallas meanwhile returns home to host defending champions Los Angeles Galaxy.