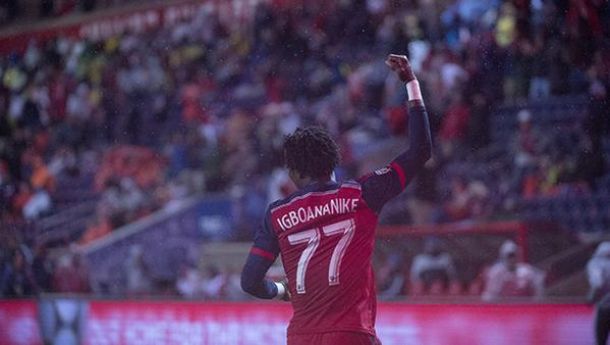 Wouldn't it be great if the Chicago Fire could play the Montreal Impact or New York City FC every week? Chicago's three best performances of the season have come against those two sides, and it was undoubtedly their best performance of the year on Saturday night. First half goals from Harry Shipp and Jeff Larentowicz gave the Fire a comfortable lead, and a red card issued to Marco Donadel in the 37th minute all but ended the match.
Chicago began the game in the ascendency on what was not a good night for football. The midwest was ravaged by storms all day Saturday, and it was still wet with swirling winds when this one kicked off. However, Chicago looked right at home in the Windy City, and completed 89% of their passes while bossing the game. They made their early domination count in the 13th minute when Harry Shipp calmly put them ahead with a classy finish into the top corner of the goal.
The Fire continued their domination of the match, and it would only grow after the 37th minute when Donadel dove in on Matt Polster. Polster easily poked the ball past him, and a dreadful challenge from the Italian earned him a second yellow card. With the man advantage, Chicago kept their foot on the gas pedal. It paid off just before halftime, when David Accam drew a penalty after a tackle from Bakary Soumare. Replays showed it was a questionable decision, but the Fire didn't care and Jeff Larentowicz converted the penalty.
While they may have screwed things up the last time they were two goals and a man up, Chicago made no mistake this time. They continued on the front foot, and their 64% possession led to a third goal in the 72nd minute after another moment of shambolic defending from Soumare. He was six yards behind the rest of the Montreal defence, completely wasting a solid offside trap, and allowed Igboananike in on goal. The Nigerian put the ball away calmly for his first MLS goal.
With the victory, Chicago rises to 6th place in the Eastern Conference with 14 points. Meanwhile, Montreal sits in 9th place in the East, only ahead of New York City FC on goal differential as both sides have 9 points. However, Montreal have played five fewer matches than the Blues. Montreal wil now have to regroup before hosting the Vancouver Whitecaps at the midweek. Meanwhile, Chicago also has to deal with midweek action as they travel to Washington DC to do battle with United.