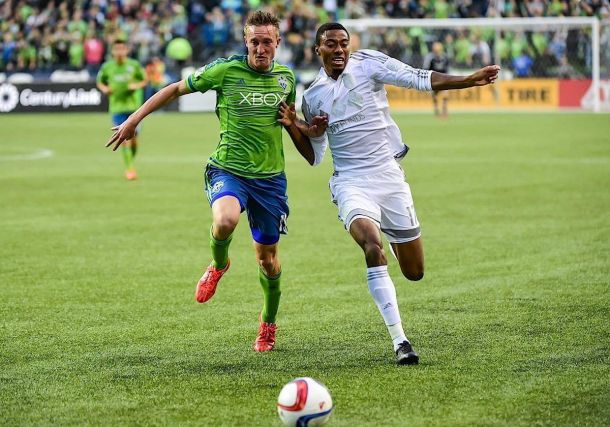 The Seattle Sounders are on the road for the first time in three league matches when they travel to Kansas City, MO to take on Sporting KC on Saturday. Kickoff is scheduled for 8:30pm EST and can be seen on MLS Live. The Sounders sit at the top of the Western Conference and Supporters Shield standings for the time being. Sporting is just five points below them in the West and can close that gap with a win on Saturday.
This is the second of three meeting between these two clubs and the second time in four matches for the Sounders. Seattle has 4-1-1 in their last six which includes their 0-0 draw at home to Sporting back on May 23rd. Sporting extended their undefeated run to six games with their third four-goal outing over that span after defeating FC Dallas 4-0 last Friday night. Sporting has also scored 21 goals through 13 games which is good for a league best 1.62 goals per game.
The Sounders currently have a nine game unbeaten streak going against Sporting KC. The last time they lost to Sporting KC was their first ever defeat in MLS play back in 2009. Seattle has won seven of the nine meeting.
In the clubs last meeting, Seattle dominated possession the entire game. Sporting KC was okay with allowing the Sounders to pass freely in their defensive third. As soon as Seattle crossed midfield, Sporting put pressure on them. This writer doesn't see it happening that way this time around.
The Sounders will be without Osvaldo Alonso, Brad Evans Gonzalo Pineda and possibly Clint Dempsey. Alonso is suspended after his kick out against Felipe this past Sunday. Evans was called up to the UNMNT. Pineda is still trying to recover from a sprained ankle he suffered the last time these two faced off. Finally, Dempsey may not make the trip because his wife is expecting their fourth child at any moment. If the Sounders are missing four of their starters, Sporting will look to punish them.
Sporting is also missing some players as well. They will be without Krisztian Németh and Erik Palmer Brown. Both players have been called away for national team duty. Németh has scored five goals and has two assists in his last seven games and will surely be missed this Saturday.
Sporting Head Coach Peter Vermes is not sure if Dom Dwyer and Jacob Peterson would be back for this match. "Both [Dwyer] and Jake are, I would say, questionable to probable. They both had a little time on the field today. So we've got to see how they react from that. We'll get more evaluation with them tomorrow because sometimes you've got to wait 24 hours to see where guys are."
With Dom, he's just banged up in a couple of different places," Vermes added. "We're just trying to manage that piece of it as well. The whole thing is, we want to make sure nothing flares up on either guy."
This will be a match that can go one or two ways for either club. If Sporting gets Dwyer, Peterson or both back, Seattle will be in trouble. If both players don't suit up for the match, you can more than likely expect another low scoring affair, if any scoring at all. Seattle will more than likely sit back and play for a draw and be able to leave Kansas City with one point.