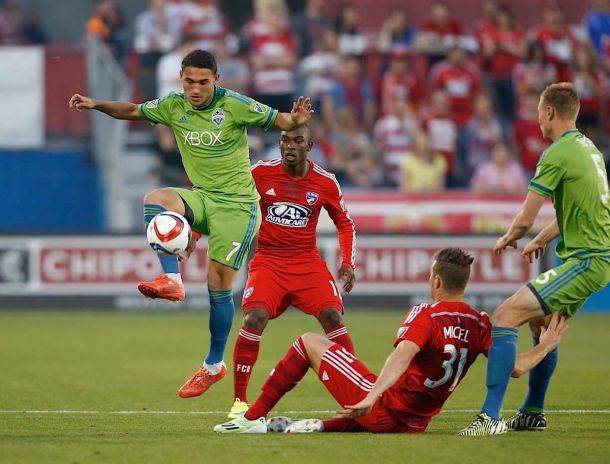 When the Seattle Sounders and FC Dallas square off Saturday night at CenturyLink Field in Seattle, it will be the second meeting of the season. The first meeting ended in a 0-0 draw in Frisco, TX. It will also be the fourth of a franchise long five game road trip for Dallas. So far, Dallas has only secured one point in their first three road games. Seattle has five shutouts at CenturyLink Field in seven home games.
Stefan Frei and the Sounders defense have been outstanding for a majority of the season. Yes, from time to time they let in three goals to San Jose and three goals to Columbus. Other than that, they have given up just six more goals for a total of 11 allowed in 14 games played. Frei's seven shutouts are good for a tie for the league lead with David Ousted in Vancouver. Frei's winning percentage of 57 is best in the league for goalkeepers with seven or more starts under their belt.
Dallas has scored a total of one goal in three games during this current five game road trip. It's odd to see a team with so much fire power struggling to score. In the past few years, Dallas has had a tendency to start the season off fast and slowly fade away for the final five to six months. Dallas' lineup will be a little bit different from the last time these two squared off. They have had several players called up for international duty; Kellyn Acosta, Tesho Akindele, Atiba Harris and Moises Hernandez. The bright spot being they get Rolando Escobar and Blas Perez back. They will also be without Je-Vaughn Watson after he received a red card in his last match.
The Sounders will get back Clint Dempsey and Obafemi Martins, two players who did not play last week. Chad Barrett (hamstring) is still out and Osvaldo Alonso was added to the injury report on Thursday. Marco Pappa will also not be with the team as he was called up for international duty. Brad Evans, coming off playing in Germany on Wednesday, availability is not known at the time. One would assume with an international flight back and trying to reintegrate with the team, Evans may not see much time, if any at all.
The key to this game will be the play on the wings. The Sounders will be to be weary of Fabian Castillo. He is one of the most dangerous players on the roster for Dallas with the exception of Perez. In the March encounter between these two, Castillo was usually mainly as the lone striker once Acosta was shown a red card for his kick to the mid-section of Andy Rose. Even though he didn't see the ball much in the second half, Castillo was able to kill the Sounders with his speed and Seattle was lucky not to concede a man up. As mentioned previously, the Sounders will be without Pappa. It will be absolutely imperative for whoever replaces him, gives good service into the box and plays stellar defense.
This will be yet another scrappy, tough game between two clubs that really don't like each other. Frei will add another clean sheet to his resume on Saturday night and Dempsey will score his eighth goal of the season late in this one.
Sounders 1, FC Dallas 0