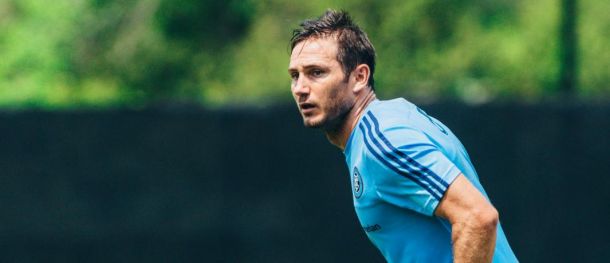 It had all been going so well. New York City FC and Frank Lampard have been working hard over the past two weeks to generate excitement about Lampard's planned debut with the team. Concerned with fans' anger, which had turned to ambivalence, after the January debacle of Lampard staying on with Manchester City to finish out the English Premier League season, NYCFC had staged a carefully crafted media campaign to re-introduce Lampard to the supporters. It started with a few well timed attendances to matches at Yankee Stadium; pictures and stories of Frank around town; pairing Lampard with Andrea Pirlo on camera during the second Hudson River Derby; creating a debut day event around Sunday's match with the Toronto Football Club; and then the full on blitz of a press conference and national television coverage of the match. And it all came to a crashing halt on Friday with the announcement that Lampard would miss the match due to a calf strain. The local Twitterverse exploded. You could feel the deflation as fans went through the range of emotions from disappointment to acceptance.
The Man in Seat 9's first thoughts were that it was too important of an opportunity to miss. That Lampard should "rub some dirt on it" and get out on the pitch. That he should wrap the calf and play through the pain — My God man, you're a professional! That NYCFC manager Jason Kreis had made a mistake in making the call to bench him.
And then the reality of the situation set in. Lampard is a multi-million dollar investment for this season and next and Kreis had been given a decision with no pleasant options: He could bench Lampard and take the hit of disappointment now and hope that the buzz around the defensive additions of Andoni Iraola and Angelino would be enough to keep the energy in the stadium high. He could put Lampard in late in the game, but then the question of "Why isn't Lampard starting?" would catch fire. Or, he could start Lampard and risk further injury or damage to the player's reputation by not performing at one hundred percent.
Kreis did what a coach is supposed to do — he made the only decision that was good for the team. He decided to rest Lampard in order to have him fully engaged in the upcoming matches. He didn't worry about the brand of NYCFC or of Lampard. He didn't worry about what the fans would think regarding Lampard's age and physical endurance. And he didn't worry about the media. He worried about what was best for the team. And he made the right call.
Thanks coach.