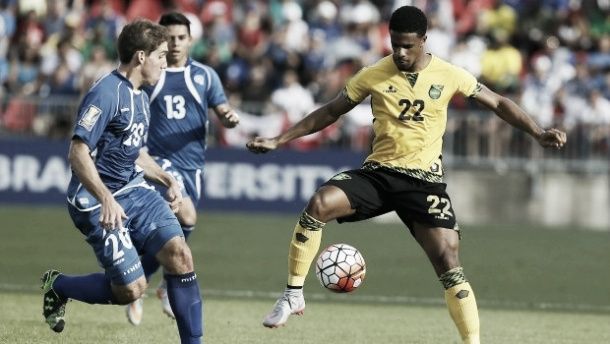 Gareth McCleary scored the decisive goal that sent Jamaica through to the Gold Cup quarterfinals on a high by netting the lone marker in his country's 1-0 win on Tuesday night over El Salvador at BMO Field in Toronto.
Coming into the matchup Tuesday - the first ever Gold Cup game played on Canadian soil - the Reggae Boyz all but knew a quarterfinals berth was confirmed, but it was only a matter of seeding.
El Salvador had reached the two previous Gold Cup quarterfinals, but with the loss to Jamaica, they are on the verge of being eliminated from further contention.
Things got testy early on between the two sides, as it became a physical affair throughout the game. Jamaica were forced into making two early substitutions when Jermaine Taylor was forced off with an injury just nine minutes in while goalkeeper Dwayne Miller had to come out in the 24th minute.
Both teams had a fairly slow start to this game, almost taking a cautious sit-back approach and just feeling out the style of their opponents.
Rodolph Austin, the Jamaican captain who scored the 92nd minute winner against Canada on Saturday nearly opened the scoring again on Tuesday when he sent a blazing shot from distance that sailed just over Derby Carrillo's net.
Costa Rica came close in the 34th minute when Pablo Punyed found himself some space at the edge of the Jamaican box but shot it right into Thompson's arms.
Thompson came up big for his side in the 58th minute with an impressive double save sequence. The substitute keeper parried a shot from Punyed to the side where it fell to captain Andres Flores for the rebound. Thompson quickly recovered and made the kick save, ensuring the game remained scoreless.
El Salvador were firing on all cylinders in the second half, with the Jamaicans struggling to get out of their own half. Although the Salvadorans looked much hungrier than their counterparts, it would be the Jamaica who would break the dead lock in the 72nd minute.
Vancouver Whitecaps forward curled an effort on goal that seemed to be harmless, but Carrillo misjudged it and pushed the ball towards the middle. The rebound fell right to McCleary at the back post who was unmarked and had an empty net to finish into.
Mattocks would then be sent off 10 minutes later for his second yellow card of the game, making it an unsettled end to the game from Jamaica.
El Salvador pushed numbers forward all game, but couldn't breakdown a stubborn Jamaican defence.
Despite being outshot 14-8, Jamaica held on to the victory and progress to the quarterfinals, keeping their Gold Cup title hopes alive, while El Salvador still hold a slim chance of advancing. They will keep an eye out on tomorrow's results and can still progress if Guatemala draws against Cuba in the final round of Group C games.