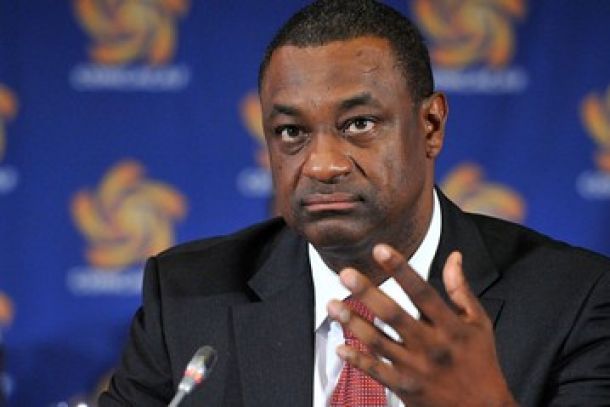 World soccer hero Loretta Lynch will soon get her chance to prosecute a FIFA official as Jeffrey Webb plead not guilty to racketeering and bribery charges in a New York City courtroom on Saturday. The former CONCACAF President and FIFA Vice President was extradited to the US earlier this week after waiving his right to have a hearing. Webb has spent the last 50 days in a Swiss jail after being arrested by local authorities on the behalf of the FBI in late May, just ahead of the FIFA Presidential Election. Webb is out on a bond of US $10 million and was ordered by a judge to remain within 20 miles of the court and wear an electronic monitoring device.
Tough few weeks for Webb
It's been a difficult time for Webb while in jail as his mansion was seized by federal authorities after they connected a bribe he took in 2012 to a pool he had installed in his backyard. Swiss law allowed him to have two visitors, his wife and lawyer, with only the latter seeing him during his month-long stint ahead of extradition. Also his native Cayman Islands has charged him with conspiracy to defraud, and breach of trust in relation to a health care scheme. Webb's close friend and fellow Cayman Islands Soccer official Canover Watson had already been charged with fraud and money laundering in relation to this case. The Cayman Islands goverment are looking to extradite him to face these charges.
Webb's history
Interestingly, when Webb was elected to as CONCACAF President in 2012, many thought he could one day be the successor to much maligned Sepp Blatter once he stepped down (which is certainly in question). He presented himself as a man of reform and change after Jack Warner was forced to step down ahead of corruption charges by FIFA's Disciplinary Committee. Warner ran CONCACAF like his own personal piggy bank and extortion racket for decades while president of the region. His long-time partner and enabler, Chuck Blazer, has been an integral part of the American lead investigation into corruption across the world and will likely feature heavily at Webb's trial.
With Blazer battling colon cancer, it's likely that US Attorney General Loretta Lynch will push for a speedy trial to get his testimony on the record just in case his health takes a turn for the worse. Blazer was general secretary of CONCACAF for decades and used his position to accept bribes as well as dummy up contracts that overly benefited himself. The real world Bad Santa has already plead guilty to 10 crimes including bribery and corruption, amongst others. In order to skip out on jail time for the remainder of his life, Blazer wore a wire for a year while a member of FIFA's Executive Committee. His testimony and wire lead to the arrest of 14 officials from around the world in May.
There has been no date set for Webb's trial yet. Expect Andrew Jennings, famed investigative reporter, to be a guest once the trial is set. The British journalist has been investigating and exposing FIFA corruption for over a decade and might be called in as a witness. If so, that would be required, must-watch television. During a Senate sub-committee hearing earlier this week, Jennings was called as a witness during that hearing and took the US Soccer Federation to task for what they knew, or didn't know, about Blazer and Warner's corruption at CONCACAF.