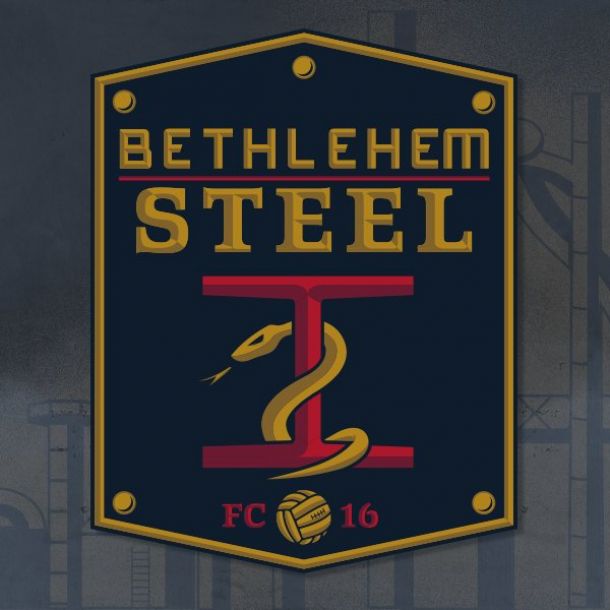 The Philadelphia Union announced on Tuesday that the new name of their Lehigh Valley USL side will be Bethlehem Steel FC.
The name Bethlehem Steel FC is a nod to the historic tradition of the team of the same name in the early 20th century, which won five Lamar Hunt U.S. Open Cups. The meaning of the name "Bethlehem Steel FC" comes from the well-documented past of Lehigh Valley's Ironwork history in additon to the actual Bethlehem Steel Company.
"This is an exciting day for not just for the city of Bethlehem, but for the Philadelphia Union," Philadelphia Union manager Jim Curtin said in the unveiling press conference.
The crest/logo of the team pulled some of the elements of the former Bethlehem Steel FC. The red Iron Steel beam in the center of the badge is from the old Bethlehem Steel FC badge. However, the Iron beam has been combined with the Union snake to "link the icons of the two clubs", as stated at the press conference. The leather soccer ball at the bottom of the badge "roots the new team to the pitch", as further explained by an accompanying video. Lastly, at the bottom of the badge, the year 16 is present in a obvious reference to the 2016 being the first season in existence.
The colors of the team were announced to be steel red as well as Philadelphia Union gold and blue.
"We are striving to make Philadelphia and Philadelphia Union the place in the United States where young players want to come and play and grow their game," Curtin said in regards to the new improvements across the board in the Union organization.
Curtin also talked about the heritage of Bethlehem and how it will affect the style of play. "Our job is to put a team that represents the hard working, blue collar nature of this town. We will play a high-pressure game, with an in-your-face style, that attacks and goes for goal."
Curtin went on to explain that the new USL side will be put together with "first team players, academy players and rising MLS stars."
Bethlehem Steel FC will begin its inaugural USL season in 2016. The Lehigh-Valley based team will use Lehigh University's Goodman Stadium as its home pitch. Goodman Stadium is a 16,000 outdoor stadium with a grass pitch.