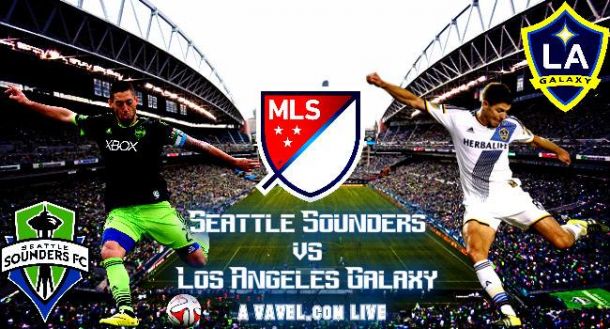 Post-Match: What a fantastic first night in the playoffs! Let's hope tomorrow can bring just as much excitement! Be sure to check back here for those two games covered LIVE! This is Kyle, signing off! It's the Sounders dispatching their nemesis 3 - 2 in the playoffs!
Post-Match: For the Sounders, they have to feel on Cloud 9. It doesn't get any easier after this, though. Rough road to MLS Cup awaits them.
Post-Match: Lots of questions to be asked of this LA team during the off season. The defense is in need of work, especially goalkeeper. Ricketts has had some big games in his career but he isn't going to cut it going forward.
Post-Match: For the first time in their history, the Sounders have defeated the Galaxy in the playoffs.
FINAL: Seattled Sounders 3 - 2 Los Angeles Galaxy!
90+' : YELLOW CARD to Frei for time wasting. Well worth it.
90+' : It goes through everyone for the slowest goal kick in history.
90+' : Corner for LA but Evans is down on the challenge with Keane. Trainer comes onto the field. Everyone is up for this one.
90' : Three minutes stoppage.
89' : Just a couple of minutes away from LA going bye-bye. Looks like we're getting a new champion this year. Just as well as LA can only beat 2 teams in the championship and one of them is no longer an option and the other ain't getting that far (Houston and NE, respectively).
87' : All hands on deck for a LA freekick that somehow finds the head of Gordon but he pushes his header wide. SUB SOUNDERS as Roldan comes on for Ivanschitz.
84' : Ok, not entirely fair. Gordon has been absurdly effective at getting late game goals to get points that LA didn't really deserve on balance.
84' : LA Sub as Gordon comes on for AJ. Hoof ball here we come.
83' : FANTASTIC SAVE from Frei! Zardes is alone on the left side of the box and one-times it towards the near post but Frei dives to push the shot well wide of the post. Game changing right there.
81' : I'll say this much about LA: dos Santos is really trying. He's attempting to make that final pass, that final cross but nothing seems to land right for him. Still he's doing more than anyone else in the Galaxy's offense.
80' : Sounders going with a game of keep-away. Not a bad idea as it forces LA to chase and wear themselves out, leaving gaps to be exploited.
79' : LA finding all kinds of seams in the defense but are constantly off sides. Gerrard waaaaay off on that one. Credit to Marshall and company for a tight line.
77' : Don't get me wrong, Lletget hasn't done anything lately. Oh, and YELLOW CARD to Husidic. That didn't take long as he brings down Ivanschitz on the break.
76' : With only 15 minutes and change left, Bruce has to bring out all the stops. Sub LA. Husidic in for Lletget. Not the move I'd make but ok.
75' : Sounders wth a sub. Valdez off for Barrett. Still nothing from LA.
73' : GOAL SOUNDERS!!!! Horrible clearance from AJ has his header land right at the feet of Friberg who one-times the volley into the opposite post!
72' : Bruce has to be thinking about subs at this point. His offense is stale. Keane is invisible and the midfield cant string together any passes. At this rate it's only a matter of time before the Sounders find the breakthrough.
69' : Memo to LA - loose balls in the box are bad. And wow...here's something you don't see every day: Stevie G with a great goal line clearance to prevent a goal.
66' : Speaking of turnovers, another one in midfield for LA leads to an instant counter but the low, hard shot is saved by Ricketts. He spills it but has time a plenty to recover.
65' : Keane has been very quiet this half. The Sounders defense has just about marked him out of this half. Doesn't help that his teammates can't seem to string together three passes without a turnover.
64' : After the high pressure and zaniness of the first half, the game has settled into a crawl. Much more of a chess match rather than a slug-fest at the moment. Could come down to one moment of brilliance. Or the opposite.
61' : The Galaxy are ceding a lot of possession right now but doing a great job of pressing the player with the ball. The Sounders haven't done too well in switching the ball, giving possession right back to LA.
57' : While we watch the ball bounce around here and there, if you have any questions or comments, feel free to tweet them to me @ElNaranja22!
54' : Zardes and Ivanschitz involved in a rough tackle. Ivanschitz ends up worse for the wear as the trainer comes onto the field. Zardes walks it off.
53' : Galaxy with a corner and they opt to go short. I know the tactical reasons for short corners existing but I hate them. They are the enemy of goals. This one? Ends up nowhere. Goal kick Sounders.
50' : Martins gets around AJ to the left of the penalty spot but his shot is way too high to threaten goal. Nice quick step from Martins to get the yard of space needed but has to do better there.
49' : Deuce with a powerful header towards the low corner that Ricketts does a great job of pushing wide for a corner. The LA defense clears out the corner.
48' : Brad Evans is all alone on the left, brings the ball into the box but his low cross is blocked before it can find Dempsey/Martins. The corner goes nowhere. Goal kick LA.
47' : Doesn't look like there were any changes at halftime. The Sounders with the ball as they pass it around, looking for a crack in the defense to exploit.
46' : And we're off! The second half is ready to go! How many more goals will we get here? We had 4 in the first so who the heck knows.
HALFTIME: Marshall doing a good job of keeping his troops in line. dos Santos and Keane keep trying to sneak behind them but are getting called offsides instead.
HALFTIME: Neither defense is exactly covering themselves in glory. Though the Galaxy have the edge in possession I'd have to give the half to Seattle. Not by much, mind. Be sure to refill your drink and get ready for 45 more crazy minutes.
HALFTIME: Seattle 2 - 2 Los Angeles. A crazy start to the match that settles into a midfield battle with a few chances here and there later in the game.
45+' : Evans tries to get around his defender but is stonewalled. Looks for the foul but told to get up by Marrufo. Goal kick LA. And that's the whistle!
45+' : 1 minute of stoppage. Doesn't look like there will be too much to go before the whistle.
45' : YELLOW CARD to Omard Gonzalez for coming in hard and late on Martins on an arial challenge.
44' : The Sounders really pushing hard to find a goal before the half. A couple of threatening passes and crosses in the box but can't quite get on the end of things to threaten Rickett's net. He's not so spry anymore so they should keep the pressure up.
40' : Lletget gets down the right flank and whips in a wicked ball across the face of goal. Frei gets a finger on it to push it just wide before Keane can get there. Best chance either side has had in a while.
39' : Down to the final few minutes of the half and both sides have settled down quite nicely. The Galaxy with the better of possession right now but can't quite take advantage of it.
36' : Sounders bringing in Scott in a minute after Gonzalez limps off with an injury. Sucks to have to use a sub in the first half but injuries happen.
32' : Not that he is solely to blame for the bad defense (take a bow Leo and Omar) but high profile DPs who are perceived to not be comitted to their club make easy targets. Especially when they aren't playing all that well.
31' : The lack of defense is certainly a talking point but everyone should sit down to talk about Steven Gerrard. Hasn't gotten off to the best start of his Galaxy career this season. Especially tonight.
28' : Keane gets behind the defense and goes for a shot but is whistled for offside. Says he couldn't hear the whistle. Doesn't surprise me. The crowd is into this one.
27' : I'm going to go out on a limb here and say there are going to be a few more goals. Neither defense looks good at all. Even the defensive half of both midfields are holes for the other team to exploit.
25' : First good replay shows that the call was right, just delayed. Chalk that one up to Marrufo.
24' : First drama of the night as a goal for the Sounders is waved off. Oh boy.
22' : GOAL GALAXY!!!!! Zardes ties the match up with a beautiful one-bounce volley from the top of the box to the near post. Frei will be kicking himself for getting beat there.
20' : Seattle doing a good job of dictating play and pressing fast on the counter. Haven't quite got behind them. And as I type this the defense gives up a silly pass to Keane for a free shot top of the box! Off the crossbar!!
16' : Watching LA, one has to wonder how much better they might be if Penedo was still here. One of the stranger deals this season. They really miss him in the back.
14' : Rogers brings the ball up and tries to curl a shot in from the top corner of the box but it goes wide of the far post. Not a bad idea.
13' : Valdez is wide open on the free kick and it's a tap in from the six yard box. So far tonight no team believes in defense. More fun for fans, then.
11' : Martins tries to dribble through the defense and is brought down by Leo. When he is on the run, you pretty much have to foul him. The FK results in a GOAL SOUNDERS!!!
8' : If you're going to give up a silly goal, what better reply than an immediate goal? Sounders caught a bit flatfooted and now we're all square.
6' : GOAL GALAXY!!! Lletget picks up a layoff from Zardes for an easy tap in to tie things up!!
5' : GOAL SOUNDERS!! Horrible mixup in defense as Ricketts comes out to get a loose ball but Omar gets there first and heads ball down to Dempsey for an empty net.
3' : Already tempers a bit high. Both teams really need this. The playoff familiarity really adds tension to the match.
1' : BOOM! We're off with the Galaxy immediately pressing, earning a very early corner for their troubles.
Pre-Game: There's the anthem and now everyone is setting up for kickoff. A few minutes away for the nightcap!
Pre-Game: As players warm up, be sure to get comfortable for what could be an explosive match with some of the best offensive talent in MLS. Slight favorites to Seattle as LA's centerbacks have been off of late, bailed out usually by the offense. Seattle has been far more consistent in that department.
Pre-Game: Bruce Arena gives no surprises for us with his lineup. Same old same old. Hopefully he got through to his players to break the horrid slump they're in. Well, personally, not really but for their fans sake lets hope so.
Pre-Game: Well this one is ending with all kinds of excitement. Can't wait for Seattle and LA to kick off now!
Pre-Game: Mark Geiger has certainly left an impact on the DCvNE game. Wonder what kind of impact Jair Marrufo will have on this one? Hopefully none!
Pre-Game: Got the Sounders lineup and ummm...what happened to Pappa?!?!?! Alonso conspicuously absent as well.
Pre-Game: If you have any questions, comments, complaints, emotional outbursts: feel free to send them to me on Twitter @ElNaranja22.
Pre-Game: Good evening everyone! Second half of the DC United v New England Revolution just kicked off. No spoilers here. I'll just say that you should check the highlights at the very least if you can't watch it live. Heck of a way to get the playoffs started!
My prediction for the game is the Seattle Sounders registering their first playoff victory against the Galaxy by a score of 2-1.
It doesn't help that while the Sounders have a fantastic goalkeeper in Stefan Frei, Arena is relying on aged veteran Donovan Ricketts. While good for some quality saves, Ricketts is also not the goalkeeper he once was and is prone to some howlers in saving shots and controlling his box. Another problem for LA has been the form of Omar Gonzalez. The star centerback has been good for the team but hasn't taken the next step many felt he would after signing a multi-million dollar deal to become the Galaxy's Designated Player. Sprinkle in some poor form from the rest of the defense and the team has become very vulnerable.
From late June to late August, the Galaxy went on a tear through the league. They posted a 8-2-0 record, scoring 32 times while only allowing 13 goals. Ever since then, though, the team has been sliding downhill, unable to recapture that magic. Part of that is likely down to the selfishness shown by their two star players.
If Bruce Arena can bring Sebastian Lleget, Gyasi Zardes and Juninho back into the offense, move the ball around like only the Galaxy can, this could be a cake walk for the defending champions. If that chemistry can't be solved, it could be an uncharacteristically long offseason for the club. The strange thing is that this team has proven that they can work together as a unit better than anyone else in the league.
For the Galaxy, everything seems to be crumbling but it can likely be traced to two players whom you wouldn't think: Robbie Keane and Giovani dos Santos. The pair of Designated Players have been working well together, but perhaps too well. While they are moving the ball around together, other players are perhaps being left out of the picture, making the offense far too predictable for opponents to mark. It's undeniable that the pair are the best passers of the ball on the team but it takes more than just two players to break down defenses with any kind of regularity.
Should they fail in this match, it's possible Schmid could be let go in favor of fresh ideas with a new coach. Considering the money and time that has been invested into this team, ownership and fans alike are desperate for a championship. Schmid so far hasn't gotten the team into the final, much less vying for the title. After all this time, with another failure under his belt, it's almost certain he'd be let go.
While the offense for Seattle grabs the headlines, it's the defense that has carried them this season. Finishing out with only 36 goals allowed, tied with the Vancouver Whitecaps for best in MLS, the backline is headed by veteran centerback Chad Marshall. Combined with a great mix of veteran players (such as Brad Evans) and young talent (like Oniel Fisher), the team has done a great job of keeping their team in matches no matter how the offense is or isn't clicking. They've lost by more than one goal only five times this season. Add in 10 shutouts and the team has been competitive in the majority of matches.
Fortunately the home side does have another reliable option up top in the form of Obafemi Martins. The Nigerian has been very consistent for the team, registering a steady of 15 goals and six assists on the season. With Marco Pappa back in midfield, there is enough potential here to see off a slumping opponent. The Guatemalan International has returned to form recently and helped the Sounders finish out the season strong, as they went undefeated in their final eight league matches.
Ever since taking the Golden Boot at the Gold Cup this past summer, US International Dempsey has been morose in his play for the Sounders, notching just three goals and four assists since the beginning of September. Even going back to late May, he's been rather invisible for the team. If he can recapture some of his form, it'll do wonders for the team.
In the past three series meetings between these two teams, the Galaxy have won by a series score of 3-1, 4-2, and 2-2 (away goals). Even regular season games have gone the Galaxy's way more often than not, even up in Washington. If Sigi Schmid is going to finally win, he's going to have to find a way to bring Clint Dempsey back into the picture.
There is a ton of history between these two teams, especially in the playoffs. Unfortunately for the Sounders, the Galaxy have had their number in every encounter to date. Unlike in years past, the Sounders have a real chance to jump on a struggling Galaxy side that is ripe for the taking.
Good evening everyone and welcome to VAVEL's LIVE coverage of the MLS Cup Playoffs! Tonight we have the Seattle Sounders hosting the Los Angeles Galaxy in a one-off match with a berth in the Western Conference Semi-finals on the line!