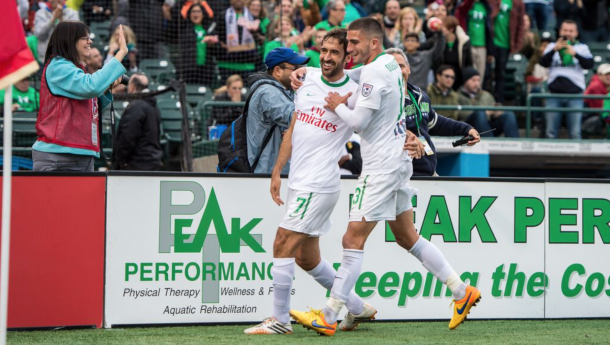 Raul clearly is not ready to hang up the boots, not just yet. On the heals of his second half goal at MCU Park in Brooklyn, the New York Cosmos defeated the Fort Lauderdale Strikers to advance to the NASL Soccer Bowl next weekend.
Despite going down a goal early to the visitng Strikers, the Cosmos and their 'legends' refused to go down. Off a great ball from Marco Senna, Gaston Cellerino scored with his shin to tie the match in the 37th minute.
The Cosmos were clearly the better side in the second half, and Raul pounced on a breakaway to ding the ball of the post and in with his left foot in the 61st minute.
"The second half was much better for us. This goal was one very good combination for the whole team," Raul said post match. "We had a lot of chances before I scored. I scored one goal more and this team is playing for the final."
The former Real Madrid striker and Santiago Bernabéu legend was clearly happy to extend his magical career.
"It's a dream to finish my career in one final with the New York Cosmos," Raul said.
The Cosmos will host the NASL Final next weekend at Shuart Stadium, regardless of the result between the Ottawa Fury and Minnesota United. By virtue of winning the Spring Season and finishing atop the combined standings, they have the privilege of hosting The Championship Final.
"We have done enough during the year to deserve to be in the final," Cosmos manager Giovanni Savarese said. "I think it was a good game today. We knew that Fort Lauderdale was going to be a tough team to play against. They had a lot of energy and have some quality players. Now that we're through, we have to work this week. And once we know who is going to be in the final, we'll prepare for that as well."
Raul noted to reporters following the game's conclusion that it was a difficult match in the beginning, but as the match wore on the Cosmos grew into the rhythm of the game.
"It was a very difficult, tough game today," Raul said. "The first thirty minutes were very hard for us. Our performance was no good, but after, we had more confidence."
Cosmos goalkeeper Jimmy Mauer spoke about the final minutes, and the pressure Ft. Lauderdale applied at the end of the match.
"You could tell that they were going to do whatever it took," he said. "In the 85th minute those two were sprinting around the field pressuring Fort Lauderdale to win the ball back."
Despite having to play this match in Brooklyn at the less than ideal MCU Park, the Cosmos will be able to host the NASL Championship at home on Long Island. They will either host the Ottawa Fury or Minnesota United, who play their semifinal on Sunday.