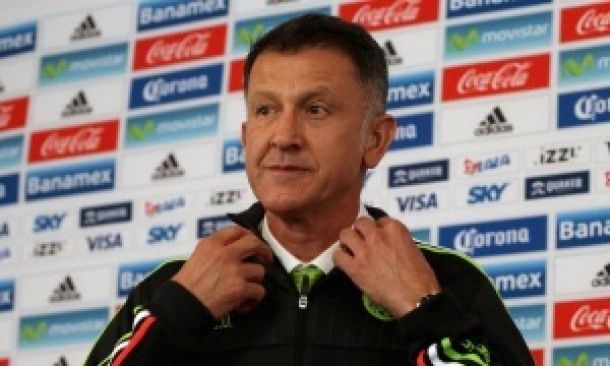 By all accounts, new Mexican manager Juan Carlos Osorio is a very smart man. He holds a Bachelor of Arts degree in exercise science from Southern Connecticut State University. He also has earned a diploma in Science and Football from Liverpool John Moores University, as well as a UEFA "A" coaching license from the English FA, and a coaching certificate from the Royal Netherlands Football Association.
He's unlike the other coaches Mexico has recently had. Jose De La Torre was always cold to the media, and usually came off as annoyed and bothered by the interviews that come with being the Mexican coach. Miguel Herrera was the opposite; he always spoke from the heart and endeared himself to the media. Interim coach Ricardo Ferretti tolerated everyone, with at times showed his dry, sarcastic humor with an off the cuff comment that would catch people off guard. J.C. Osorio is different; in his interviews, he comes off as a well speaking. He puts thought into what he says, without it feeling planned. He is a thinking man's man. He's mild mannered without coming off as a pushover.
Osorio will want to put his stamp on the Mexican National Team, but he understands that it will be a long process to do so. Because of that, it makes sense that Osorio has called together the team he did for his first two World Cup Qualifying matches as El Tri's coach.
In goal, he has recalled Guillermo Ochoa for the first time since the Gold Cup Final along with Moises Munoz and Alfredo Talavera, who have been the last two keepers to play between the pipes for El Tri. Mexico has a handful of great goalkeepers. Talavera may be the best keeper in La Liga MX over the last three years. Munoz has been a consistent presence for Club America for years, and has rejuvenated his career with the Capital club. Ochoa, even though he has lacked playing time with Malaga, still has a presence left over from his World Cup showing. Osorio must see what Ochoa is capable of bringing to the table.
On the defensive front, J.C. Osorio has brought an experienced group of defenders with Hector Moreno, Diego Reyes, Miguel Layun, and Paul Aguilar all returning. They have been starting in defense for Mexico for at least a year together. With Osorio changing the formation of Mexico from a back five to a back four, the combination of Reyes and Moreno could be the partnership that Osorio will want to build off of in the years to come. Hugo Ayala and Oswaldo Alanis also return for Mexico, Ayala has been a fringe player for Mexico over the years and Alanis has been part of the Mexico set up over the last two years, they are players with experience. While Luis Fuentes joins Mexico for the first time, it's hard to overlook the season he's having for first place team Pumas.
In the midfield, it's more of the same from Osorio as he's called in a large group of players who've played for Mexico recently. Jonathan Dos Santos, Jose Juan Vazquez, Andres Guardado, and Hector Herrera all return for Mexico. He also decided to bring in players who've been in good form and who've earned their call ups with strong club showings. Carlos Pena, Alejandro Castro, Javier Aquino and Carlos Esquivel all join the group of experienced players already brought in. Osorio has also decided to slowly sprinkle in Mexico little by little with Jesus Corona and Jürgen Damm joining the team as the two youngest players on the roster at 22 and 23 years of age.
The front line attacking options almost picked themselves for Osorio with Javier Hernandez, Carlos Vela, Raul Jimenez, and Oribe Peralta all returning for Mexico. Depending if Osorio wants to go with three forwards or two, the combinations presenting themselves for him are mouthwatering. Hernandez, Jimenez, and Peralta was the three man combo that caught the United States off guard in the CONCACAF Cup a month ago, yet on his day, Vela is the most talented of the players.
Osorio has been known to rotate players, and recently mentioned that the trip to Honduras on the 17th worries him. Specifically, he'll be worried about how it might affect the legs of his European players, which explains why he went with the base of his European players and an experienced group of Liga MX players who are playing well at the moment while also adding a few young players to add a spark and earn experience, Osorio looks to have thought out this selection process well. He knows that his idea of what this Mexican National team will be under him will be a slow process and it can't be changed overnight. It was a safe roster to go with, and it was a smart roster to go with. With Osorio, the latter shouldn't have been much of a surprise.