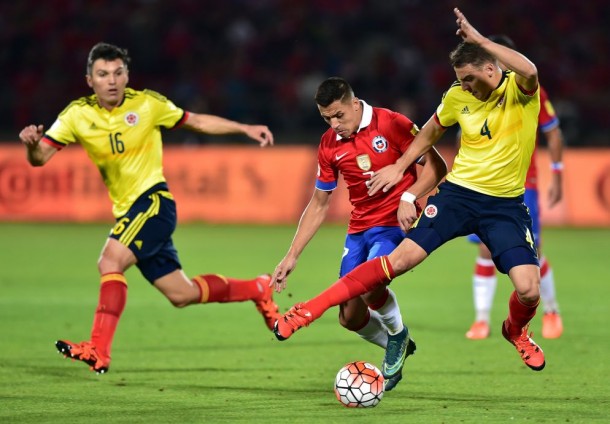 SANTIAGO, Chi. -- Chile dropped their first points of CONMEBOL Qualifiers for the 2018 World Cup on Thursday night, as James Rodriguez scored a 68th-minute equalizer for Colombia to make for a 1-1 final result at the Estadio Nacional in Santiago de Chile.
After pressing the counter attack all game, James finally was able to break through for Los Cafeteros on a fast break. Keeper Claudio Bravo came out for Chile to slightly deflect a prior shot, but Rodriguez was front and center to the goal, perfectly positioned to gather the ricochet and smash it by Bravo into the lower right corner of the net to even it up at 1-1.
Chile controlled the majority of the possession in this one, however many of their series went absolutely nowhere. A strong first half than a second, La Roja finally broke through right before half time on an Arturo Vidal header. Vidal received a wonderful cross from Matias Fernandez on a free kick and smashed it past David Ospina in the 45th to put Chile on the board and on top 1-0.
Fernandez nearly picked up a goal for himself in the 50th minute, as 'Mati Goals' fired a long-range Chilean free kick on a dime at Ospina's top-left corner, but the keeper was disciplined and made a trivial save to deflect the ball away.
Daniel Torres made his international debut in the midfield for the Colombians, and struck two shots on the day, including an on-target strike in the 22nd minute that was saved top center.
Colombia was by far the more physical side, as they outmuscled Chile in transition and made sure to clear dangerous balls out of the box. Torres' aggressive influence could be thanked for the extra energy, however the Medellin player also was at fault for six of the side's 21 fouls committed.
What kept the Chileans from running away with this one was, as often seen from Jorge Sampaoli's side, lackluster effort to finish off possessions. Five times Chile was caught offside, and the majority of their effective attacks stemmed from set pieces, another easily discernable theme from this match.
Francisco Silva started in back for Chile, as Sampaoli moved Mauricio Isla up to the midfield in the absence of holding midfielder and Bayer Leverkusen member Charles Aranguiz.
Striker Radamel Falcao of the English Premier League's Chelsea, was out for Jose Pekerman's squad Thursday with muscular-related issues. Had he been a participant of the match, who knows the implications it could have had on the final result.
Chile now is sitting second in the CONMEBOL Qualifiers table with 7 points, right behind three-win Ecuador, who defeated Uruguay 2-1 earlier Thursday. Colombia now sits fifth with four points and a -1 goal differential.
La Roja will face Uruguay next Tuesday, and Los Cafeteros take on the tough task that always is Argentina.