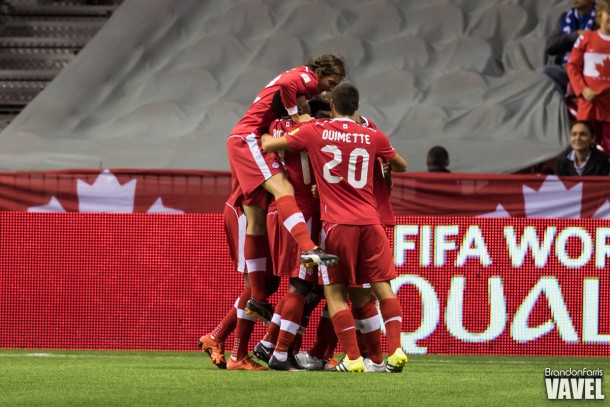 Canada picked up three critical points towards qualifying for the 2018 FIFA World Cup in Russia as they hold on to a 1-0 win over Honduras after a 38th minute goal from MLS Rookie of the Year Cyle Larin.
This was an improvement for Canada from the last time they took on Honduras, when they were defeated 8-1 in 2012 while only needing a draw in order to advance to the hexagonal stage of 2014 FIFA World Cup qualifying.
Larin's goal was set up by Queens Park Rangers midfielder David (Junior) Hoilet, a recent commit to the Canadian National Team who was born in Canada but was also eligible to play for Jamaica or England. In the 38th minute, Hoilett sent a cross into the box that Portland Timbers midfielder Will Johnson met with his head and directed goalwards. The goal was initially credited to Johnson, but upon further review it appeared Larin got just a touch on it before it crossed line.
"A goals a goal," said Larin after the game. "When I got up I didn't even know I hit it."
Johnson nearly doubled the lead for Canada in the 63rd minute on a free kick from 35 yards out that sent Honduras keeper Noel Valladares frantically scrambling to the post to just get a hand on it and keep it out of the back of the net.
The best chance for Honduras to knot it up came in the 76th minute as midfielder Mario Martinez took a shot from distance that was going to sneak just under the crossbar before Canadian goalkeeper Milan Borjan punched it over the top and behind for a corner that led to nothing.
20,108 were in attendance on Friday night in what was a record crowd for the Canadian Men's National Team when playing in British Columbia. The majority of the crowd was there for Canada, however Honduras had a decent amount of away support tucked in the corner of BC Place, which opened its roof for the game and definitely added a chill to the night. It was the first game for the Canadian men's team in Vancouver since 2005 when they hosted Honduras in a friendly and also won that match 1-0.
Canada will travel next and take on El Salvador on Tuesday who lost to Mexico earlier in the day 3-0. After that, Canada will play Mexico in a home and away in March and it is expected they will be announcing BC Place as the venue for that game following Friday's crowd as the team and coaches were both impressed and expressed interest in returning to Vancouver. The September qualifier matches will see Canada travel to Honduras before coming back to Canada to host El Salvador.