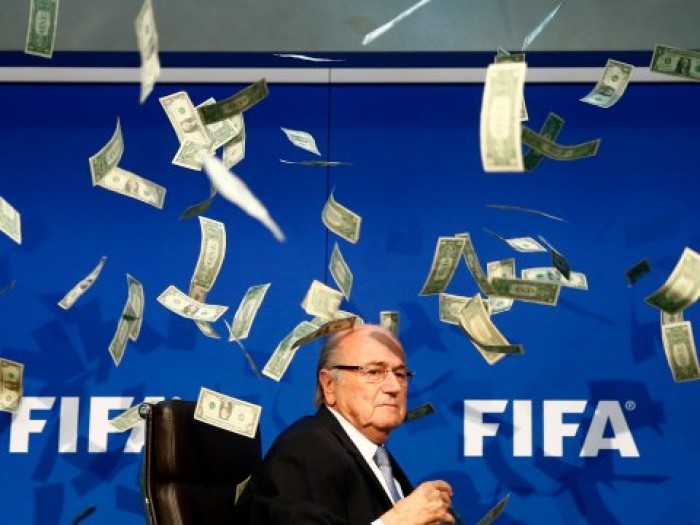 This year could be the make-or-break year for FIFA, the world's governing body over all things soccer, as the election for President creeps ever closer. As US and Swiss authorities continue to investigate the organization over corruption charges, along with a half a dozen other governments the world over, it is imperative that whomever is elected put on the proper face and show the needed leadership to bring FIFA into the 21st century.
Perhaps the best thing this new president could do is to somehow rid the organization of the stench of corruption which is undoubtedly hanging in the expensive halls of FIFA. Like most foul odors, the only way to do that is to clean out the root cause of the smothering cloud. That means whomever is elected mustn't have a strong connection to Sepp Blatter's regime as well as having a relatively strong and clean business life outside of soccer.
Sepp's paycheck
Fortunately for this person, the first thing that will change is Blatter's paycheck. Simon Evans over at Reuters reported Monday night that the suspended president is still receiving his lucrative salary despite sitting at home as he serves his eight-year ban. As Evans reported, "Blatter...will continue to be paid until a new president is elected on February 26."
Apparently the terms of his contract dictate that he will get paid until then but will be denied his bonuses since he isn't capable of earning them. The terms of Blatter's contract are not known, a hot topic amongst pundits and fans alike looking for transparency.
Who's in contention to replace him?
The list of eligible candidates for the presidential seat are Prince Ali Al Hussein (Jordan), Salman Bin Ibrahim Al-Khalifa (Bahrain), Jerome Champagne (France), Tokyo Sexwale (South Africa) and Gianni Infantino (Italy). The list is amazing not only in the number of candidates versus previous elections (in which Blatter usually ran unopposed after his competition was given the boot ahead of time) but also where they come from. The leading candidate, Prince Hussein, put up a valiant effort in 2015's election, forcing a second-round election against Blatter. He's backed by several rising members within FIFA, including the US's Sunil Gulati and is generally considered to be the reformer. Salman Al-Khalifa is the current president of the AFC and has a strong base within Asia. Meanwhile, Sexwale is a very successful businessman with a questionable past but strong backing from CAF.
The current powers-that-be are likely leaning on Gianni Infantino, current secretary general of UEFA. Jerome Champagne has spoken a lot about reforming FIFA and while his ideas have merit, that is some question about his ability to enact those changes.
As the world around FIFA changes in a diplomatic and economic sense, don't be surprised to see the new president reflect this with the election of Prince Hussein or Salman Al-Khalifa. The latter has come under fire recently for potentially securing a bloc vote with CAF (amongst other charges). If the corruption in their halls can't be pushed back between now, the new leader will likely be Sexwale, whose colorful history can be read here by the legendary Bill Archer. While it would push CAF towards the forefront of FIFA politics, in and of itself a good thing, it probably wouldn't help the players and federations much as the money needed for their development would get lost in the shuffle (if you're reading hints of Jack Warner here, kudos).
Regardless of who is elected, they'll have to walk a tight line in the public sphere as the Swiss government is still looking into the voting for the 2018 and 2022 World Cups. While there's almost a zero percent chance anything is found out about Russia's tournament, there is plenty to find about Qatar's tournament. If they determine there were illegalities about that vote, the organization could have a serious internal conflict on its hands while also seeing more of their members taken away to a Swiss prison.
The FIFA presidential elections will take place on February 26.