 Brandi Chastain has decided to donate her brain after her death to the Concussion Legacy Foundation to be studied by the Boston University CTE (Chronic Traumatic Encephalopathy) program. Chastain is most remembered for her iconic celebration after scoring the winning penalty against China in the 1999 Women's World Cup Final at the Rose Bowl in Pasadena, CA.
Why Donate Her Brain?
Chastain, 47, has said she suffered two concussions while playing college at California and Santa Clara. She also stated that she experienced no side effects and came right back into the game each time.
"I'm not going to be needing it at the end of my life, No. 1," Chastain told USA TODAY Sports, "and hopefully, what can be learned is, can doctors and scientists and neuroscientists look at the brain of someone like me, who has been playing soccer a majority of my life, and really dissect the brain and say, 'Here's where we see it beginning?' Could we then use that information to help say that before the age of 14, it's not a good idea to head the ball?"
In regards to be officially diagnosed, Chastain had this to say; "I never had an official diagnosis of a concussion in my career," she said, "but as you grow older, you sometimes say, gosh, am I losing my memory or did I used to forget when I went into a room what I went in there for? Could this be the start of something?"
"Because so many young people are playing soccer, boys and girls alike," she said, "for me, a great legacy would be that when people think of me and the U.S. women's national team, I'd hope they would say that she left soccer in a better place than when she started. So this decision would hopefully be at the top of the list, while the penalty kick from '99 would fall in there somewhere, but not as the most important thing."
She will not be the only athlete to have her brain tested by Boston University. There have been plenty of NFL stars that have had their brains examined, the late Ken Stabler and Dave Duerson, to name a few. Both of their brains have been diagnosed with CTE.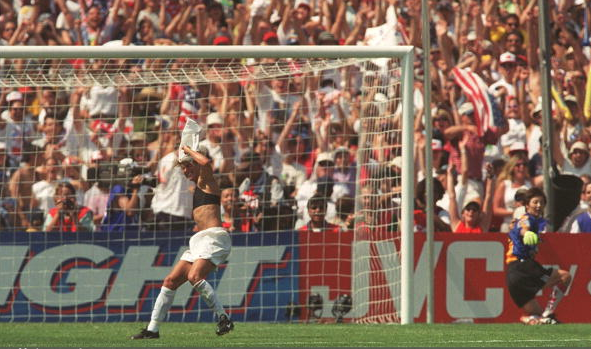 Not Many Women Have Donated Their Brain
Chastain will be one of the few women to offer her brain for research. Of the 307 brains researched by the BU School of Medicine and the Department of Veterans Affairs collaborative brain bank, only seven have been women and none has been diagnosed with CTE.
"A question I have is, do men's and women's brains look and respond differently?" Chastain said. "I'm a recovering two-time ACL reconstruction athlete. Why are ACL injuries more common in girls and women than boys and men? Could that also be true with concussions? And if true, what can we do differently?"
Ann McKee, the director of the BU CTE Program had this to say; "Brandi Chastain's decision to donate her brain to further research is a powerful and courageous act that will ultimately improve the future health of female athletes, military veterans and other women who experience repetitive brain trauma. We currently know so little about how gender influences outcome after trauma. Her pledge marks an important step to expand our knowledge in this critical area."
Safer Soccer Initiative
Chastain coaches' various youth soccer teams in the Bay Area and she is a vocal advocate for the Safer Soccer Initiative. What does Safer Soccer Initiative trying to do? They are seeking to prevent players under the age of 14 from heading the ball. When players go up in the air to head the ball, they are at a greater risk to receive a concussion.
More and more over the years we are learning about CTE and this will only further the research and be beneficial to our younger generation.