 The reigning MLS Cup Champions Portland Timbers have added another midfielder to their already dangerous midfield. The Timbers added Leicester City midfielder Jack Barmby to their roster after signing him via loan. Portland will have an option to permanently sign Barmby when his loan expires after a year.
The signing should come as no surprise to Timbers fans as rumors have been swirling around for the past week. Barmby, 21, is an England youth international at the U-20 level. He has been with Leicester City since 2014 and prior to him joining them he spent time with Rotherham United and Notts County via loan.
Caleb Porter Comments on Barmby Signing
Timbers Head Coach Caleb Porter is happy with the signing of Barmby as it will add depth to their squad; "When you look at Asprilla and Melano we feel like we have two very capable starters, but from there we don't have a ton of depth, so we have been looking for a guy that fits what we want. We wanted a left sided player and we wanted someone that is young, that has an upside as well."
Porter continued; "When you look at Barmby, he's a young player -- he's younger than college guys coming into out -- but he's been a pro for several years, so he brings some experience. He does have an upside. He has a good pedigree. He fits the profile of what we are looking for."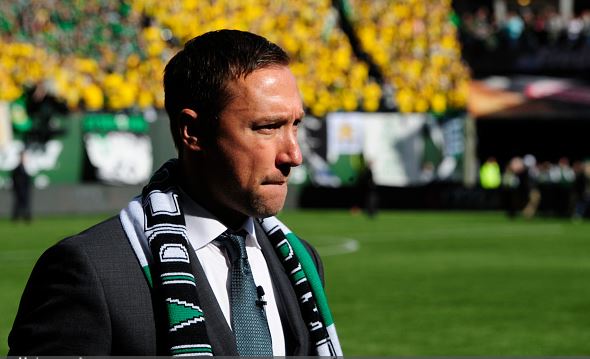 "He is left footed. He can play left wing, right wing, left back, even central under the striker." "I think with Barmby. He will come in and he will push Asprilla and Melano. In the position that we are in right now, his versatility and his depth will help our roster."
In regards to his attributes, Porter had this to say; "He is technically very good. The word that comes to mind for me is functional. He has played at a very high level at a youth academy that is one of the best in the world and around one of the best leagues in the world. Obviously he hasn't cut his teeth in the Premier League yet, but his pedigree of being around that league and around those clubs, I think, has made him a tactically functional player. "
"He can play left wing and he is going to be functional there. He's not going to be, like some young players that we have brought in, as raw, perhaps. He is going to be smart tactically. He's going to have an educated left foot. And mentally I think he is going to come right in and you can plug him in."
"He has the ability to play left wing, left back, right wing, and underneath the striker. That always helps. I like the fact that we have guys who bring versatility... It allows us to use those guys in different ways depending on the game and where we're at."
Barmby Will Have Limited Opportunities
The Timbers are already a very talented team and adding Barmby could only make them more dangerous. He will find it tough to find playing time as the Timbers already have a very dangerous and talented midfield. Barring injury, Barmby will probably see very limited action. He might find some playing time during the Lamar Hunt U.S. Open Cup, but only a limited number of international players can compete during the U.S. based tournament.
Barmby Information
Position: Midfielder/Defender
Height: 5-10
Weight: 165
Born: Nov. 14, 1994
Hometown: Harlow, Essex, England
Citizenship: England
Acquired: Acquired on loan from Leicester City, March 9, 2016
quotes via stumptownfooty.com