 DC United headed down I-95 on Saturday looking for their first points of the 2016 MLS Season against the New England Revolution at Gillette Stadium in Foxborough, Massachusetts. At the end of the day, they emerged from a tricky road tie with one, but it was a point that they hardly merited.
New England were dominant, and monopolized possession, finishing with 60% of the ball, completing 152 more passes and outshooting United 18-8. However, a combination of terrific saves from Travis Worra and a trusty crossbar managed to keep the home team scoreless.
That is not to say that United were without scoring chances, but at the end of the day they certainly didn't do enough to feel like they should have won the match. However, it will undoubtedly feel good for manager Ben Olsen to have picked up some points after their tumultuous start to the season.
What Does The Result Mean For New England?
The Revolution will be thoroughly frustrated by their inability to put the ball in the back of the net. Last week they blew an early lead before twice having to come from behind in a hugely entertaining 3-3 draw at the Houston Dynamo. As much as that spirit makes coaches happy, manager Jay Heaps must have been equally annoyed that his team conceded three times. On Saturday, they were far tighter and more sure at the back but were unable to finish chances the way they did on opening weekend. This is a game that they ought to have won. Yet, it's still just week two, and there are far worse ways to have started a season than with consecutive draws.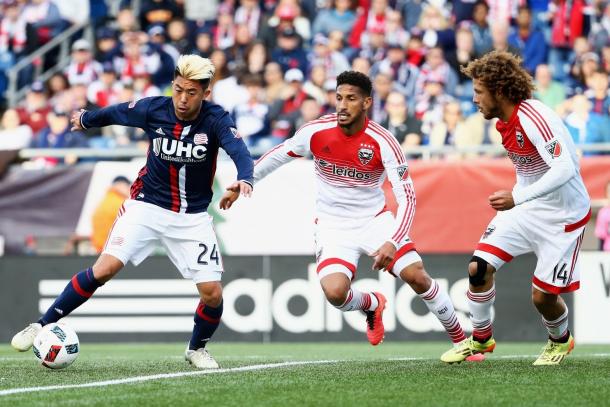 What Does The Result Mean For United?
Speaking of poor ways to start a season, see DC United as a case in point. The Black and Red began their year with a CONCACAF Champions League quarterfinal against Queretaro of Liga MX. The Americans headed down to Mexico looking for a professional performance which would give them a result to take back home. It worked for the first two thirds of the game before they conceded twice, leaving themselves with a massive hole to dig out of.
In the second leg, they were unable to do so, and meekly bowed out of North America's premier continental competition with a 1-1 draw at RFK Stadium. That was then followed up by a daunting trip to StubHub Stadium to visit the LA Galaxy and open MLS play. Although United managed to open the scoring, they were overrun in the second half and fell by a score of 4-1. Given the incredibly rough beginning, Olsen should just be pleased to have picked up his first point of the year. There's time for results to improve--it's just important at this stage to be putting points on the board.
Key Moments
29' SAVE! A poor giveaway from Gershon Koffie gifted United possession, and they suddenly found themselves in a 3 v 2 situation. Marcelo Sarvas ran at the heart of the defense before laying the ball off to Rob Vincent, whose strike was lashed right at Revolution goalkeeper Bobby Shuttleworth, who batted the ball away.
29' BLOCK! Back up the other end, a flowing counterattack from New England created a chance. Diego Fagundezed forward before slipping the ball inside to Lee Nguyen. The American international hesitated before giving it back to Fagundez, who hit a scything pass through the center of the United defense. The ball picked out a cutting Teal Bunbury, who clipped a cross into the middle of the box over the head of Charlie Davies. Davies allowed the ball to drop before attempting a spectacular bicycle kick which would have been destined for the back of the net were it not for Bobby Boswell's block.
37' MISS! Oh that's a shocking miss. Chris Tierney sent in a lovely corner which found Jose Goncalves unmarked at the top of the six yard box, but he could only head the ball right into the ground and over the bar. That's dreadful.
55' CROSSBAR! Nguyen ought to be scoring there! A speculative cross into the box eventually worked its way to him about 15 yards out from goal, and he had time to pick his spot. His strike seemed destined for the back of the net but crashed back off the bar. Unlucky.
78' SAVE! Some nice interplay between Kelyn Rowe and Je-Vaughn Watson sees Watson in behind the defense. He hit a low cross into the box which fell kindly for Nguyen, but his strike was held by Worra.
85' WIDE! An inswinging corner came in for DC, and no one was able to get a head to it. Eventually, the ball fell to Nick DeLeon 12 yards out on the half volley, but his strike whistled high and wide. Still scoreless.
90+3' MISS! Rowe misses the chance to win the match! Some nifty footwork from Nguyen meant that the creative midfielder had slipped the winger in behind on goal, but with just Worra to beat he screwed his shot wide left. He'll be disappointed.