 New York City FC will be hosting the New England Revolution at Yankee Stadium on March 26 at 3:00 p.m.
NYCFC's Recent Form
The start of the Major League Soccer season has been rollercoaster-like for NYCFC. The opening day match saw NYCFC take home the win in a thrilling 4-3 match over the Chicago Fire. NYCFC then went on to draw with potential title contender Toronto FC. And most recently, Orlando City took down New York 1-0 by way of a Cyle Larin goal.
Diskerud Stepping Up
Mix Diskerud has stepped up into a far more active role in the attack in the early stages of this season. Diskerud has contributed to three of the team's six goals this season, scoring one and assisting two. This offensive production is an improvement on last season's production.
In a player poll recently conducted by MLS, Diskerud was voted as the most overrated player in the league. However, he has stepped up his game at the start of this season as compared to the previous campaign.
According to whoscored.com, Diskerud is taking 2.7 shots per game and contributing 1.3 key passes (goal-scoring opportunities) per game this season. These numbers are significant improvments from last season, which saw Diskerud take 1.2 shots per game and contribute 1.1 key passes. And in over 2000 minutes of gametime last season, Diskerud only scored 3 times and provided no assists.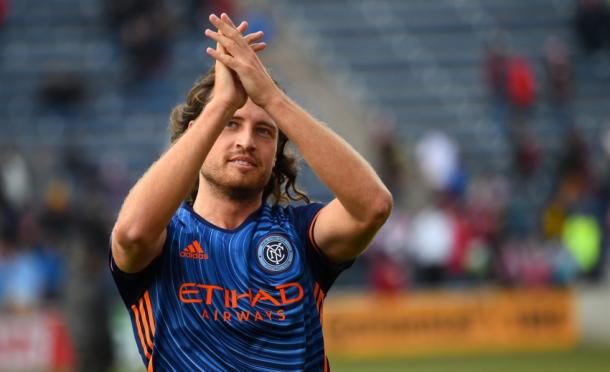 Although these numbers are potentially skewed being that the season is only three games in, it is worth noting that Diskerud has had a far more pivotal role farther up the field. In addtions to the promising contributions of Khiry Shelton, Thomas McNamara and Tony Taylor, Diskerud is adding a great deal of offensive potential to NYCFC.
David Villa has scored three goals in the first three matches, but the Spaniard cannot put the team on his back with regards to goals again this season. Diskerud and company will look to help Villa in the offensive department.
NYCFC's Defensive Struggles Continue
After conceding a league-high 58 goals last season, NYCFC has allowed its defensive problems to continue into the new season. The team has allowed six goals in the three opening matches.
Goalkeeper Josh Saunders has been forced into facing the third-most shots in the league in 18. Saunders has also been forced into making the third-most saves in the league with 11, according to foxsports.com.
The errors and porocity in defense are evident and will make winning difficult. New York must continue to score goals if the team wants to continue to pick up positive results because this defense isnt going to stop allowing large amounts of goals any time soon.
New England's Recent Form
New England's start to the season has been anything but impressive. Opening day saw the Revs barely squeak by a draw against the Houston Dynamo after Diego Fagundez found the back of the net in stoppage time. Next came a goalless draw against an average D.C. United squad at home. And finally, against a poor Philadelphia side, New England was embarrassed on the scoreboard, losing 3-0.
Where is the Defense?
Much like the opponent, the Revs are failing to perform well defensively. Six goals have been conceded by the Revs in the opening three matches and two of the three games saw three goals go into the back of the Revs' net.
New England allowed Houston to look extremely fluid on the attack in the final third on opening day. Communication errors and poor marking plagued New England in that game.
Philadelphia's C.J. Sapong single-handedly destroyed New England's back four. Sapong was running rings around Andrew Farrell and Jose Goncalves and Sapong's two goals in the 3-0 win over New England were partly because of the lack of defensive awareness and communication inside the area.
The 3-0 result would've been far more flattering in the Union's favor had New England goalkeeper Bobby Shuttleworth not heroically save two penalty kicks.
Shuttleworth, much like Saunders, is facing a great number of shots on target and. Shuttleworth is facing the fourth-most shots on target in 17 and has saved the fourth-most shots with 10, according to foxsports.com.
Diego Fagúndez Shining
The young Uruguyan has been the brightest player on a struggling New England side. He is continuing to develop as a player and at 21, the potential is endless for him in MLS.
His control and volley against Houston was world class. After bringing down an aerial ball off his chest, Fagúndez struck the ball on the half volley from 25 yards into the back post. He then went on to assist two more goals later that game.
Fagúndez has put on nothing but impressive performances and looks to be in mid-season form in the early stages of the season. His snaky runs and agility have made defending him extremely difficult and he has orchestrated good attacking movements.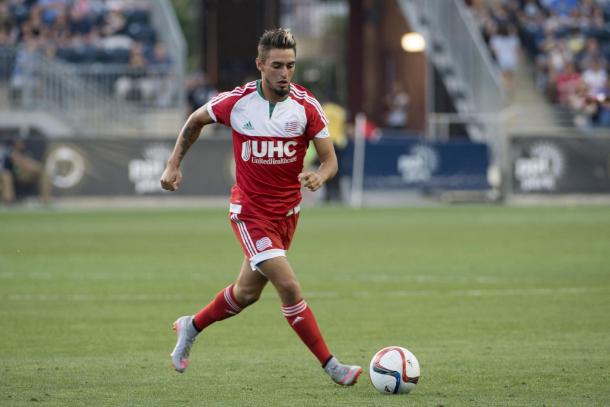 According to whoscored.com, in 20 appereances last season, Fagúndez managed to put six balls into the net and provided three assists, and he appears poised to surpass both statistics this season.
Uncapped at the international level, Fagúndez could make a case for himself come future tournaments if his performances remain impressive, but he needs the rest of his team to start clicking on all cylinders. The pieces are there for this New England team, the players just havent found their mojo yet.
Prediction: New York 3 New England 1