For the second season in a row, 123 current MLS players voiced their opinion on hot topics surrounding the league, including best coach, promotion/relegation, most overrated player, and more for ESPN FC. This season, New York City FC midfielder and U.S. Men's International, Mix Diskerud earned the "honor" of "most overrated" player in MLS.
Diskerud Not the Only Overrated Player Named
There were 38 different players named as most overrated, however, Diskerud finished in first, just slightly ahead of probably more folks pick, Toronto FC's Jozy Altidore. If there is one person that was overly hyped coming into MLS that fans of the league knew had a realistic chance of excelling, Altidore would top many lists.
Other notable names on the list include Frank Lampard, Gio Dos Santos, Steven Gerrard, Andrea Pirlo and other big money names. While each player mentioned above has not done much for their actual team since joining the league, aside from cost them boatloads of cash, the league has profited off their transfers stateside exceptionally well.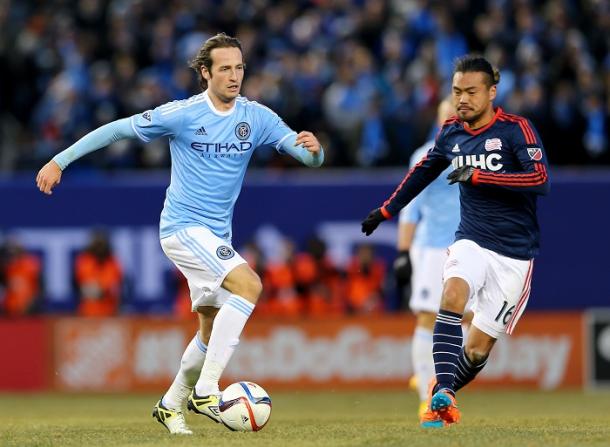 Diskerud is a good player overall. However, is he overrated? No. He has not ever done enough to become so hyped that when he doesn't perform well that suddenly fans are losing their minds over his lack of production. He is a strong and talented midfielder that would start on most, if not all MLS teams. As for his time on the USMNT, let's plead the Klinsmann on this one. Even the "best" players under the German boss struggle to live up to their previous success.
NYCFC play the New England Revolution this weekend. The club has played well thus far, holding a 1-1-1 overall record, with four total points. Diskerud does have one goal on the season, a beautiful volley he scored in the season opener against the Chicago Fire. With this being the second season of the expansion club, finding the right balance of quality play from the heavily talented midfield is a must. When a player like Poku has yet to even see the field, it shows that winds of change are blowing through the big apple.
The Eastern Conference is always harder to predict then March Madness or even who Jurgen Klinsmann will choose for his Starting XI, leaving the door open for the baby blues to possibly sneak into the playoffs. Overrated or not, Diskerud is part of the early success of NYCFC and manager Patrick Viera cares only about his players producing like he knows each is capable of doing. Watch for Mix to try and step outside his comfort zone over the next few matches to send a message to his doubters. There is talent there, but now the fact remains of whether he can use his talents to help carry NYCFC into the playoffs.