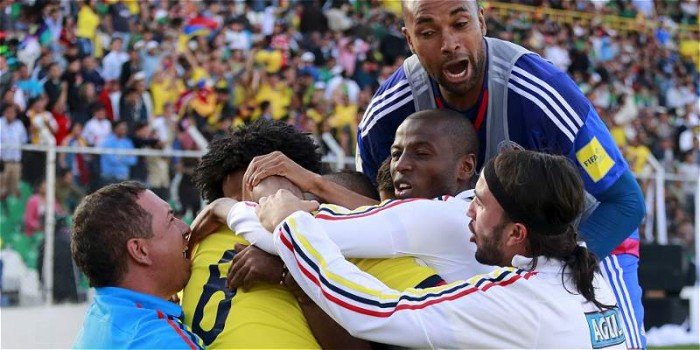 Colombia entered La Paz only scoring three goals in four games. A win for either Bolivia or Colombia would jumpstart their campaign and put both them back into the race with the top teams in the qualfiers.
Los Cafeteros were able to get the vital three points in one of the most difficult grounds in international soccer at the Estadio Hernando Siles. James Rodriguez, Carlos Bacca, and Edwin Cardona contributed to Colombia's scoring column in the 3-2 victory over Bolivia.
Pekerman came into Bolivia introducing four new players to the national team in the starting lineup. Sebastian Perez, Oscar Murillo, Guillermo Celis, and Farid Diaz were given their debuts by Pekerman in such an important match.
Altitude factored in the first half
The La Paz altitude was set as a challenge for Colombia early on in the game as the Bolivian side used it as an advantage taking shots from far distance. The thin air made the ball move quicker which gave the oppurtunity for many shots.
James Rodriguez gave the games opening goal with a nice finish off an assist from Carlos Bacca. Just before the first half ended, the roles reversed as Carlos Bacca would score Colombia's second goal assisted by Rodriguez; this was Carlos Bacca's first goal with the Colombia national team. The first half saw Colombia make the most of their advantages while Bolivia took many long shots testing as they hoped to test David Ospina.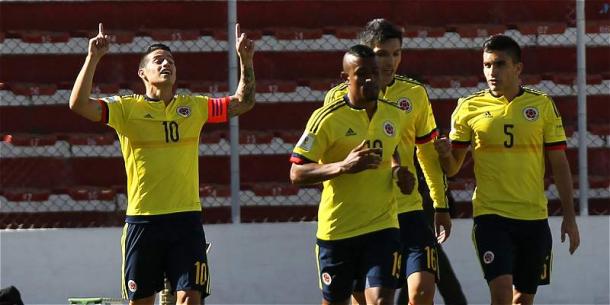 Dramatic Turn of Events
Bolivia started the second half as a completely different team, they dominated by putting pressure on Colombia. Bolivian coach, Julio Cesar Baldivieso's change in bringing Yasmani Duk in gave Bolivia a more direct counter attack as he made many runs inside Colombia's 18 yard box, which gave Colombia's defense problems.
Bolivia's constant pressure caused Colombia to drop back and this eventually led to Jeison Murillo's handball giving Bolivia a penalty. Juan Acre would score on the ensuing spot kick giving Bolivia's first goal. 13 minutes later, Alejandro Chumacero tied the game at two with a powerful strike giving Ospina no chance. The goal came with controversy though as Yasmani Duk pushed Jeison Murillo down but no foul was called by referee Wilton Periera Sampaio.
Baldivieso's side continued to give Colombia trouble as they didn't stop putting pressure on them. This forced Ospina to make more saves.
Pekerman's decision to bring on youngster Marlos Moreno in for the tired Juan Guillermo Cuadrado payed out well as the substitute showed quick pace and made good passes contributing to prominent scoring oppurtunities for Colombia in the late stages of the game. Marlos impressed right away as he gave Luis Fernando Muriel a good ball giving him a clear scoring oppurtunity but, goalkeeper Romel Quinones was there to save Muriel's chance to give them the lead.
Just like the last meeting between the two teams in La Paz, Colombia managed to get the win in stoppage time by a substitute. This time it was Edwin Cardona scoring the game winner. It was in October of 2011, when Radamel Falcao came on to give Leonel Alvarez and Colombia their first win of the 2014 World Cup qualifiers. Cardona's goal was assisted by Moreno off a fast run from midfield where he then passed it to Cardona.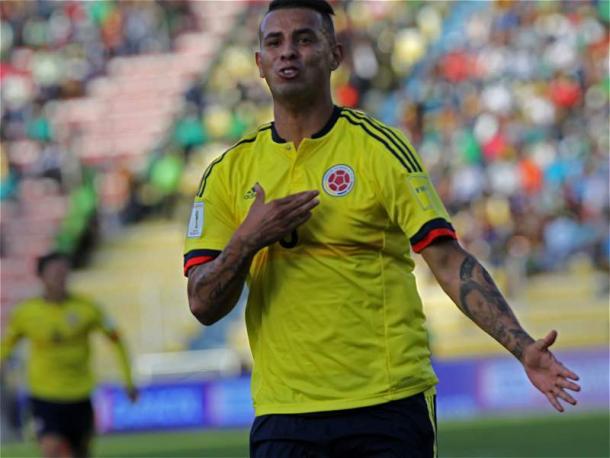 Colombia's huge victory in La Paz puts them at seven points in 7th place but tied in points with 6th place Chile and 5th place Brazil. Pekerman and company. now get ready for their encounter on Tuesday against CONMEBOL qualifiying leaders Ecuador at home in Barranquilla.