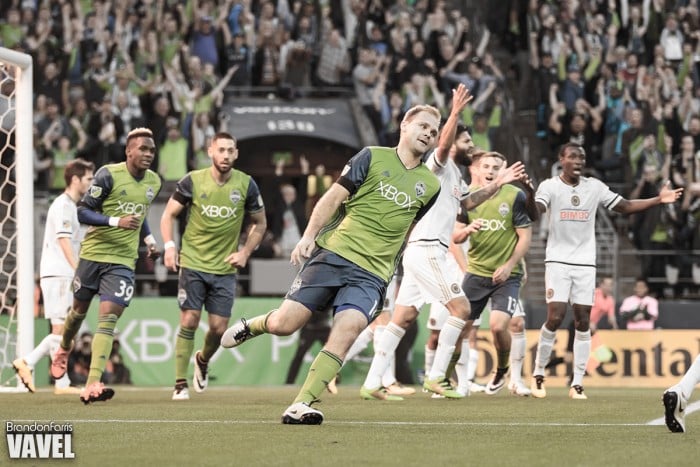 Philadelphia Union traveled cross-country to take on Seattle Sounders and left with zero points as they fell to the score of 2-1 in front of 39,620 spectators.
Philadelphia had a major selection dilemma right before the game, as Ken Tribbett was a later scratch with a rolled ankle. Union Head Coach Jim Curtin turned to rookie Joshua Yaro over Anderson to play centerback alongside Richie Marquez.
Back-and-forth first half
In the first half, both sides played ping-pong like soccer, with both teams having good spells of offensive play. The Union made a concerted effort to play down the right flank against Seattle's left side of Dylan Remick, Cristian Roldan and Andreas Ivanschitz.
However, despite giving up more defensively, Seattle played heavily through the left flank offensively trying to exploit Union rookies Keegan Rosenberry and debuting Joshua Yaro.
In the 32nd minute, Philadelphia midfielder Roland Alberg was shown his first yellow card on the night when when he slid in clumsily on a Seattle player. Despite of his yellow card, Alberg continues to be the engine for the Philadelphia midfield. His ability to move to space as well as cut in and out of central midfield brings long-awaited potency to the Philadelphia offense.
Despite mainly being a back and forth match in the first half, Seattle struck first in the dying minutes of the first half. In the 41st minute, Ivanschitz lofted a corner kick into the box, where a wide-open Chad Marshall was there to head the ball into the back of the net for the 1-0 lead.
Not even five minutes later, Seattle was robbed of second goal when Ivanschitz launched a laser from 15 yards out, but Andre Blake managed to get a hand on it to deflect it out of harm's way. Referee Drew Fischer blew the whistle for the first half after no stoppage time with Seattle in front 1-0.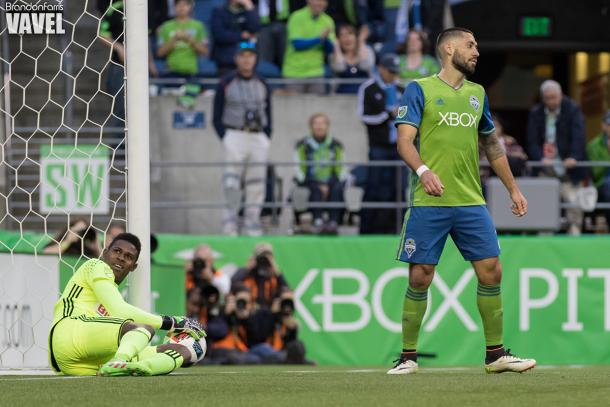 In the face of being down 1-0, Philadelphia had plentiful goal-scoring opportunities as the Union's flank players provided decent service for the dangerous forward CJ Sapong.
Just eight minutes into the second half, Philadelphia was down to ten men, when Alberg was given his marching orders after another dangerous tackle and subsequent yellow card.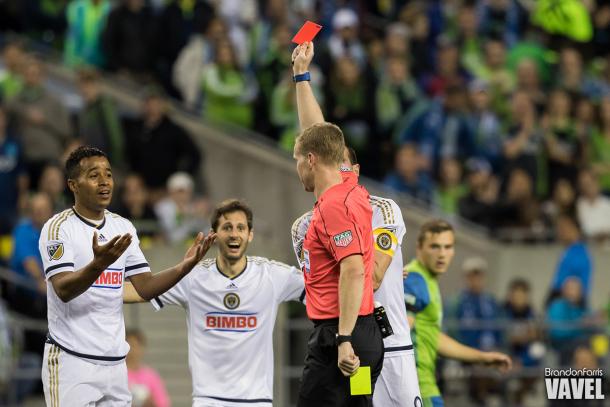 With only ten men on the field for Philadelphia, the running lanes for Seattle became wider, which allowed Seattle's wingers and forwards more room to operate. Philadelphia fought back valiantly on defense, but Seattle broke through for their second goal less than 20 minutes after Alberg's send-off.
Morris scores first goal
In the 71st minute, Seattle native Jordan Morris finally opened his professional account as he ran past Union centerback Richie Marquez onto a long through ball, which he then slotted past Andre Blake for the 2-0 lead.
Philadelphia answered right back with a goal in the 73rd minute, when Sebastian Le Toux hit a ball on the volley of a header from Sapong, to cut the two goal lead in half.
Unfortunately, that would be as close as the Union came to a result as Fischer blew the whistle for full time with the score at 2-1.
Coming Up
With the loss, Philadelphia drops to (3-3-0; 9 points) on the season. The Blue and Gold will look to rebound next Saturday when New York City FC (1-2-3; 6 points) comes to Talen Energy Stadium for an MLS Eastern Conference showdown. Seattle (2-3-1; 7 points) will also be in action next Saturday as they travel to Dick's Sporting Goods Park to face Colorado Rapids(4-2-1; 13 points).