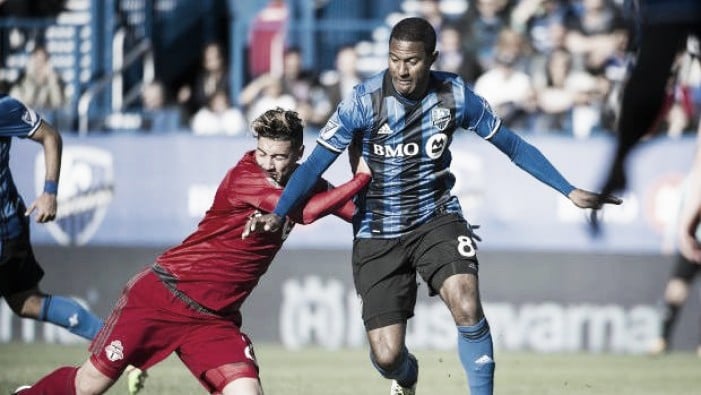 Toronto FC (TFC) reinforced their "road warrior" status with an impressive 2-0 win over the Montreal Impact in front of a sold-out crowd at Stade Saputo in Montreal, Quebec. Forward Sebastian Giovinco scored his fifth and sixth goals of the campaign, and has now been involved in all eight of TFC's goals this season. With the victory, TFC provisionally move up to third in the Eastern Conference, and now sit just one point behind the Impact in the standings. Although Toronto FC have taken eleven points out of a possible twenty one through their first seven games, they've played all of their games on the road this season, and have only given up five goals in seven games, the best defensive record in the Eastern Conference. TFC manager Greg Vanney will be ecstatic with his side's second consecutive shutout victory, and he will also be pleased that all three of his Designated Players (DPs)--forward Jozy Altidore, Giovinco, and midfielder Michael Bradley--played a big role in Toronto FC's win. Montreal Impact manager Mauro Biello will be disappointed that his side couldn't win in front of their raucous fan base, and by the fact that TFC were able to neutralize the Impact's two main offensive weapons--DPs Ignacio Piatti and Didier Drogba--will provide Biello with some food for thought as he looks to move on from Saturday's tough loss.
Not your father's Toronto FC
During last weekend's game between DC United and Toronto FC, DC United play-by-play announcer Dave Johnson described this 2016 Toronto FC team with the phrase "this isn't your father's Toronto FC." Longtime Toronto FC fans would likely agree with Johnson's opinion, as the 2016 version of Toronto FC has displayed defensive steel and an ability to close out games, two qualities that have eluded Toronto ever since they joined MLS (Major League Soccer) in 2007. Both of these qualities were on display in today's win over the Impact, and for the first time in a long time, Toronto FC fans can actually breath normally during the last fifteen minutes of a TFC match.
Both teams made it a priority to control possession in the opening stages of Saturday's game, but the game finally sprang to life in the 23nd minute. Impact midfielder Marco Donadel floated a well-weighted free kick to the right side of TFC's six-yard-box, and DP forward Drogba, making his first start of the season, headed the ball narrowly wide of TFC goalkeeper Clint Irwin's right goal post. Five minutes later, TFC created their own scoring chance after launching a blistering counterattack. Giovinco played a pass to Altidore at the top of the Impact's eighteen-yard-box, and the American international deftly laid the ball off to Canadian international Jonathan Osorio. The TFC left midfielder let Impact right back Ambroise Oyongo fly by him, but his hard, left-footed shot was palmed away by Impact goalkeeper Evan Bush for a corner kick.
In the 39th minute, TFC had a golden opportunity to take the lead. Forward Altidore tracked down a long, diagonal pass from midfielder Bradley, and he shimmied past right back Oyongo before being fouled by Impact center back Victor Cabrera in the Impact's eighteen-yard-box. Center referee Ted Unkel did not hesitate to point to the penalty spot, and Toronto FC's "Atomic Ant" Giovinco stepped up to take the penalty kick. Impact goalkeeper Bush guessed the right way, but Giovinco's powerfully-struck penalty kick nestled into the bottom-right corner of Bush's goal, giving TFC the 1-0 lead at halftime.
In the second half, neither team was able to take control of the contest, and the game became a scrappy affair. Montreal controlled a large majority of the possession for most of the second half, but seemed content to lob long balls to Drogba and hope that he would win his aerial duels and retain possession of the ball long enough for his midfielders to join in on the attack. TFC adjusted their defensive tactics and double-teamed Drogba, and the Impact offense ground to a halt. TFC tried to spring either Giovinco or Altidore on a breakaway opportunity, but the Impact defense, led by the imperious Laurent Ciman, blocked all passing lanes to either Giovinco or Altidore, and TFC began to lose possession at an alarming rate.
Yet the TFC defense, as they've done all season, maintained their shape and focus, and their dogged defending completely neutralized Impact attacking midfielder Piatti. The more-than-20,000 Impact fans in attendance grew impatient, and their impatience turned to stunned silence when TFC put the nail in the Impact coffin in the 81st minute.
Osorio did well to fend off Ciman and midfielder Johan Venegas, and he slipped a pass in the direction of Giovinco. Impact right back Oyongo slid to block Osorio's pass, but TFC midfielder Will Johnson collected the loose ball and poked it to a sprinting Giovinco. The little Italian unleashed a worm burner just as he entered the Impact eighteen-yard-box, and his shot arrowed into the bottom left corner of the goal. It was another clinical finish from Giovinco, his sixth goal in seven games, and the Italian international is firmly in the running for his second consecutive MLS MVP award.
TFC had a chance to extend their lead in the 87th minute, but Altidore had his shot blocked after being unselfishly set up by Giovinco. A minute later, Impact right back Oyongo had a chance to halve his team's deficit, but his shot from the right side of the TFC six-yard-box was agonizingly wide of Irwin's right post. When the final whistle sounded, the large crowd of TFC fans who made the trip to Stade Saputo serenaded their team, and TFC celebrated another deserved three points on the road.
Men of the match
Toronto FC: Sebastian Giovinco
39 starts. 28 goals. 18 assists. There is not a more explosive, fun-to-watch player in this league than Sebastian Giovinco. For long stretches of Saturday's match, Impact center backs Ciman and Cabrera had isolated Giovinco from Altidore and Toronto FC's four midfielders, and the man referred to as "Seba" grew more and more frustrated as he saw less and less of the ball. And yet, the 5'5" Italian finished the game with two goals and should have had an assist as well. He coolly buried his penalty kick past Bush, and used his non-dominant left foot to fire the ball into the back of the net and secure all three points for his club. That's what makes Giovinco so amazing: even when the other team double or triple-teams him, he still finds a way to make magic happen in front of goal. TFC manager Vanney will be hoping that Giovinco doesn't get called up to the Italian national team for Euro 2016. While it would be a huge honor for the forward to play in Euro 2016, Vanney will be without his star player for at least a couple of weeks if he gets called up, and the TFC manager knows that his offense is far less potent with Giovinco out of the starting lineup.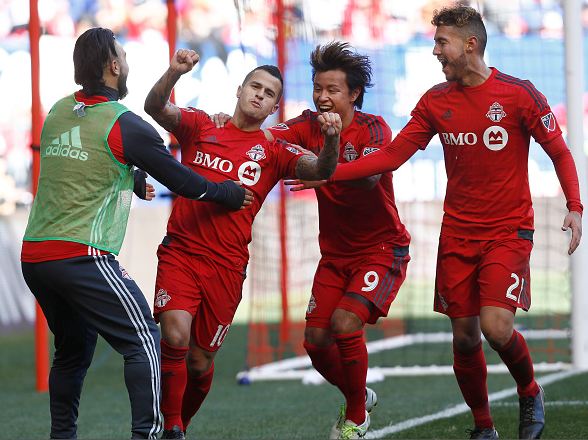 Montreal Impact: Laurent Ciman
Giovinco may be the front-runner to win this season's MLS MVP award, but one can argue that the player most responsible for his own team's success is Laurent Ciman of the Montreal Impact. No defensive player has ever won the Landon Donovan MLS MVP award, but if one watches Ciman on a weekly basis, he or she will realize just how integral he is to his team's success. The stats don't lie either; by the end of Saturday's contest, Ciman had amassed seven recovery tackles, eight interceptions, five clearances, one tackle in the open field, and one shot on goal. Ciman could have had an assist as well, as his pinpoint, fifty yard diagonal ball to right back Oyongo put the Cameroon international in on goal, but his shot went inches wide of the right goal post. Ciman was one of a couple different Impact players who were out of position when Giovinco scored his second goal of the contest, but he was still the Impact's best player on the day by quite a large margin.
What's next for both teams
TFC will play the final game of their eight-game road trip to start their season when they visit Providence Park to take on the Portland Timbers on Sunday, May 1, at 4:00 PM EST. Toronto FC defeated the Timbers 1-0 in their only meeting last season after a Sebastian Giovinco goal in the fifth minute. The Timbers, the defending MLS champions, are off to a 2-3-2 start and have already allowed fourteen goals, most in the Western Conference. Giovinco will be salivating at the opportunity to run at their back line. If he scores an early goal and his team's defense plays as well as it's played over the last couple of weeks, TFC should leave Providence Park with all three points.
The Montreal Impact host their second straight game at Stade Saputo when they welcome the visiting Colorado Rapids on Saturday, April 30, at 4:00 PM EST. The Rapids are this year's surprise package, as they currently sit third in the Western Conference and are still undefeated at home. The Rapids have only allowed five goals in seven games, tied for the best defensive record in the Western Conference, and the addition of Jermaine Jones to their lineup makes them even more formidable. Impact DP Didier Drogba should start up top for the Impact next weekend, and he will look to link up with star midfielder Ignacio Piatti as the two did to devastating effect last season. A Montreal win over the Rapids will help Impact fans forget about the disappointment of losing to TFC on Saturday, but if the Impact lose next weekend, TFC may jump above them in the standings, and Biello may have to change his tactics and lineup in order to get his side back to winning ways.