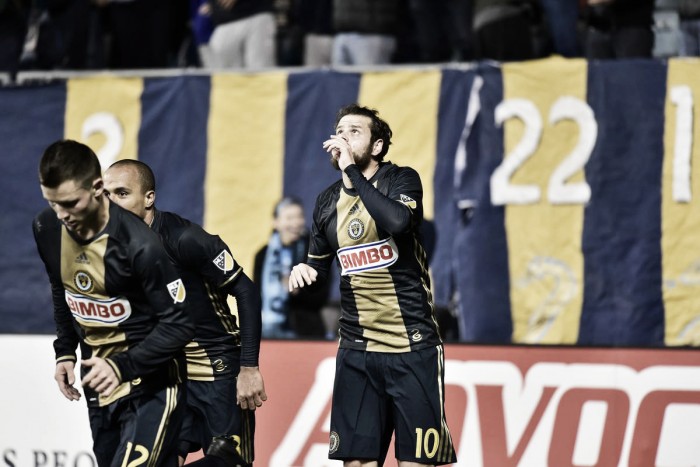 Full time! San Jose 1- Philadelphia 1
90'+4': Free Kick Earthquakes in the defensive half. That should just about do it
90'+3': Earthquakes throw in by midfield
90'+2': Corner is collected by Blake and rolled out to try to start the break. San Jose hits the ball out for a Union throw
90'+1': Marquez heads the ball out for an Earthquakes corner
Four minutes added at the end of the match
90': Union controll possession and are hard pressing for the game winner
89': Ilsinho tries a lob throw ball but it is collected by Bingham
88': Fernandes sends it wide and no players has a chance to do put it on net. Goal Kick Earthquakes
88': Union dangerous free kick 30 yards out. Big play right here
87': Union building possession and starting to press forward.
86': Union Corner Kick is corralled by Bingham
86': San Jose third sub: Alashe leaves for Jahn.
86': Union second and third subs: Barnetta comes off for Fernandes. Le Toux comes off for Herbers
84': GOAL SAN JOSE! Dawkins dribbles past three Union players and beats Blake to the right post. All tied with 6 minutes left!
Cross goes backpost and finds a San Jose player but the header is off target.
81': Earthquakes Free Kick from 35 yards out. Almost everyone forward
79': Dawkins rips a shot from 20 yards out but it is very easily held onto by Blake
79': Francis get through on Rosenberry, his shot is not on target. Goal Kick Union.
78': Union throw-in around midfield
77': Francis misses a free volley off of a corner as it goes over the net for a Union Goal Kick
76': San Jose 2nd sub: Quintero off for Garcia
75':Union throw-in deep in their own territory
First Union sub: Ilsinho for Pontius
74': Union corner kick after Barnetta's breakaway shot is saved
71': Union clamour for a handball on the side of the box but referee sess nothing in it
Corner finds Marquez but the ball is deflected out for a throw. Rosneberry takes the long throw in and the ball is collected by Bingham.
69':Corner Kick Union
68': San Jose not pressing despite being down with abotu 20 minutes to play
67': Le Toux with another good cross nearly finds Barnetta and Sapong in the middle but is deflected away from danger
66': Barnetta with another nifty move as he almost gets through on net but the ball is cleared by San Jose
64': Nogueira with a shot from 30 yards out that goes over the crossbar. Goal Kick Earthquakes.
64': Hard work by Pontius to keep a ball in gives the Union a throw-in in the attacking third
63': Good tracking back to get the clearance keeps the Union in control of possession
61': Wondo gets a soft shot off on top of th ebox but it is easily saved by Blake.
59': Barnetta hits it in and Sapong almost slides the second ball into the back of the net! Goal Kick Earthquakes
Free Kick is about 35 yards out and off to the right of the box.
58': AND GODOY IS GONE! Seonc yellow for a poor challenge on Barnetta!
55': San Jose 1st sub: Salinas comes in for Innocent
Were back for the second half!
Also, the backline has played rock solid as usual. Earthquakes have had little chances on net
Barnetta controlling the middle of the field and setting up his teammates well.
Union making a concerted effort to go down the right flank and it is paying off immensely.
HALFTIME 1-0 UNION
45'+1': Throw in for the Union in the defensive third
1 minute of stoppage time added by the fourth official
43': Union controlling the tempo and the right flank so far this half
40': Union throw in by midfield
38': Barnetta with another good cross, but neither Sapong nor Pontius can put it in
37': Handball by San Jose. Free Kick Union in the attacking half.
36': Godoy issued a yellow card
35': Sapong should have had a goal there but his shot on a wide open net goes wildly over.
33': Alashe with a horrible tackle from behind on Barnetta. Has to be careful there.
Yellow Card issued to Alashe after the goal
Barnetta with an absolute wonderful corner leading to the goal.
30': GOAL! PONTIUS WITH THE FREE HEADER FINDS THE BACK POST ON THE HEADER. 1-0 UNION
29': Creavalle comes back to help Rosenberry and steals the ball from Dawkins. Union counter and win a corner.
28': Good take by Barnetta but nobody is home as the ball is cleared and the Union regroup.
27': Sarkodie takes down Barnetta by the corner flag. Free Kick Union in a dangerous spot.
26': Le Toux finds Sapong in the box, but the header is fired right at Bingham.
26': Throw in for the Union in the attacking third
23': Union win throw in by midfield
21': Union trying to build possession through the back
20': Sapong almost through again but is held off well by Wynne so that the ball can be collected by Bingham
19': Yaro knocks Innocent off the ball to reclaim possession for the Union
18': Pontius tries to chest the ball into the net from the back post, but the ball goes out. Goal Kick Earthquakes
17': Nogueira fouls a Earthquakes player int he attacking half. Free Kick Earthquakes
16': Barnetta almost breaks Pontius free, but his ball is to long and is collected by Bingham.
14':Union free kick by midfield is taken quickly. Leads to some passing aroudn the top of the box by Pontius and Sapong, but the ball is eventually cleared out.
12': Earthquakes player is down on the field right now as play stops.
11': Free Kick Earthquakes fromt he left flank by the touchline. Wondo managed to get a free header on it but it goes over the net. Goal Kick Union
9': Union look to be trying to exploit the right flank where Francis is. Many of their play has been through Le Toux on that side
8': Barnetta fouled around midfield. Free Kick is played back to the defense to build possession.
7': Good step by Creavalle to prevent Innocent from taking a shot at the top of the box. Leads to a Union goal kick
6': Pretty back and forth so far. However, San Jose with most of the possession so far.
5': Le Toux gets a dribbling cross across the box. Sapong tries to wind up for a shot but the ball is stolen away.
4': Bingham's free kick comes errantly out of bounds. Throw in Union by midfield
3': Pontius is fouled by midfield. Free Kick Union
2': Some tussling in the box but Blake comes to claim the corner.
2': Earthquakes earn a corner after Yaro clears the ball out.
And we are off!
National Anthem has been sung and we are about to get underway!
Philadelphia is honoring Brian Carroll for his 350th MLS appearance last Saturday with a brief video from his former teammates
Players are walking out now! About five minutes till kickoff
Looks like Amarikwa is injured and will not go today
SJ Bench: Meredith, Stewart, Thompson, Garcia, Salinas. Barrett, Jahn
SJ Starting XI: Bingham, Sarkodie, Wynne, Bernardez, Francis; Quintero, Alashe, Godoy, Dawkins; Wondolowski, Innocent
Not a very surprising lineup for the Union. Alberg and Ilsinho start on the bench, but it is likely that both see time today.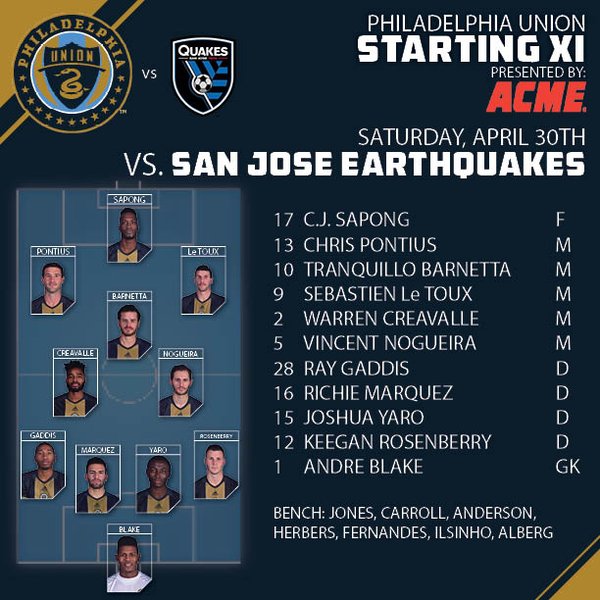 We are live from Talen Energy Stadium! Stay tuned for lineups!
Earlier this week, the MLS Disciplinary Committee decided to suspend Imperiale for his first tackle on Dwyer so he will be unavailable for this Saturday's game. To add to San Jose's selection dilemma, centerback Clarence Goodson is likely out with an injury. With Goodson and Imperiale out, Marvell Wynne will likely slide over to centerback and Kofi Sarkodie will move into a fullback position.
San Jose comes into this game after a controversial 1-0 win over Sporting Kansas City. Last Sunday's win was marred by referee Jair Marrufo missing what many saw as a clear penalty as Andreas Imperiale took down Dom Dwyer in the box. It was the second Imperiale tackle on Dwyer in the game.
On the wings, Curtin trusts his veterans, Sebastien Le Toux and Chris Pontius, and will likely keep them in the starting eleven. The only alternative is if Coach Curtin opts to start Brazilian Ilsinho. In central attacking midfield, Barnetta, if healthy, will likely get the start for most of the game as Philadelphia's technical staff tries to build back up his match fitness. If Barnetta does not feel match ready, the previously mentioned Alberg will probably get the start. Up top, CJ Sapong will continue to push this offense forward.
The only problem with starting Alberg and Nogueira in the double pivot is that it requires both players to track back. With a number six like Carroll or Creavalle in the double pivot, it frees the other player to go forward more.
In the double pivot, Philadelphia will have some combination of Vincent Nogueira and Warren Creavalle or Brian Carroll. There is the possibility of Roland Alberg getting the start alongside Nogueira. Alberg is a number eight/ten hybrid player.
With that said, Curtin has the option of sticking with Yaro or plugging in Anderson, who has not started since the season opener in March. With the team riding a streak of good play, Curtin will probably opt to keep Yaro in his centerback pairing with Marquez. Keegan Rosenberry will start at the other fullback spot.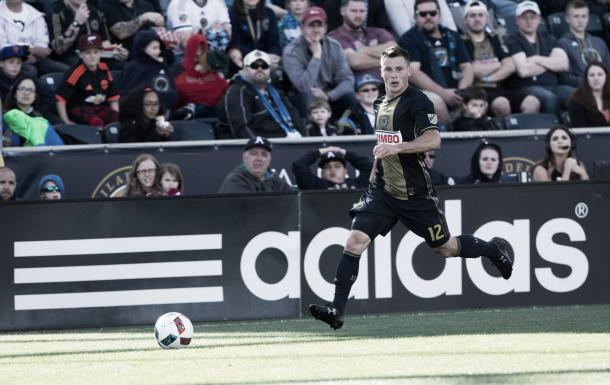 At defense, Fabinho is suspended due to yellow card accumulation. This means that Ray Gaddis will likely get the start in his place. As previously mentioned, Tribbett is questionable with an ankle injury. If he is able to go, it is possible that Head Coach Jim Curtin will opt to sit him to give him a rest, as Philadelphia does not have another game until May 11th.
Let's discuss the Union lineup for this upcoming match. At goalkeeper, there is no question Andre Blake will start. Blake is on top of his game this season and is considered one of the best goalkeepers in MLS, if not the best.
Furthermore, Yaro and Marquez will get another tough task in locking down Major League Soccer leading scorer, Chris Wondolowski. Wondolowski has seven goals on only 22 shots in eight games. He has made his career off his precise positioning in the final third. If Yaro and Marquez do not lock down Wondo near net, he could give them headaches all day. The Earthquakes also have Quincy Amarikwa, who can create opportunities for Wondo and the entire offense.
Some of that space could be contributed to Joshua Yaro and Richie Marquez not playing together often. With Ken Tribbett still questionable for Saturday's match, Yaro and Marquez will likely get the opportunity to work together again.
One concerning note out of the game for Philadelphia was the lack of tight marking on forward David Villa. Last Saturday, Villa had a ridiculous ten shots on net with one on target. While only one was on target, it is still not a good sight for the Union to allow ten shots to any player, even a world-class talent in David Villa.
In their last game, Philadelphia continued their 2016 undefeated home campaign with a 2-0 win over New York City FC behind two first half goals by Chris Pontius and CJ Sapong. Philadelphia was dominated in possession by NYCFC, 64.8% to 35.2%. Despite being out possessed, the Union had more opportunities with shots on target than NYCFC, five to one.
Head referee for Friday's match will be Ricardo Salazar. The assistant referees will be Adam Wienckowski and Eric Weisbrod. The fourth official will be Jorge Gonzalez.
Saturday's matinee is the only matchup between the two sides. In last September's game in San Jose, the Union took all three points behind two Conor Casey second-half goals, 2-1. In all eight matchups between the sides, San Jose holds a slight lead with four wins to three Union wins. Philadelphia and San Jose have tied once as well.
In four games in Chester, each team has won two games.
Welcome to VAVEL USA's LIVE coverage of the 2016 Major League Soccer Regular Season. Today's matchup between Philadelphia Union and San Jose Earthquakes will take place at Talen Energy Stadium in Chester, Pennsylvania. I'm Jordan Wohl, and I'll be providing minute-to-minute updates, commentary, and results of the match. The game starts at 4 PM ET and there will be coverage pregame, mid-game, and postgame.