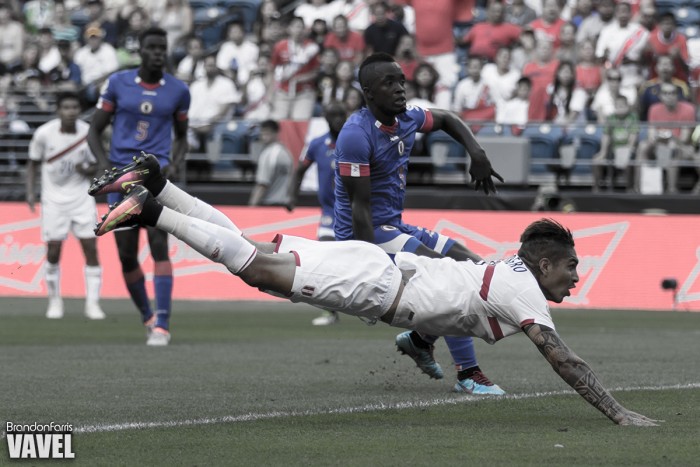 The first match of Group B in Copa America Centenario was played between Haiti and Peru at CenturyLink Field in Seattle, WA. Both teams, knowing points are at a premium, looked to get off to a fast start and take an early lead in the group. The game was played under clear blue skies with temperatures reaching the mid-80s. Led by Paolo Guerrero's goal in the 61st minute, Peru defeated Haiti 1-0 to take an early lead in Group B action.
Peru controls early part of the match
The first 20 minutes of the match belong to Peru. Haiti was clearly content to sit back and absorb any pressure that would be thrown their way. Every now and then Haiti would break on a counter-attack as Peru was pushing forward.
The best chance of the entire first half came from Peru's 20-year-old Edison Flores. After receiving a pass at his feet just inside the 18-yard box, he fired a shot. The shot had Johnny Placide beat, but not the post. The ball ricocheted back across the mouth of the goal and Haiti was able to clear away the danger.
Haiti not afraid to attack
Heading into this match, many felt that Haiti would be fine sitting back and allowing Peru to attack them. Haiti is a very defensively sound team as they have only given up six goals in their last five games, three against Colombia, leading up to the Copa America.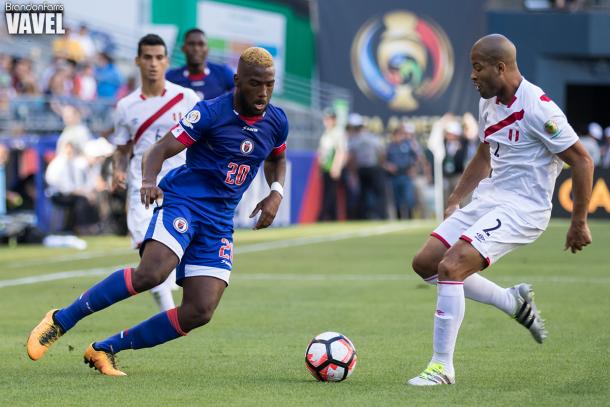 Duckens Nazon proved to be the most dangerous of the Haitian players on the pitch. Early in the first half, he had a great opportunity as he was heading toward the Peruvian goal. He had the defender backpedaling towards his own goal and as he cut to his right, Nazon was not able to maintain his balance has he stumbled slightly and lost possession of the ball.
Second half see Peru make changes
The second half began a lot like the first did with Peru controlling a majority of the possession. The one thing that looked to have changed was Peru was not pushing as far forward as they did in the first half. It appeared that they were wary of the counter-attack. Haiti proved that they have tons of team speed.
Goal finally comes for Peru
It took 61 minutes, but Peru finally found the back of the net. Edison Flores, just 20-years-old, sent in a beautiful cross that found the head of a diving Paolo Guerrero. The crowd erupted as the ball rippled the back of the net. That now gives Guerrero 27 goals in 68 international caps.
You could tell Haiti was doing everything that they could to not allow another goal. They were a bit hesitant to push forward as they didn't want to be exposed on the counter-attack. After a hard fought match, Peru is currently at the top of Group B. Haiti should not hang their heads as they played a great game and showed that they should be taken seriously in this competition.
What's next
Haiti will travel clear across the country and take on Brazil at Camping World Stadium in Orlando, FL on June 8th. Kickoff is scheduled for 7:30pm ET. Peru will travel to Arizona and play Ecuador at the University of Phoenix Stadium on June 8th as well. Kickoff for that game is scheduled for 10:00pm ET.