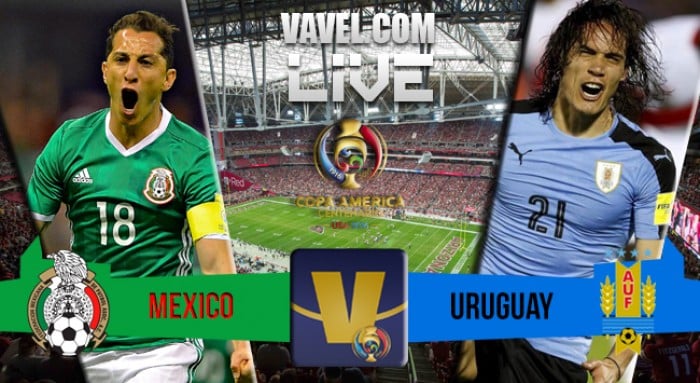 Thanks for joining me guys and follow me on twitter @iscarr23
Final 3-1 Mexico over Uguguay in a wild and crazy last 15 minutes. Mexico give up their first goal in over 800 minutes and just as it looked that Uruguay would get a second Mexico bounced back nicely.
94' Game over Mexico wins. Uruguay are losing their minds as Musela almost mugs the ref.
94' Jail Break for Mexico as Jimenez header doesn't do anything but hit the keeper.
93' Jimenez with a yellow
Hector Herrera gets at the end for an easy header as Mexico gets a counter as Lozano's cross gets tipped by Jimenez and he flicks it along to Herrera for the easy header. Mexico look like they will win this crazy match.
92' GOAL MEXICO GOAL MEXICO
91' Jimenez uses his size and foot skill to get a foul and use up more time for Mexico.
90' Four minutes to be added on.
90' Godin has left his centerback spot to move to as a forward. His header is over the bar.
89' A crazy last 15 minutes that has seen two goals and a red card as we get close to extra time.
88' Uruguay players not happy thinking that the goal was offsides
88' Uruguay pushing everyone upto try and get an equalizer
86' After the ball was bouncing in the box it's the 37 year old Rafael Marquez who scores to goal to give Mexico the lead. Smashing the ball into the near most.
85' GOAL GOAL GOAL GOAL MARQUEZ MARQUEZ MARQUEZ!!! RAFAEL RAFAEL
84' Ramirez in for Sanchez for Uruguay
83' Raul Jimenez in for Chicharito Hernandez
82' Chichario gets behind the defense only for his shot to be blocked by Jimenez for a corner.
81' Back and forth action with both teams going at it to try and get the winner.
80' Game has settled a bit after the last 10 mintues.
76' Mexico start to have some possession again.
First goal in over 800 minutes against Mexico.
In a matter of a few minutes Mexico has lost a player and gotten scored on. Now Mexico will need to show what they're about and see if they can rebound for this.
74' Goal Uruguay. Off the freekick Godin smashes home the header. 1-1
73' RED CARD Andres Guardado gets a second yellow.
73' Another free kick for Uruguay in the Mexican half.
72' One of Mexico's assistants gets his walking orders. he isn't taking it well.
71' Talavera with a HUGE blunder as he comes out of the box to miss time a cross. Luckily for him and Mexico nothing comes from it.
70' Mexico with a few attacks but easy saves. Those wondering though, another "Puto" is yelled out by the Mexican fans.
68' Yellow card for Pereira
67' Freekick smacked into the wall.
66' Freekick for Uruguay in a spot that will challenge the goal.
64' Mexico looking a bit sloppy while Uruguay look aggresive in hopes to draw.
61' Jesus Corona subbed out for Jesus Duenas, a little more defensive player.
60' On the other end Hernandez gets fouled by Jimenez. Yellow on Jimenez.
58' Uruguay with the best chance they've had all game as Godin makes a run, finds Cavani, who finds Rolan and he misses his chance.
57' Corner kick for Uruguay
56' Lozano gets behind the defense but is offsides.
Aquino worked his ass off for the 55 minutes he was on the pitch. Lozano will continue to bring pressure on the Uruguay defense.
54' Hirving Lozano coming in for Javier Aquino.
54' Another freekick in Mexico's half. Would be a shame for Mexico to get scored on from a deadball being a man up.
53' Cavani gets the ball but its him against 4 defenders.
51' Uruguay looking better than they did in the first half. Mexico look a step lower but plenty of time left. Guardado makes his way back on the field.
50' Guardado on the ground as Rios tackles him hard. Guardado being taken off the field.
49' Another corner for Uruguay. A great way them to get back into the match is off a deadball.
48' Free kick for Uruguay which is headered away for Layun for a corner.
Alvaro Gonzalez enters at halftime for Lodeiro (Uruguay)
46' Second half underway
Besides the Cavani chance, Uruguay has been second best as their midfield looks lost and haven't been able to get on the ball and really create chances.
Mexico has looked great. They're pressing high and forcing their style into the game.
HALFTIME: Mexico 1 Uruguay 0 as Mexico cameout on fire and saw an Uruguay player get red carded.
45' RED CARD RED CARD RED CARD. Vecino gets red carded right before half as Vecino kicks Corona leaving Uruguay with 10 players.
44' Uruguay starting to build a play but lose it quickly and before Mexico could get on the counter.
43' Mexico on the counter that saw Hernandez get behind the defense for a corner kick for Mexico.
41' Uruguay midfield looks slightly lost as they've yet to get on the ball for the most part.
39' Corner kick Mexico again after they challenge the Uruguay defense around the box.
38' Uruguay has never been one to not get a little dirty. Surprising Pereria isn't getting one either.
37' Aquino gets fouled by Pereira after he continues to beat him down the right hand side.
36' Corona with a beautiful move on the left flank but couldn't get a foot on it for a cross.
35' Layun with the corner and Marquez gets a head on it and before Hernandez can get a foot to it Musela collects it.
34' Mexico with the ball around the box of Uruguay but can't get a clear shot. Corner kick for Mexico.
32' Aquino with a great run down the right and a cross coming in that was cleared.
31' A half an hour into the match and the last few minutes Uruguay are starting to get into the match more. They've slowed it down and mucked it up a bit.
30' Nothing comes from the following corner. Cavani has to do better as a world class striker. Big time save from Talavera though.
30' Talavera with a big time save on Cavani as he slips behind the defense.
29' Tackles flying everywhere now and Chich now gets whacked. Another goalkick for Uruguay and another Puto from the Mexican fans. #FIFAFines
28' Vecino of Uruguay gets a yellow for a hard kick to Guardado.
27' Aquino with a great interception on the defensive end and contineues to look great early on in the match.
26' Yellow card for Andres Guardado of Mexico for a late and really needless challenge on Sanchez.
25" Another hard foul form Uruguay to allow Mexico to put the ball in the box.
Mexico's goal, which resulted in an own goal is the fastest own goal in Copa history. #funfacts
23' Marquez doesn't even bother jumping for a ball he knows he can't win. Using his 20 years of expereince to know better.
23' First chance for Uruguay and Sanchez gets behind the defense and was looking for Carvani. Marquez shows he still can move and makes a great save for a Uruguay corner. Nothing comes from it.
22' Aquino and Corona switch sides on their attack, a cross from Corona on the right finds Aquino who forces the keeper into a save.
21' 20 minutes in and Nestro Araujo playing in his first big spot in the backline for Mexico has handled himself well.
20' Mexico on the other hand look to be pressing high and putting the Uruguay defense under heavy pressure.
19' Uruguay not pressing Mexico which is allowing Marquez to pick his pass. At his age the one thing he hasn't lost is a world class touch.
17' Chicharito just one second step in fornt the of backline of Uruguay.
15' First goal kick for Ururguay and Mexican fans yell "Puto" to show FIFA how little they care that FIFA fined the FMF for that chant.
13' People were really looking forward to what Jesus Corona would do but early on it's Aquino on the other wing who looks full of energy.
12' Uruguay still trying to settle as they have yet to have yet to have any meaningful posession.
11' First freekick from Uruguay and Mexican fans yell "Puto" to the shock of no one.
10' Aquino pushed very wide, as is Corona. Formation for Mexico turning almost into a 3-2-4-1
9' Foul for Mexico with the free kick played into the box and headered away from Uruguay.
7' Reyes looks like he moved up to the midfield as Marquez drops. Araujo on one side and Moreno on the other. Three back with Layun floating inbetween the lines.
6' Uruguay look a bit shaken from the early goal as the Mexican crowd is high with energy.
Andres Guardado on the left flank and whips in a cross. Chicharito with a great near post run which forces Godin to follow and allowed space for Herrera to come crashing in. Ball boucned off a Uruguay defender.
4' GOOOOOOOOOOOOOOOOOAAAALLLLLLLLLL MEXICO GOAL MEXICO!!!
2' Foul of Chich in his own half. Uruguay plays short but quickly lose it.
2' Rafael Marquez started in the middle, quickly moved to the backline while Layun moved up.
1' KIIIIIICK OFF
It was the Chile anthem that was played... opps. Moment of slience for Ali and Hernandez iz praying.
Turns out it wasn't Uruguay's Anthem that was playing. Which expains why they all looked so awkward.
Ururguay keeper Musela looks to be aging backwords, looks as young as ever.
Early chants of "Mexico, Mexico" raining down before the anthems.
Teams are lined un in the tunnel, with Rafael Marquez leading Mexico out. Captain Marquez
Rios for Uruguay and Marquez for Mexico in the middle will be interesting considering that combined they are 71 years old. They also play their club soccer together. Lets see if they look like grizzled vets or old farts.
Last time these two met in general was in the 2010 World Cup group stage in which Uruguay won 1-0 thanks to Luis Suarez.
Last time these two met in a Copa America Mexico won the bronze 3-1. Andres Guardado scored in that match.
Rafael Marquez will make is 132 cap for Mexico while his fellow Atlas acadamy boy Andres Guardado will make his 129th cap for Mexico.
Mexico's starting XI
GK: Alfredo Talavera
DF: Nestro Araujo, Diego Reyes, Hector Moreno, Miguel Layun
MF: Rafael Marquez, Andres Guardado, Hector Moreno
FW: Jesus Corona, Javier Aquino, Javier Hernandez
Uruguay with their starting XI
GK: Fernando Muslera
DF: Maximiliano Pereira, Diego Godin (C), Jose Maria Gimenez, Alvaro Pereira
MD: Egidio Arevalo Rios, Matias Vecino, Nicolas Lodeiro, Carlos Sanchez
FW: Edinson Cavani, Diego Rolan
Follow me on the blue bird at @iscarr23 for all your Mexican news rumors or just crap.
Looks like Mexico will go with their all whites for this match.
The question for Uruguay is which team will we see? The team who looks like they've been able to figure out how to play without Suarez or the one from tournaments past who look slightly lost and out of ideas without their man biting, goal scoring machine?
In last year's Copa America, Uruguay struggled in the group stage and finished third with their only win coming against Jamaica. The only goal that match came when the Jamaican keeper hit the ball off a Uruguayan player and into the back of the net for a comedic goal. They later would again lose to Colombia in the knockout round of the tournament on penalties.
After Suarez was suspended in the 2014 World Cup for biting an Italian player, Uruguay crashed out in the round of 16 to South American rivals Colombia.
While Uruguay's World Cup Qualifying has been strong, in short tournaments such as this they've struggled without Suarez. Back in 2010, they lost the World Cup Semifinal to Holland which Suarez missed because of a red card suspension.
Without Suarez all eyes will be on Paris Saint-Germain frontman Edinson Cavani, and whether or not he can create and finish enough chances without Suarez.
While Suarez is the lightning rod of the team, Uruguay still have a bevy of World Cup players including Fernando Muslera in goal, who has been their man between the post for almost nine years now. Uruguay is led by captain Diego Godin and fellow club teammate Jose Gimenez, as well as Maxi Pereira, who is close to becoming Uruguay's most capped player in history.
This match was supposed to be the return of Barcelona striker Luis Suarez, who was last seen playing for Uruguay when he decided to find out what Italian flesh tasted like in the 2014 World Cup which led to a long suspension. Unfortunately, he picked up an injury for Barcelona and will miss at least this opening match.
After a bit of a transition stage, Uruguay enter the tournament in good form. They sit atop the CONMEBOL World Cup qualifying table with 13 points out of a possible 18 including four wins, one draw, and one defeat.
It's hard to remember, but when Tabarez took over in 2006 Uruguay were in shambles and had missed out on three of the last four World Cups. They looked like a shadow of their former selves. Since creating and installing a whole overhaul of the national team including the youth system, Uruguay has returned to glory. The peak of this success came in 2010 and in 2011 when they made a run to the World Cup Semifinals and won the Copa America.
The two-time World Cup champions are lead by Oscar Tabarez who now enters his tenth year as Uruguay's head coach and has helped bring back the former champions to World glory.
Uruguay enter the tournament as the most decorated team in Copa America history having won the cup a total of 15 times including their most recent victory in 2011.
Yet, all eyes will be on poster boy Javier "Chicharito" Hernandez as he's coming off a 26 goal season with German club Bayer Leverkusen and sits only three goals behind Jared Borgetti on top of Mexico's all-time goal scoring list.
What is known is that there are many Mexicans entering the tournament in great form, starting in the back with Hector Moreno and Miguel Layun. Meanwhile, in the middle Hector Herrera and captain Andres Guardado also come in on the back of great seasons overseas.
The last seven of those victories have come under new head coach Juan Carlos Osorio, who's yet to taste defeat, a draw, or even a goal against as Mexico's coach. Now the spotlight is brighter than ever on him as Uruguay post his most challenging foe to date. With his unorthodox style of coaching, no one knows the starting XI or formation that he will put out.
The last time El Tri allowed a goal was back in October in the CONCACAF Cup final against the United States. Since that time they've collected eight straight clean sheets and have yet to be scored on in 732 minutes of play.
In that 19 game undefeated run, they're also on a nine-game winning streak with their last draw coming against Copa America favorites, Argentina back in September of last year.
There are some high expectations for Mexico entering the match as they're seen as one of the potential dark horses in the tournament. Part of the expectations comes from their fine form, as their on a 19 game unbeaten streak that dates back almost an entire calendar year. Their last defeat came in last year's Copa America, when they lost to Ecuador 2-1 in the last group game to bow out of the competition.
Mexico begin their 2016 Copa America Centenario with a challenging matchup as they face South American power Uruguay as the two favorites to make it out of Group C lock horns and try to seize control of this group.
I'm VAVEL USA writer Ivan Sanchez-Carrasco and I will be bringing you the up to date coverage of the event in the lead up to this match, as well as minute-by-minute coverage during the game.
Welcome to VAVEL USA's Coverage of the Copa America Centenario Group C match between Mexico and Uruguay which is set to kickoff at 8 PM Eastern time and 5 PM Pacific from Glendale, Arizona at University of Phoenix Stadium, home of the NFL's Arizona Cardinals.