 A Philippe Coutinho hat trick would have been enough on its own, but Brazil scored four more times to trounce Haiti 7-1 at Camping World Stadium in Orlando, Florida on Wednesday. Brazilian midfielder Renato Augusto scored a brace while substitutes Lucas Lima and Gabriel added to Brazil's goal tally. Brazil took advantage of Haiti's woeful passing to punish the Haitians with lightning-quick counter attacks, and manager Dunga will be relieved that his team finally put in a dominant performance, even against an overmatched Haitian side. Brazil's last group stage game will be against Peru this coming Sunday, and a Brazil win against La Blanquirroja will ensure a first-place finish and may even quiet down some of Dunga's critics. Brazil didn't look like a Copa America title contender when they tied 0-0 with Ecuador in their first group game, but tonight's victory shows that they still have the skill and individual brilliance necessary to challenge tournament favorites Argentina for the title.
Player ratings (1-10, with 10 the best)
Brazil
GK Alisson, 7 -- Only made three saves and had very little to do on Wednesday. Held a Jean Sony Alcenat shot and saved a late Mechack Jerome free kick. Unlucky to palm a shot into the path of Haiti midfielder James Marcelin, who swept the rebound home. Looked much more confident after a shaky performance against Ecuador.
RB Dani Alves, 10 -- Brazil's captain had a hand in three of Brazil's goals. His dangerous cross wasn't properly dealt with, which lead to Coutinho's second goal, and he had two assists, one to Augusto on his first goal and one to Lucas Lima. He dominated his right flank and put in a couple of fine tackles, and passed the ball with unerring accuracy. A 92nd national team appearance to remember for the 33-year-old right back.
CB Marquinhos, 6 -- The Paris St. Germain man didn't put a foot wrong, but he had almost nothing to do. Will face a much stiffer test when he faces off against Peru striker Paolo Guerrero on Sunday.
CB Gil, 7 -- Like Marquinhos, Gil was rarely tested against an anemic Haiti offense. Did assist on Coutinho's third goal, but all he did was pass to Coutinho and let him do his magic.
LB Filipe Luis, 7 -- Had the assist on Coutinho's first goal and supported his midfielders whenever they ventured forward. Had very little defending to do, but didn't shirk his defensive duties when called upon.
CDM Casemiro, 6 -- Casemiro displayed great strength and tidiness on the ball against Haiti but earned a yellow card which will force him to miss Sunday's match against Peru. He could use the extra rest, though, after playing a lot of minutes with club team Real Madrid.
RM Willian, 7.5 -- Willian didn't need to exert himself against Haiti but was still a menacing presence down the right flank, constantly pinging balls into the Haiti 18-yard-box or making clever runs into the box. Haiti left back Kim Jaggy pushed way too high upfield, giving Willian plenty of time and room to toy with the Haiti defense.
CM Elias, 7 -- Elias had the assist on Gabriel's goal, Brazil's fourth, and didn't look out of place in the talented Brazil starting eleven. Some Brazil national team fans questioned why Elias was starting over Ganso and Lucas Lima against Haiti, but the 31-year-old played well and may start again on Sunday.
CM Renato Augusto, 9 -- Augusto clinically headed in a perfect Dani Alves cross in the 35th minute, before capitalizing on a Haiti mistake to fire home Brazil's sixth goal in the 86th minute. The Beijing Guoan man linked up well with Coutinho and displayed some silky dribbling skills. One of the most technically gifted players on this Brazil squad.
LM Philippe Coutinho, 10 -- Brazil's unanimous man-of-the-match on Wednesday. His first goal, an outside-the-box rocket that gave goalkeeper Johny Placide no chance, is a potential goal-of-the-tournament candidate, while his second goal, a tap-in, was much simpler. He delivered a couple of jaw-dropping cross-field passes to disorganize the Haiti defense, and his dribbling skills left Haiti defenders in his wake. He capped off his display with another outside-of-the-box laser that left Placide helpless. If Coutinho can continue to produce moments of magic like he did tonight, Brazil can beat any team in the knockout round.
FWD Jonas, 5 -- Jonas had the assist on Coutinho's second goal, but didn't attempt a shot on goal during his time on the field. Didn't impress many of the Brazil fans in attendance, and was replaced by 19-year-old striker Gabriel Bautista at half time. Needs to play better if he starts for Brazil on Sunday.
Substitutes
FWD Gabriel, 8 -- Much more threatening than Jonas after replacing him at halftime. He displayed an impressive work rate and showed off his blistering pace when he fired the ball past Placide and into the bottom-right corner of the net in the 59th minute. The 19-year-old has a bright future ahead of him if he continues to play at a high level.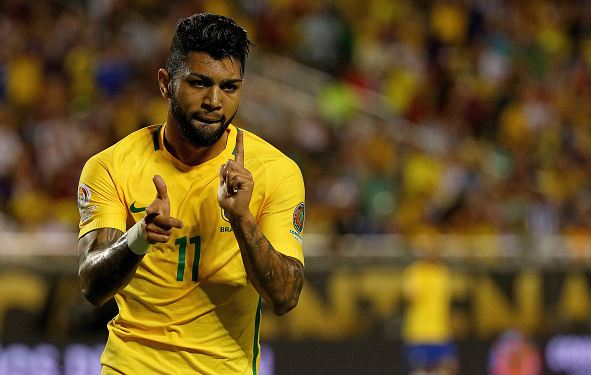 MF Lucas Lima, 7 -- Replaced Casemiro in the 62nd minute. Didn't lose possession of the ball and was very comfortable linking up with teammates. Scored a brilliant header off of a Dani Alves cross, and wore the number 10 shirt with pride.
MF Wallace, 6 -- The midfielder replaced Elias in the 72nd minute and played less as a central midfielder and more as a defensive midfielder. Very tidy on the ball and was quick to shift the point of attack from one side to the other. Didn't have much to do, but made some good tackles and stopped a couple of Haiti forays forward.