 Haiti were played off the pitch in an ugly 7-1 loss to Brazil at Camping World Stadium in Orlando, Florida on Wednesday. Brazil midfielder Philippe Coutinho scored a hat trick, while midfielder Renato Augusto scored a brace and Lucas Lima and Gabriel rounded out the scoring. Haiti midfielder James Marcelin was able to get Haiti on the board in the 70th minute after pouncing on a rebound, and his goal brought wild celebrations from the Haiti national team fans in attendance. While Marcelin's goal was a heartwarming moment, Haiti were dreadful for most of Wednesday's game, frequently conceding possession and leaving plenty of room for Brazil's midfielders to operate. Manager Patrice Neveu will be greatly disappointed with his side's inept display, even if they were not expected to win, but he will have to prepare his team for their last group game, a match against Ecuador on Sunday, June 12.
Player ratings (1-10, with 10 the best)
Haiti
GK Johny Placide, 6 -- One of Haiti's best players on Wednesday even though he conceded seven goals. He made six saves, including a terrific save on a Willian strike in the 79th minute. He made a bad mistake when his pass was intercepted by Dani Alves, who crossed the ball to Renato Augusto to head home. His defense completely let him down, though, and he wasn't at fault for the other six goals.
RB Reginal Goreux, 3 -- Earned a yellow card for a foul on Willian in the 25th minute, and misplaced a number of passes both in his offensive and defensive end.
CB Mechack Jerome, 4 -- Didn't complete many passes and was beaten for pace by striker Gabriel Bautista multiple times. Was forced to defend multiple attacking players, so he shouldn't shoulder all of the blame. Had a powerful free kick saved by Brazil goalkeeper Alisson in second-half stoppage time.
CB Romain Genevois, 3 -- Didn't close down Coutinho on Coutinho's first goal and didn't close down the little Brazilian on his hat trick goal as well. Couldn't deal with forward Bautista's speed and had a couple of poor passes.
LB Kim Jaggy, 2 -- Dreadful display from the 33-year-old. Not only was he unable to defend Willian in 1v1 situations, but he pushed way too high upfield, leaving acres of space for Willian to exploit and putting his other defenders under needless pressure. His passing was wayward as well, and one has to wonder how he stayed on the field for the entire game.
CDM Jean-Marc Alexandre, 3 -- His main task was to shield the back line and switch the point of attack. Didn't do either task well at all, as he lost possession countless times and was overrun by the faster Coutinho and more skillful Augusto. Replaced in the 62nd minute.
RM Jean Sony Alcenat, 5 -- His shot was saved by Alisson in the 70th minute, but the rebound fell to Marcelin, who powered it home for Haiti's lone goal. Also had a decent shot comfortably saved in the 41st minute. Lost possession a lot and didn't help his right back Goreux on the defensive end. Subbed off in the 83rd minute.
CM James Marcelin, 6 -- Like many of his Haitian teammates, Marcelin was in a giving mood on Wednesday, as he constantly passed the ball to the opposing team. He did do more defensive work than most of his teammates, and also etched his name into Haitian lore with a goal in the 70th minute. It's a goal he will likely never forget.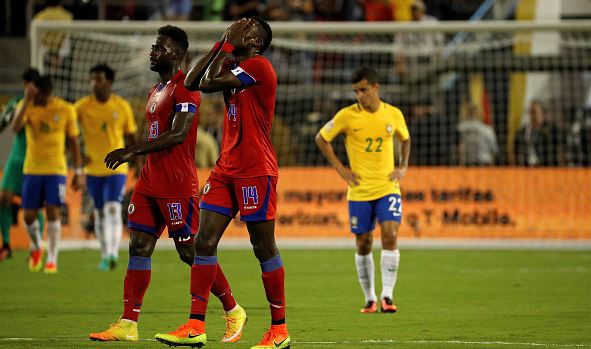 CM Kevin Lafrance, 3 -- Guilty of numerous fouls and conceded possession at an alarming rate. Didn't support the attack and was shackled by Elias and Casemiro. Was anonymous in the second half.
LM Jeff Louis, 4 -- Tried to dribble through multiple defenders and had his pocket picked numerous times, but at least he tried to take risks in the final third of the field. Had a hard time linking up with forward Kervens Belfort, and tried to do too much on his own.
FWD Kervens Belfort, 2 -- Did nothing productive during his 49 minutes on the field. Hold-up play was nonexistent, could not complete simple passes, and didn't attempt a single shot on goal. Was also offside twice. Should have been subbed off in the first half.
Substitutes
FWD Duckens Nazon, 6 -- Miles better than Belfort after replacing him in the 49th minute. Dragged his shot wide after a nice spin-and-turn in the 52nd minute, and was much more energetic than Belfort. Had the pass to Alcenat which led to Marcelin's goal, and should start against Ecuador on Sunday.
CDM Max Hilaire, 4 -- Was anonymous after replacing Alexandre in the 62nd minute. Didn't have many touches on the ball, but didn't have many giveaways as well. The same can't be said for most of his teammates.
CM Jean-Eudes Maurice, NR -- Replaced Alcenat in the 83rd minute. Did not do enough to earn a rating.