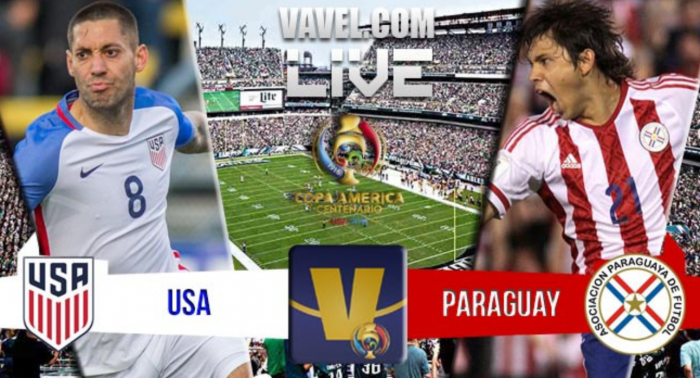 The USA adavcnes to the knockout stages of the tournament. The US will either play next Thursday in Seattle or most likley next Friday in New Jersey. Paraguay on the other hand has been eliminated. Thank you for following along tonight. Stay tuned for complete post match coverage from Philadelphia. From Lincoln Financial Field, I'm Josef Leizerowitz, signing off.
Fulltime: USA1 Paraguay 0
90+' Guzan smothers a corner.
90+' A dangerous ball is played into the US box, but it goes untouched.
90' Six minutes of added time
90' The US pins the ball in the corner of the Paraguayn half.
89' Ruled offside! Gustavo Gomez slots the ball past Guzan, but he had been ruled offside.
88' Yellow Card awarded to Jermaine Jones (USA)
87' Beckerman's shot from outside the box is high and wide of the net.
83' Substitution: Kyle Beckerman on for Bobby Wood (USA)
82' Double save by Guzan! Paraguay gets two shots on the American keeper from the six yard box, but Guzan is there to save the shots.
80' A Lezcano header is high over the bar.
79' Yellow Card awarded to Micahel Orozco (USA)
78' Yellow Card awarded to Victor Ayala (PAR)
77' Despite having all the possesion, Paraguay is lacking in its delivery in the final third.
75' Substitution: Graham Zusi on for Alejandro Bedoya (USA)
71' Yellow Card awarded to Bobby Wood (USA)
71' Yellow Card awarded to Rodrigo Rojas (PAR)
69' The referee will play, I mean officiate, on.
68' The REFEREE is down injured..
66' Wood gets the ball past two defenders but is blocked, not call from the referee. The American fans are furious.
63' Substitution: Benitez on for Sanabria (PAR)
62' Miss! Wood plays Zardes in one on one with the keeper, but Zardes delays hsi shot the keeper sweeps and collects.
59' Yellow Card awarded to Michael Bradley (USA)
58' Up a man, Paraguay now with complete control of possesion. US pinned back into their half.
55' Substitution: R. Rojas on for C. Ortiz (PAR)
50' Substitution: Clint Dempsey off for Michael Orozco (USA)
48' Red Card (Second Yellow Card) awarded to DeAndre Yedlin (USA)
47' Yellow Card awarded to DeAndre Yedlin (USA)
46' Second half underway in Philadelphia
Halftime: USA 1 Paraguay 0
45' One minute off added time
45' Close! Lezcano comes in one on one with Guzan from the right flank, but the American 'keeper saves.
37' Ayala's kick is high above the crossbar for a goal kick.
33' A Gonzalez shot from the right flank is saved easily by Guzan.
31' The free kick is nodded out for a corner, which in turn is headed for a goal kick.
30' Free kick upcoming for Paraguay on the top of the American box.
27' GOAL USA! Zardes' cross goes untouched, and Dempsey slams it home from the top of the six yard box. 1-0 USA!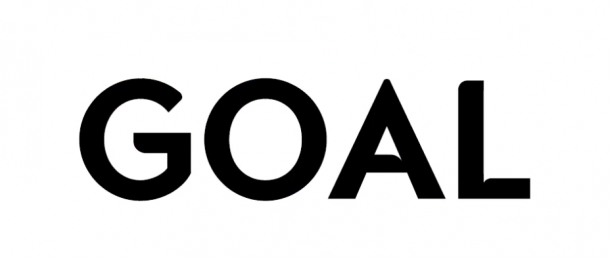 25' Dempsey's kick goes just over the bar.
23' Handball called on Paraguay on the edge of their own box. Free kick coming...
18' Calls for a penalty by Paraguay go uncalled, and Guzan saves a tough header to the right post.
17' Paraguay has taken a hold of the possesion in the last several minutes.
11' Hustle! On the three on one counter attack for Paraguay, John Brooks sprints back to make the tackle in the box.
10' A Yedlin inswinger is punched out by Villar.
9' An Ayala free kick goes straight to Guzan.
6' Johnson's free kick goes right into the arms of Villar.
5' Free kick upcoming for the US from a good position outside the box.
2' End to end action to start the match. Both sides fouling early to stop the counter.
0' Kickoff in Philadelphia!
Anthems have been sung! Kickoff is upon us...
Teams are walking onto the pitch for the start of the match. Anthems next!
Just under 15 minutes before kickoff here in Philadelphia, crowd starting to find their seats. The buildup continues!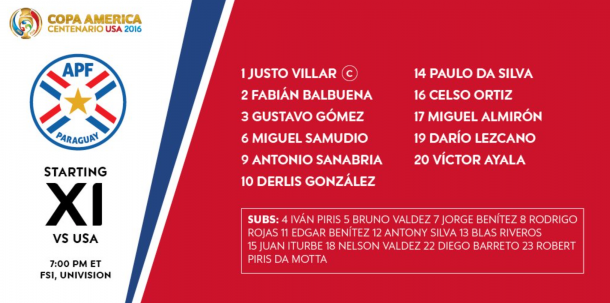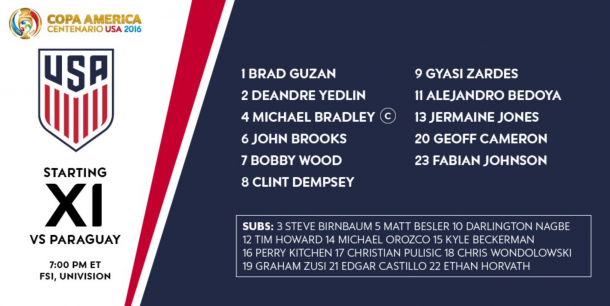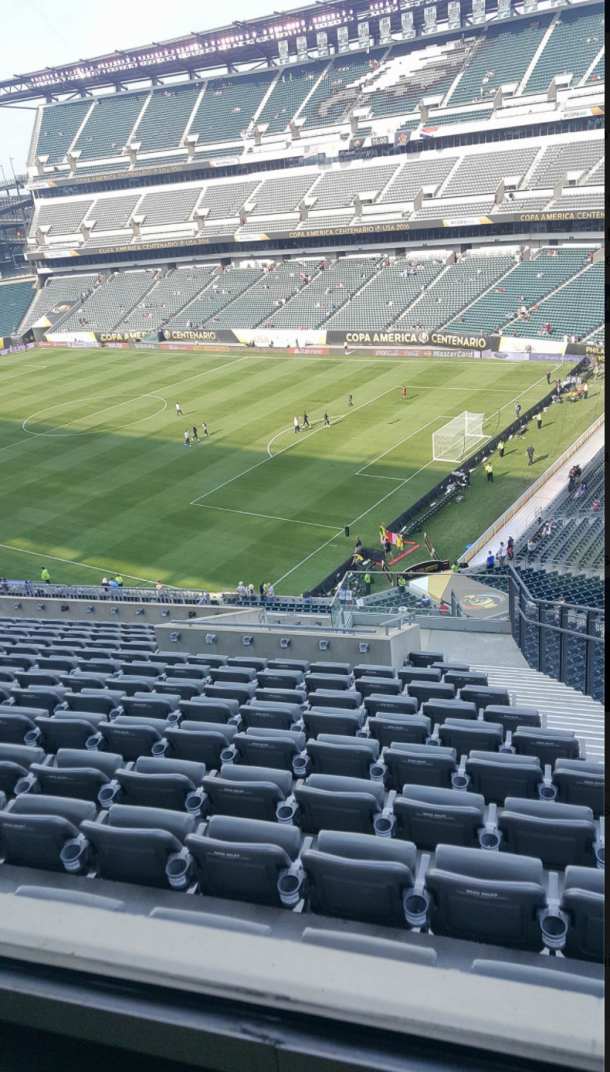 Speaking exclusively to VAVEL, the Sporting KC attacker said that his team has been ''doing a great job at finding our link play, getting crosses into the box for more opportunities, so we have to do the same as we did against Costa Rica, but finish those chances.''
Graham Zusi has also spoken about the fact that the USMNT should continue to do what they have to do in order to win and get the result that they needed.
The last time the US played in Philadelphia, they lost the Gold Cup third place match at Talen Energy Stadium against Panama last summer.
Opta Fact: Paraguay have won only one of their last 16 Copa America matches (D9 L6), doing so against Jamaica in 2015.
"I think that will give us a chance to win that game, because surely they will be very confident about the result they had in the previous match."
"We must go out with the same attitude we came out in the second half against Colombia with," he said.
Paraguay forward Antonio Sanabria believes that his team needs to find their spirit to beat the tournament hosts on Saturday.
"This is our goal, to go through that on Saturday and then play the next one-off and learn how to play these one-off games to mature in our own way towards a World Cup where we want to go further."
"You need now to get at least one point. We are not playing for one point. We cannot do that. It is not our character to go for one point. We go for the win. Otherwise, we might punish ourselves.
"This is already a knockout game on Saturday. This is it," said Klinsmann.
USA head coach Jurgen Klinsmann knows that its win or go home - Paraguay.
Over 45,000 tickets already sold by midweek for the matchup Saturday in Philadelphia, with more tickets expected to be sold before kickoff.
"They're a team who have a good dynamic and are good physically.'' Paulo Da Silva has also stated that the United States are a side ''They're a team that can attack when being put well together, a very physical side with players who are accustomed to playing these type of matches, especially for being the hosts."
Speaking exclusively to VAVEL, Ramon Diaz stated that the United States is a team to respect and even fear.
Opta Fact: Paraguay won 3-1 in their only previous Copa America meeting with the USA, back in July 2007.
The United States and Paraguay have faced off six times in history, with an even 2-2-2 record.
"Bruce Arena and Bob Bradley two American coaches that did well with those teams that were hard-working, which, the U.S. players are always hard-working. They're very fit, they're very athletic, they were mentally strong. But technically and tactically, always inferior to most high-level opponents."
"If you are convinced as a federation or as a president, Sunil Gulati, that that's the way to go because the players are not responding to the instructions or the overall theme that Jurgen Klinsmann wants to do. In all fairness, I've been fired several times in MLS. I've won a MLS Cup as well. That's the wayit goes. He's under pressure, he's handled the pressure very gracefully right now, and I still think he's a guy that eventually canstay on and do well. But you're judged on results. At the end of the day, if they don't make it out of group play, if they lose against Paraguay, I really think a change is inevitable and needs to be made."
Thomas Rongen, former coach for several clubs in MLS and the USMNT U-20 squad, spoke to Amy Lawrence on After Hours (CBS Radio) about the state of the national team. (H/T to StarsandStripesFC.com)
"On my side, that familiarity with DeAndre and Gyasi, I'm always trying to talk with them and know their movements. It makes it so much easier that with the same guys on the field, you already know where that guy should be."
"It's all about building certain partnerships on the field," he said to the media. "On the left side you have Jermaine working together with Fabian. Maybe in the first game against Colombia he was more deep helping out Fabian because we know Cuadrado is dangerous, but against Costa Rica got more loose and was able to be Jermaine, the guy who runs all over the place.
"For the guys in the 11 right now, it always helps out with familiarity and playing a consistent lineup," said Alejandro Bedoya to SI.com. "You work on it in training as well, the same 11, so with training and then playing in games you get more accustomed to the way guys play in these positions."
After sticking to the same lineup for two straight matches, US players enjoy knowing consistancy from their head coach.
Paraguay lost 2-1 on Tuesday night to Colombia in Pasadena.
In thier last match, the United States defeated Costa Rica 4-0 in Chicago.
Hello, and welcome to VAVEL USA's live coverage of tonight's crucial Group A encounter at the Copa America Centenario! My name is Josef Leizerowitz, and I'm genuinely thrilled to be bringing you tonight's match between the Untied States and Paraguay. We've got plenty of time until kick-off, so sit back, relax, and let me walk you through the build-up to the match.