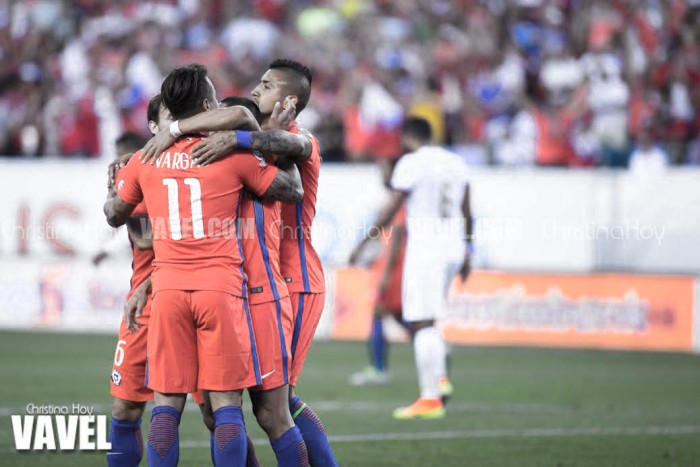 PHILADELPHIA, Pa. -- Despite an early deficit, Chile took care of business and secured its spot in the Copa America Centenario quarterfinals Tuesday night, warding off Panama in a 4-2 victory thanks to spectacular braces from Eduardo Vargas and Alexis Sanchez.
Claudio Bravo made two big errors in goal for La Roja, fumbling in shots from Miguel Camargo and Abdiel Arroyo, but the Panamanians couldn't pull out an upset over the competition's defending champions on this night. Four absences due to yellow card accumulation really put Los Canaleros at a disadvantage and Chile accomplished what it needed in order to capitalize and escape from Group D.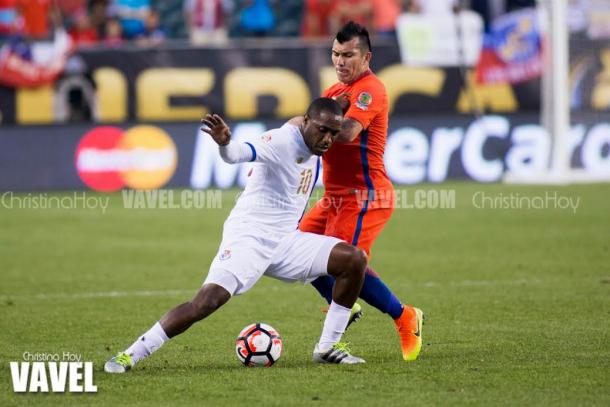 How it went down
First half
Panama scored in the fifth minute on the first Bravo mishap in goal. Camargo whipped in a shot from outside the box and an off-balance Bravo couldn't corral the ball as it rolled in to give Panama the early 1-0 advantage.
The Chileans were quick to pull one back, equalizing ten minutes later on an Eduardo Vargas tap-in from a rebound. Alexis Sanchez cut across goal and had his ferocious right-footed attempt saved by Panama's Jaime Penedo, but Vargas was at the right post to back him up and fire into the open net.
It was definitely a change in momentum for Chile, a team that went their first two matches in Group D play without a first-half goal for either side. La Roja began controlling possession and performed less east-to-west passes, which paid great dividends.
Sanchez created an opportunity for Arturo Vidal in the 22nd minute, whipping in a ball from the left wing onto the mohawked head of Vidal. The versatile midfielder's attempt fell on goal but was magnificently kept out by a diving Penedo. The ensuing headed chance from Vidal under a minute later flew over the crossbar by a couple feet.
Vargas made it a double as the first half approached its end, snapping home a Jean Beausejour cross with a cross-goal header. Penedo had no chance to make the save for Panama as the ball found its place in the right corner pocket of the netting.
Second half
Nothing changed after halftime, and it was Chile this time around scoring five minutes out of the break. Alexis Sanchez delivered a bullet of a volley off a short lob from Vargas, blazing the ball into the top-left portion of the net with his right foot to double the lead.
Panama would not be counted out too quickly, pressing into Chile's defensive half more urgently and creating some quality chances. Substitute Gabriel Torres did a nice job evading a tackle but couldn't curl his strike on target in the 54th and was denied by Chilean fullback Mauricio Isla a minute later. The Panamanians' best spell of the second half stalled when a low blast from Abdiel Arroyo fell just wide right of a relieved Bravo.
Things got interesting in the 75th minute. Arroyo headed a ricochet at Bravo's near post and the FC Barcelona keeper couldn't control the ball, losing it into his own side-netting to bring the deficit back down to a single goal.
The hope for a Panamanian miracle was shattered in the 89th minute. Alexis Sanchez headed in a cross from Jose Pedro Fuenzalida to make it a decisive 4-2. Chile then subbed off Vidal and Gary Medel to mark that this one was a done deal.