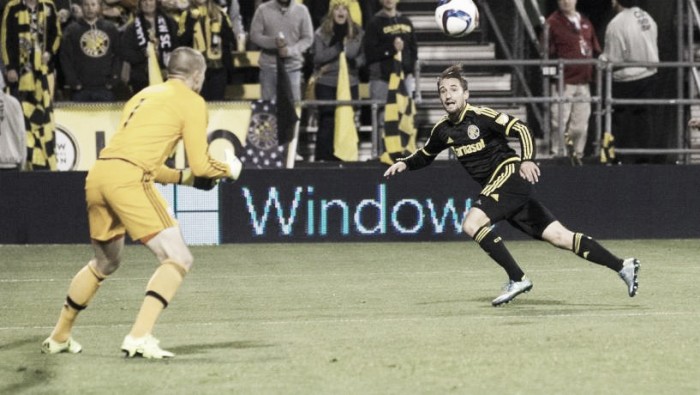 Here's the full time statistics. Crew SC held posession, but lacked shots on goal. Vice versa for the Montreal Impact.
FINAL SCORE: Both teams play out to a 0-0 draw. A struggle for both teams to find the back of the net gives Montreal Impact and Columbus Crew SC each a point to the standings. And that's it from MAPFRE Stadium, my name is Tyler Fisher, goodnight.
90+2' YELLOW CARD Camara gets a yellow for stopping the Crew SC attack.
Tonight's attendance here at MAPFRE Stadium: 14,814
The fourth official has indicated a minimum of four minutes extra time.
89' Montreal use their last sub. Harry Shipp replaces Dominic Oduro.
87' Finlay finds Kamara off of the steal from Lefevre and Kamara takes one too many touches with his shot falling comfortably into the hands of Bush.
85' Columbus Crew SC also use their second substitution with Rodrigo Saravia replacing Mohammed Saeid.
83' An off the ball foul by Kamara sees a free kick awarded to the Impact. Meanwhile, Montreal use their second sub with Michael Salazar replacing Lucas Ontivero.
78' Kamara gets the corner kick down with his head, but the shot by Tchani sends the ball over the net for a goal kick.
76' Give and go between Meram and Kamara plays out nice, but Camara comes in and cleans up the danger, forcing the ball out of bounds.
71' Crew SC burn their first sub with Ola Kamara replacing Hector Jimenez.
69' Montreal burn their first sub with Patrice Bernier replacing Johan Venegas.
68' Tony Tchani and Tyson Wahl get booked.
66' Offside called on Ethan Finlay but it's cutting real close to him staying onside.
62' SO CLOSE! Meram gets his head on the corner kick from Saeid but the header is just outside the near post. Score still 0-0
59' the free kick gets blocked by two attempts from Meram, and the ball goes out of play for a throw in.
58' YELLOW CARD issued to Didier Drogba.
57' Drogba is down inside the penalty area, and there is confusion on what the call is by Stoica. Initial call is that the free kick needs to be retaken due to the moving wall.
55' Camara takes down Meram inside the half circle at the top of the 18. Dangerous free kick against Montreal.
49' Afful goes down in pain and it is not good. Foul committed by Dominic Oduro.
SECOND HALF
First half stats show Crew SC hold posession 63.5%, while Montreal lead in shots.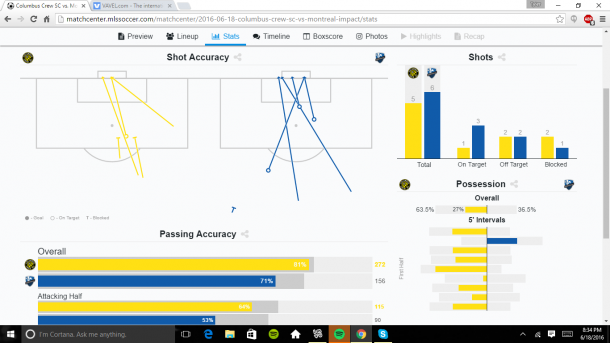 HALFTIME: Columbus Crew SC 0-0 Montreal Impact.
The fourth official has indicated that there will be a minimum of one minute of stoppage time added to the first half.
41' Afful chips Bush but the shot is just over the cross bar.
39' Meram gets taken down and Crew SC want a call. No foul by Stoica and Impact are able to break. Venegas sends a nice through ball to Ontivero but it's just far.
37' Cabrera slide tackles perfectly to break up a promising Crew SC attack, and keeps the score leveled at 0-0.
36' Ontivero boots a shot and surprises Clark, but he's there to ake the save. The insuing corner kick is taken shortly and Montreal control the ball in their attacking half.
33' Jimenez skies a shot high off target. Goal kick Impact.
31' Lefevre kicks Jimenez in the head with a high boot. Free kick Crew SC.
It's clear to see that Crew SC are lacking their usual toughness and chemistry due to not having their top players in Federico Higuain and Ola Kamara on the pitch.
29' Bekker sends in the free kick and the header is right to the hands of Steve Clark.
25' Oduro starts a counter attack for Montreal but it breaks apart off of a poor cross from Venegas. Crew SC not in control at the other end of the pitch.
21' Bush makes a stop on a rocket shot from Meram and the rebound by Saeid goes away from the net. Almost a chance by Crew SC to break the score first.
18' Ontivero clips Meram and he is not happy. Free kick Crew SC just to the side of the 18 yard box.
16' Drogba stands over the free kick to take. The attempt goes just over the cross bar. Score still 0-0.
15' YELLOW CARD: Corey Ashe gets the games first caution for a foul in the center circle, then takes down Ontivero in a dangerous spot. Free kick Impact.
11' A long ball for Ontivero goes over his head and out of bounds for a Crew SC goal kick.
7' Harrison Afful fouls Dominic Oduro, conceding a free kick to the Impact.
3' Corner kick to Crew SC.
KICKOFF!
7:32 PM EST: Teams and officials take the field. National anthems to be played now.
7:20 PM EST: Teams head to the locker room. Nationa; anthems for Canada and USA are coming up, as well as processional. Stay tuned for kickoff!
7:10 PM EST: Both teams have already taken the pitch, and begun warmups.
6:44 PM EST: Both lineups have been announced, and the most puzzling has to be Columbus Crew SC.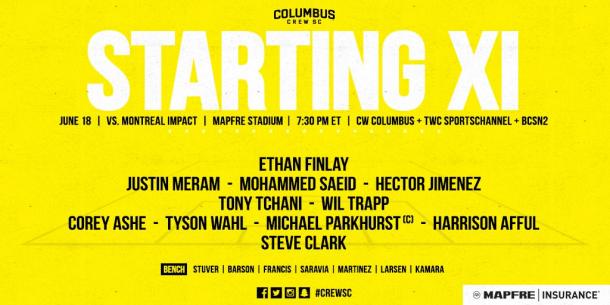 6:41 PM EST: CONFIRMED! Columbus Crew SC starting lineup!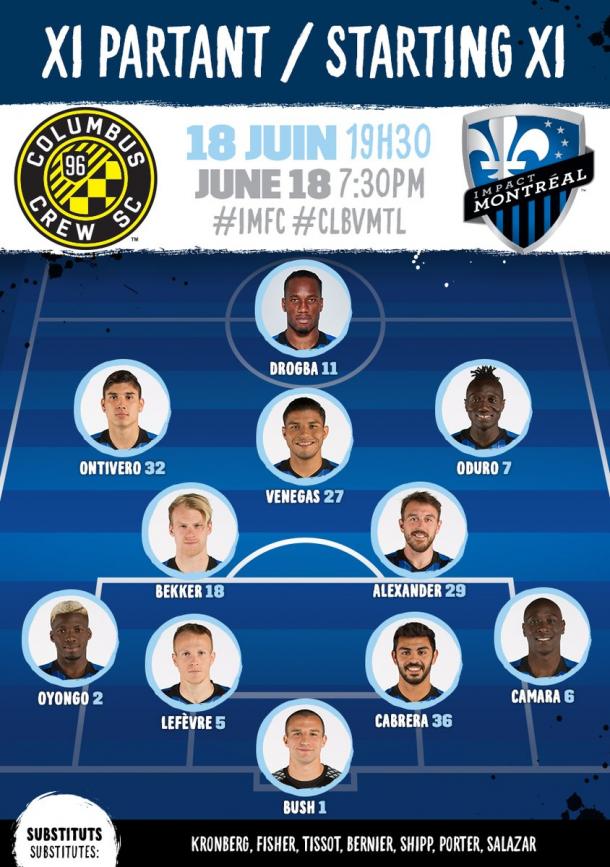 6:35 PM EST: CONFIRMED! Montreal Impact starting lineup.
6:16 PM EST: New Major League Soccer (MLS) news today, New York City FC defeated the Philadelphia Union today at Yankee Stadium by a score of 3-2.
5:50 PM EST: Hello from MAPFRE Stadium! Tyler Fisher reporting LIVE from Columbus, Ohio to bring you updates, and commentary between Montreal Impact, and Columbus Crew SC! Stay tuned as news break, I will provide it to you live!
A good prediction will see the better team in Montreal win today. A hasty prediction will see Crew SC win today. Against all odds, Crew SC will pull out the victory over Montreal Impact in front of their home fans. Columbus Crew SC will win this match by a score of 2-1. Goals from Ola Kamara and Justin Meram will lift the Black and Gold to victory, while Drogba will score the lone goal for Montreal.
For Crew SC, this match means everything for them as they try to climb their way back into the playoff picture. A win today, and hopeful of other results, will see them climb up the standings to fifth place, good enough for a wildcard spot if the playoffs started today.
The match is held at MAPFRE Stadium in Columbus, Ohio. Game time starts at 7:00 pm EST.
The projected starting lineup for Crew SC is as follows: Francis, Saravia, Parkhurst, Jimenez; Tchani, Trapp; Meram, Swanson, Finlay; Kamara.
The projected starting lineup for the Impact is as follows: Bush, Fisher, Camara, Lefevre, Tissot; Donadel, Bekker; Oduro, Ontivero, Bernier; Drogba.
The officiating crew for this match will be lead by Sorin Stoica. Following him will be Claudiu Badea and Peter Blaciunas as the assistants. Hilario Grejeda will follow as the fourth official.
Currently, Crew SC sit in ninth place with 14 points. Montreal Impact sit in third place with 19 points.
Major keys to the game for Montreal Impact will be to take advantage of the missing star players from Crew SC and attack hard on the counter. As for Crew SC, they need to not give up the ball easily in the midfield, and hold on to a lead. Giving up leads within the last ten minutes of the match has really been a factor and costing the Black and Gold vital points.
Players to look out for from both teams will of course be the strikers Didier Drogba and Ola Kamara. Drogba, well he's a well known player, coming from his background with Chelsea FC of the English Barclays Premere League. And Ola Kamara who has really stepped up since the blockbuster trade of Kei Kamara, who was dealt to the New England Revolution.
Columbus Crew SC will be missing two key players due to injury. Higuain will miss four-to-six weeks with a sports hernia injury, and Mohammed Saeid will miss weeks due to a broken vertebrae he suffered during the Union match. Montreal will also be without star midfielder Ignacio Piatti who had hand surgery. Both teams will need to make significant changes to fit the style of play, even if that means getting young players action. Maybe Ben Swanson?
Coming off of the Copa America Centenario break, the last match for Montreal saw them defeat the Los Angeles Galaxy in their last league match, and played to a 0-0 draw against Toronto FC in Canadian Championship play. This match will be their first league match since the start of the Copa America break. As for Crew SC, their last league match came at home against Real Salt Lake and almost saw a Deja Vu moment as Salt Lake started to climb their way back into the match, but Crew SC would hold on to a 4-3 win after an hour rain delay. They also would go on to lose to the Philadelphia Union 3-2. In US Open Cup play this past Wednesday, Crew SC defeated the Tampa Bay Rowdies by a whopping 4-0 scoreline, after yet another lengthy rain delay.
Crew SC, who were dominate throughout the early proceedings, give up a 4-1 lead, to goals from Impact stars Ignacio Piatti, and Didier Drogba. The match will surely go down as one of the best between these two teams.
The last match also had some controversy. A debate between two highly qualified penalty kick takers, Kei Kamara and Federico Higuain, turned ugly after Higuain converted the spot kick. After the game Kamara called out his Argentine teammate saying, "It's not a teammate. It's selfish." Kamara was sitting on a hattrick, and converting the spot kick would've gave him his first career hattrick.
In the recent meeting between these two teams, the game came out to a wild draw, as the Impact would claw their way back from a 4-1 deficit, to draw the game at 4-4. It was a great performance by the Impact, and a poor performance for Crew SC. If last match is any indication of how this match will go, this is going to be a wild ride.
Hello, and welcome to MAPFRE Stadium here in Columbus, Ohio. My name is Tyler Fisher and I will provide updates, and commentary during today's match between the Montreal Impact, and Columbus Crew SC. This is the third and final meeting between the two teams, and this should be a great one! Stay tuned folks.