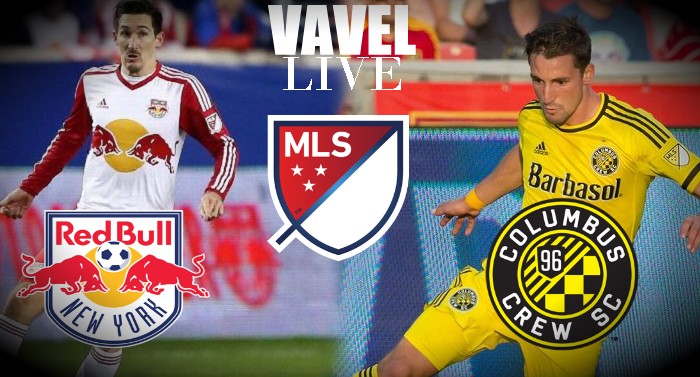 FULL TIME: Columbus Crew SC 1-1 New York Red Bulls. A late Ola Kamara goal ties the game in stoppage time, and Crew SC get a well deserved point at home. Thanks for joining me folks! My name is Tyler Fisher, see ya next time!
Gideon Baah is now being taken off on a stretcher. Not looking good for the Red Bulls .
90+2' GOAL! Ola Kamara ties up the game at 1-1! What a goal and what a sequence!
90' Multiple attempts by Crew SC but still can't find the back of the net.
The fourth official has indicated a minimum of three minutes of stoppage time.
88' Afful shoots another attempt, but it's high off of the mark.
85' Kamara pulls out his inner Xherdan Shaqiri and attempts a bicycle kick but he mistimes it.
84' Veron sends a cross to the center of the box but it's hard and out towards the opposite touchline.
82' Gonzalo Veron replaces Bradley Wright-Phillips. Red Bulls have one sub left.
80' Crew SC use their final sub with Hector Jimenez replacing Justin Meram.
78' Zubar gets in the way of a Finlay cross to Kamara to keep this game at 0-1 in favor of the Red Bulls. Great defensive play by Zubar.
74' Afful takes a shot from distance, but it's high over the net. Definitely has the range, just needs to aim it more on target.
74' Corner kick Crew SC.
71' Waylon Francis replaces Corey Ashe for Crew SC second sub of the night.
70' Sal Zizzo replaces Sacha Kjlestan for the Red Bulls first sub of the game.
68' A cross from Corey Ashe is far but a running Afful gets a foot on it, but it sails high into the south tier of seats.
66' Afful receives a pass from Kamara, but the cross is just far from his teammates waiting inside the penalty area.
Tonight's attendance here at MAPFRE Stadium: 20,389.
62' Kamara makes an outlet pass to Meram who sends it right back into the box to Kamara, but it's cleared out of danger and away from Robles.
59' Crew SC use their first sub replacing Mohammed Saeid with Cristian Martinez. Meanwhile, Tony Tchani gets booked for a foul on Mike Grella.
58' Muyl launches a shot but it's just high over the crossbar.
53' GOAL! Bradley Wright-Phillips gets the visiting side on the board first with that fine header past Clark!
51' Baah tackles the ball away from Meram inside of the penalty box, and forces it out for a corner kick.
47' Meram takes the shot, but it gets away from him and out behind the net for a goal kick.
START OF SECOND HALF
20:28 PM EST: First half stats show that the Red Bulls have the slight advantage in possession with 51.2%. Crew SC holding strong with only 48.8% of possession, but soon enough we will see Crew SC regain the possession lead. Red Bulls are looking totally deflated going into halftime. Probably the impact of three yellow card cautions in the span of eight minutes.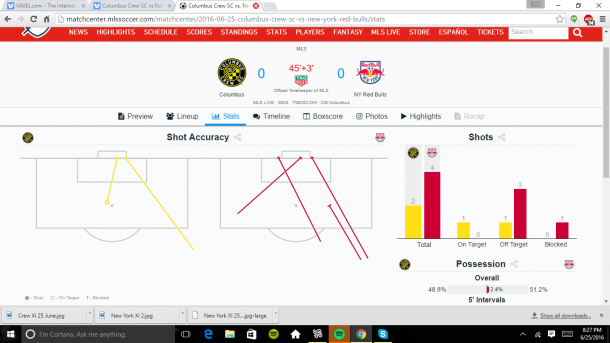 HALFTIME: Columbus Crew SC 0-0 New York Red Bulls
45' Ola Kamara gets taken down from the arm of Baah and the ref waves play on.
45' The fourth official has indicated a minimum of two minutes of stoppage time to the first half.
Baldomero Toledo telling both keepers to play on, and not time waste with any kicks. Good officiating.
Crew SC opening up more with passes and controlling the play recently.
39' Kjlestan gets booked for simulation. Third yellow card for the Red Bulls in eight minutes.
39' Corner kick Red Bulls
33' Another yellow card goes to Red Bulls Alex Muyl.
32' Connor Lade gets cautioned for taking down Harrison Afful on the attack.
30' Harrison Afful takes a shot for himself and hit just hits the post! Almost a clear chance for Crew SC to take the lead.
25' Gideon Baah clears the ball out of his own penalty area and clashes knees with Ola Kamara. Foul called on Kamara, granting a free kick to the Red Bulls.
While Crew SC hold the possession stat, Red Bulls are the team taking all the shots leading with four shots, three of those four off target.
17' Red Bulls are granted a free kick in a very dangerous position at the top of the 18 yard box. Kjlestan and Felipe stand over it. The kick is taken and it hits the outside of the net.
15' Corner kick Crew SC.
14' Another giveaway by Crew SC gives Red Bulls a chance for a counter attack. Felipe takes a shot right at Steve Clark, and it's played back out.
13' Clark pushes over the Kjlestan header and out for a corner kick for the Red Bulls.
12' Sacha Kjlestan takes a shot of his own, but it deflects off of a teammate and out for a Crew SC goal kick.
10' Wright-Phillips shoots at Clark but the shot goes just wide.
7' Crew SC pressure New York Red Bulls off of a Mohammed Saeid free kick multiple times. A centered cross from Harrison Afful gets cleared out by Ronald Zubar and gives Crew SC a corner kick.
5' Ola Kamara gets flagged for offside as he tries to continue the Crew SC attack.
2' Tchani gets fouled and Crew SC take the quick free kick that is given away, and Red Bulls attack but the chip attempt hits the crossbar!
1' - Kickoff and we are underway!
19:33 PM EST: The teams have walked out with match officials! National anthem to be played next, then kickoff.
19:22 PM EST: Warmup's are complete, and the teams head back into their respective lockerrooms, preparing for walkout's. Coming up shortly, the national anthem, and kickoff.
18:55 PM EST: Both teams enter the field for pre-game warmups and training.
18:43 PM EST: Here is the starting lineup for Columbus Crew SC.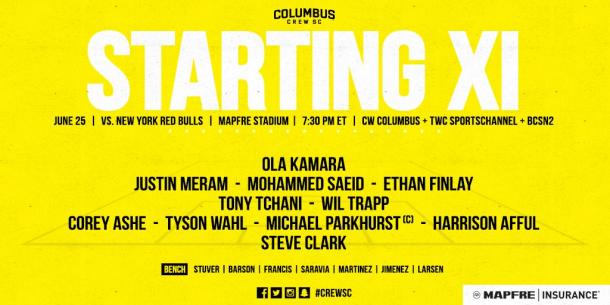 18:39 PM EST: Here is the starting lineup for the New York Red Bulls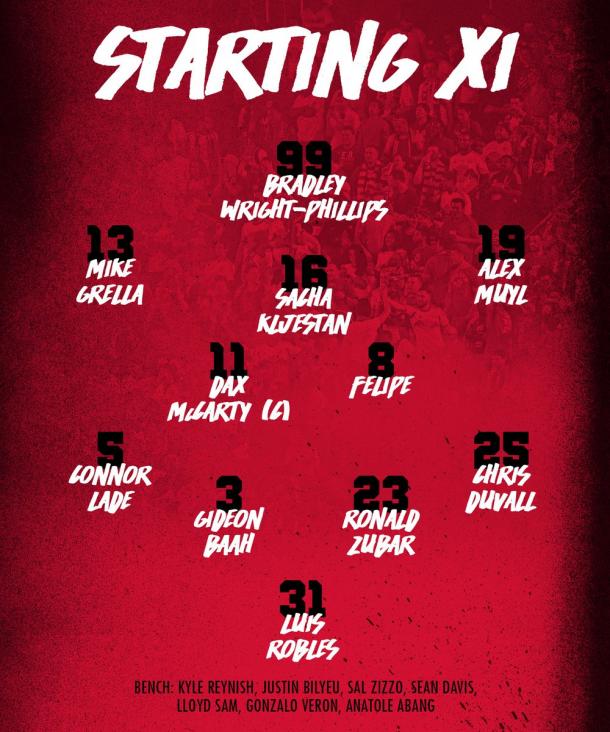 17:58 PM EST: Baldomero Toledo walks the pitch here at MAPFRE Stadium with his officiating crew, prior to today's match.
17:46 PM EST Greetings from a hot and sunny MAPFRE Stadium here in Columbus, Ohio! My name is Tyler Fisher and welcome to VAVEL USA's LIVE coverage of New york Red Bulls and Columbus Crew SC!
Columbus Crew SC 2-2 New York Red Bulls
Prediction: Red Bulls and Crew SC started off their return to play from Copa America break a little off track. A draw for Crew SC could say that they did alright, but it wasn't enough for three points. Red Bulls getting their streak snapped on the road hit home for the reigning MLS Supporter's Shield winners, but they will look to get three points against the MLS Cup runner-ups. Crew SC will most likely have star striker Ola Kamara back in the lineup, and will have the chemistry back to where it somewhat needs to be. The teams will play out to a 2-2 draw, giving each team a well-deserved point as the game will come down to the wire.
Projected lineup New York Red Bulls (4-2-3-1): Robles, Bilyeu, Baah, Collin, Sal Zizzo; Davis, McCarty(c); Veron, Kljestan, Sam; Wright-Phillips. The Red Bulls are managed by head coach Jesse Marsch.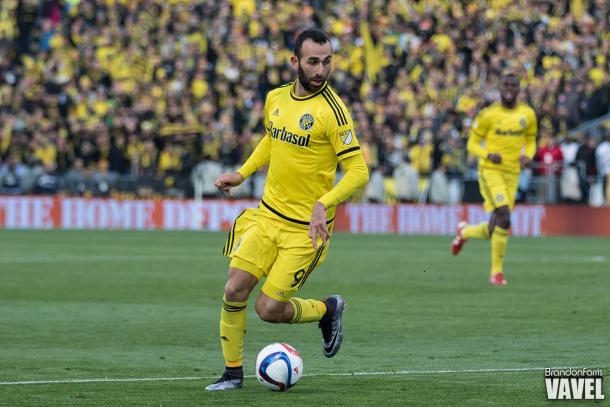 Projected lineup Columbus Crew SC (4-2-3-1): Clark; Francis, Wahl, Parkhurst(c);Afful; Tchani, Trapp; Meram, Saeid, Finlay; Kamara. Columbus Crew SC are managed by head coach and sporting director Gregg Berhalter.
In spite of recent injuries, Crew SC have made significant lineup changes, one in which midfielder Ethan Finlay played striker in their last match against the Impact, while Saeid filled in for Higuain in the central attacking mid spot. New York Red Bulls will have to adjust without Kamar Lawrence, and that will be doable with Gideon Baah and Aurelien Collin holding down the center back spots in the lineup.
The officiating crew for this match will be led by Baldomero Toledo. Assistants will be Eduardo Mariscal and Logan Brown. Manning the fourth official spot is Kevin Terry Jr. The match is held at MAPFRE Stadium in Columbus, Ohio.
In the return leg at Red Bull Stadium in Harrison, New Jersey, the Red Bulls needed two goals, and a clean sheet in order to advance to their second trip to the MLS Final. That wouldn't happen, as New York would defeat Crew SC 1-0 in the game, but would fall short on aggregate. Crew SC would, later on, fall short to the Portland Timbers at home, 2-1 for the second time last season. This time, in the MLS Cup.
It's not the first must-win match between these two teams. Last year, Columbus Crew SC defeated the Red Bulls in the 2015 Eastern Conference Finals, where they would advance after winning the aggregate 2-1, and booking their trip in the MLS Cup Final against the Portland Timbers. In the first leg of the two-leg series, Crew SC midfielder Justin Meram set the record for fastest goal in MLS playoff history, scoring just nine seconds into the match, off of a long ball from captain Michael Parkhurst, and a header flicked on to him from Ethan Finlay.
Columbus Crew SC just need to survive. A horrific start to the season saw the Black and Gold start the season without a win through the first five games. Sitting in ninth place in the Eastern Conference, a crucial win in front of their home fans will send Crew SC up the standings if other teams above them should draw, or lose to their opponents.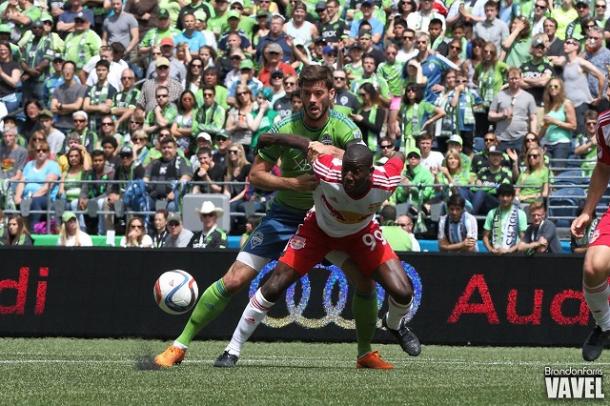 The opposition in the Red Bulls, they will need to rely on forward Bradley Wright-Phillips and midfielders Dax McCarty and Sacha Kjlestan to help out the attack, and try to catch the Crew SC defense flat footed.
For Columbus Crew SC, they are entering this match after a scoreless draw against the Montreal Impact. With playmaker Federico Higuain out 5-7 weeks following hernia surgery, Columbus Crew SC must find a replacement for the number 10 during his absence. In the role was Mohammed Saeid who did great in his new, temporary role. He didn't have striker Ola Kamara to find during the Montreal Impact match, so that has to be taken into account. If Crew SC are going to survive with Higuain, Saeid will need to produce. Earlier in the week before the draw, they defeated the Tampa Bay Rowdies in the Lamar Hunt US Open Cup fourth round.
The New York Red Bulls are coming into this match after being defeated by Real Salt Lake in their midweek match, by a score of 2-1. Before this week, the Red Bulls defeated the Seattle Sounders after the Copa America Centenario break. They come into Eastern Conference showdown with a record of 7-8-1, and holding the second spot in the conference, behind the Philadelphia Union. In just their second game of three in a span of six days, the Red Bulls continued to maintain its mojo and saw their four-match winning streak snapped in such dramatic fashion. It's New York's first loss since May 13, against D.C United.
Hello, and welcome to VAVEL USA's LIVE coverage of Columbus Crew SC as they take on the New York Red Bulls. My name is Tyler Fisher and I will provide you with up to date results, and news as the night progresses on. This is a rematch of last year's 2015 MLS Cup Eastern Conference Finals. This is also the first meeting between the two original clubs.