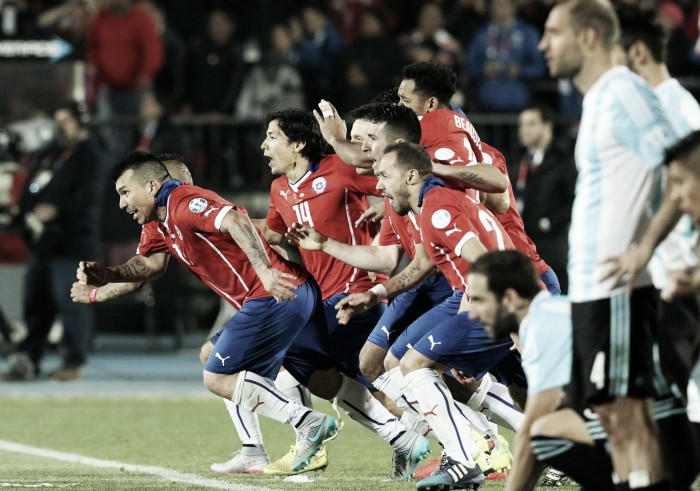 NEW YORK -- The 100th edition of the oldest tournament in the world comes to an end on Sunday night with a rematch of last year's edition between Argentina and Chile. For one side, it's about sweet revenge while for the other, it's to do what they've been accustomed to.
Argentina: Third's time the charm?
For the third straight year, La Albiceleste has qualified for the final of a major international title, having lost the last two in the FIFA World Cup in Brazil against Germany and the Copa America against the hosts and rivals they will face tomorrow, Chile. Many look at this as the last chance for the golden generation of Argentine players such as Javier Mascherano, Sergio Aguero, Angel Di Maria, Gonzalo Higuain and captain Lionel Messi to win a major international title for their country before retirement. Having said that, Argentina has never had an easier road to the final. 18 goals scored by nine different players and only one goal conceded in 450 minutes of soccer demonstrates the resilience that Gerardo Martino's side have demonstrated in their wins against Chile, Panama, Bolivia, Venezuela and the United States.
However, in East Rutherford, New Jersey on Sunday evening, they are looking to vanquish the ghosts that have haunted them for 23 years by finally winning an international title for their country. Winning the Copa America, a tournament they've won 14 times, would make it even more special. All 23 of the players on the national team were alive the last time they won the Copa America in Ecuador against Mexico in 1993, but they are looking to rewrite their own script, with all the pressure coming onto to them.
A victory on Sunday night would finally give this current generation of blue-and-white striped heroes the elusive title needed to earn their place in Argentina's famed footballing pantheon.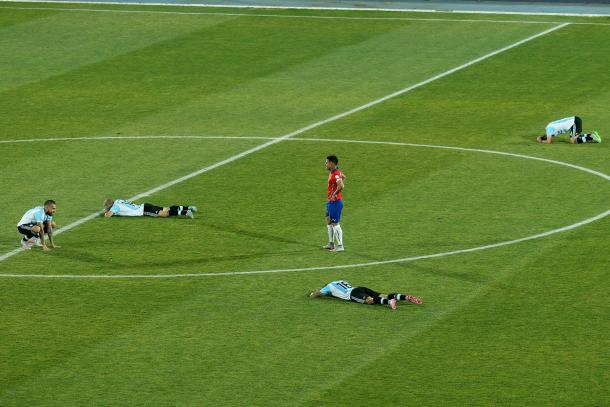 The Motivated Captain
Lionel Messi is widely regarded as one of the greatest players of not only the world currently, nor of his generation, but of all-time. However, many comparisons to Argentine legend Diego Maradona say that Maradona was the superior player because he has done with his country 30 years ago that Messi has not: win an international title. During the Copa in the United States, the 55-year-old 1986 FIFA World Cup winner came out and criticized his former student stating that he was someone who "has no personality" and "lacks character." However, in this tournament, the FC Barcelona star scored five goals in four matches after overcoming a back injury and looks as close to top form for his national team as ever before.
He also realizes that it is now or never for him and his international career. Having already become the top goalscorer of the Argentina national team following his sensational free kick goal against the United States in Houston on Tuesday night, the pressure on him has never been higher than it has before and especially now with him getting the record of a player who has won two Copa Americas in 1991 and 1993: Gabriel Batistuta.
"I don't know if it is my last opportunity [to win a trophy with Argentina], but we have to take advantage of it and take this cup by any means," Messi said. "It is the fourth final that I've played with the national team and I'd like to change the story some day and to become champion," he added.
In the next 90 or 120 minutes, Messi will have to try and finally shoulder his nation's expectations. He's used to carrying that weight with Barcelona but has never been able to carry Argentina over that line. However, Sunday could be his finest achievement to date for La Albiceleste.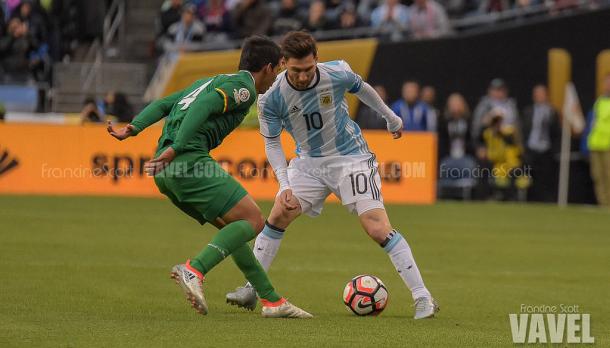 Chile: Looking for back-to-back
The Chile national team went down as national heroes following their penalty shootout win against La Albiceleste to proclaim themselves South American champions for the first time in their history last summer. Now, 356 days later, they look to do the same against their neighbors. Many questioned at the start of the tournament whether or not Chile would be the same without the manager that helped them become champions on home soil in Jorge Sampaoli and their influential and most important player in Jorge Valdivia. Now with both gone in the tournament in the United States, Juan Antonio Pizzi was able to work wonders with the same players that brought them success in Santiago just last year in the likes of Alexis Sanchez, Arturo Vidal, and Eduardo Vargas.
Their campaign has not been without any hiccups, notably their bad start against Argentina in the first match of the group stage. Following that, they narrowly won 2-1 in Foxborough against Bolivia just days later. That kickstarted their campaign as they went on to beat Panama 4-2 in Philadelphia and thrash Mexico 7-0 in the quarterfinal, before finally going back to another continental final with their 2-0 win against Colombia.
Now, more than ever, they are motivated and confident that they can do it again in New Jersey just like they did back home last year and become heroes yet again for their nation.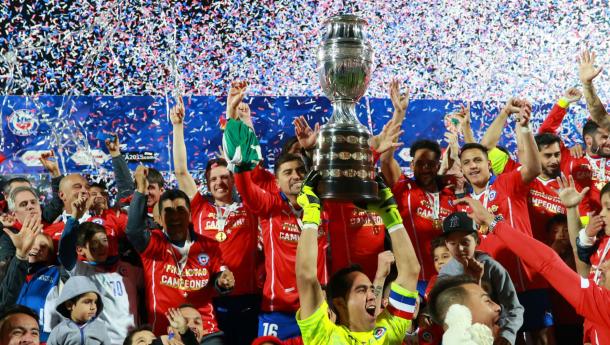 A King ready for battle
Midfielder Arturo Vidal is also someone that knows Argentina very well in his distinguished career for clubs in Europe and with the national team. This will be his second match against Argentina in 2016, having lost in the Copa America Centenario group stage in Santa Clara and is looking to do the same just like he did in Chile last year, despite the controversy he was in in the tournament back home. While Argentina is a side also looking for revenge, the same can be said for the Bayern Munich midfielder.
"We've earned respect and everyone knows it," Vidal said on Friday. "With a lot of effort we've been in two finals of a Copa America, in two World Cups and we're hoping for a third World Cup in Russia," he later proclaimed. Stopping Messi though will be tough as he stated. "We know how he plays. In the game and with his talent, he can change anything. We have to mark him tightly and not given him space," the Bayern midfielder said.
Whatever might happen to his team against the big boys, Chile is highly certain they are not the underdogs and cannot be discounted against a powerful adversary. In fact, they are looking to deal another blow like they did last time around to the elite.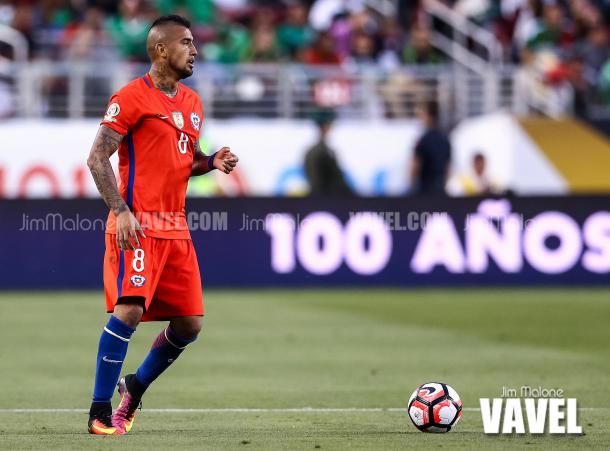 Team News
Argentina will be weakened by the various injuries, especially the one to Ezequiel Lavezzi, who broke his arm after going in for a header against the United States, as well as Augusto Fernandez. Many eyes are also looking at the fitness of players such as Ever Banega, Angel Di Maria, Nicolas Gaitan, Javier Pastore and Marcos Rojo.
On the other hand, Chile looks as fit as ever and will be very pleased with the return of Arturo Vidal following his suspension from the semifinal against Colombia in Chicago.
Predicted XI for Argentina: Romero; Mercado, Otamendi, Funes Mori, Rojo; Mascherano, Biglia, Banega; Messi, Higuain, Di Maria.
Predicted XI for Chile: Bravo, Fuenzalida, Medel, Jara, Beausejour; Aranguiz, Vidal, Diaz; Puch, Vargas, Sanchez.