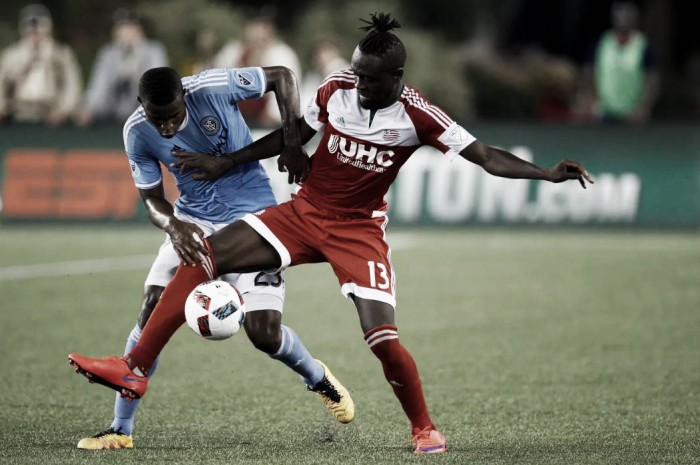 New York City FC midfielder Frank Lampard's 58th-minute goal was the difference as NYCFC beat the New England Revolution 1-0 at Gillette Stadium in Foxborough, Massachusetts on Wednesday. With the win, NYCFC moved four points clear at the top of the Eastern Conference and improved to (win-loss-draw) 5-2-1 on the road, far and away the best road record of any MLS team this season. Meanwhile, the Revolution fell to 4-7-7 on the year and have now conceded 32 goals, most in MLS this season.
NYCFC manager Patrick Vieira will be pleased that his side passed the ball well and withstood a late flurry of Revolution chances, while Revolution manager Jay Heaps will be frustrated that his side looked toothless on offense for most of the game. With the secondary transfer window now open, Heaps may look to the transfer market to help bolster his roster as he and his team prepare for the second half of the season.
New York City FC strikes against the run of play
Both NYCFC manager Vieira and Revolution manager Heaps fielded first-choice lineups for Wednesday's fixture, and it was the Revolution who had the game's first scoring chance. In the eighth minute, Revolution defensive midfielder Kelyn Rowe was bundled over by NYCFC center back Jefferson Mena just as Rowe was about to take a shot, and the ball deflected off of Rowe before hitting the left post and bouncing out for a corner kick. Rowe argued that the Revs deserved a penalty kick after Mena contacted Rowe in the NYCFC 18-yard-box, but center referee David Gantar was unmoved.
From the eighth minute on, it was all NYCFC. Left back Ronald Matarrita's hard right-footed shot was saved by Revs keeper Bobby Shuttleworth in the 17th minute, before center forward David Villa rattled Shuttleworth's crossbar with a rasping shot in the 22nd minute. Revs midfielder Teal Bunbury should have put the Revs in front in the 30th minute, but he somehow headed left back Chris Tierney's cross over goalkeeper Josh Saunders' goal. Neither team generated any more scoring opportunities and the score remained 0-0 at halftime.
In the second half, the Revs began to press NYCFC's defenders more, and their pressure paid off, with NYCFC committing numerous turnovers in their own half of the field. But against the run of play, NYCFC took the lead, albeit not without some controversy. NYCFC defensive midfielder Andoni Iraola won the ball in NYCFC's attacking half, but he appeared to step on Revs forward Kei Kamara's right foot as he won the ball. Center referee Gantar let play continue, and Iraola passed the ball to midfielder Andrea Pirlo, who scooped a delightful ball over the Revolution back line to a sprinting Tommy McNamara. McNamara got his head up and rifled a cross across the Revs' six-yard-box, where Lampard used his left thigh to redirect McNamara's cross past goalkeeper Shuttleworth. It was Lampard's third goal of the season and his third goal in NYCFC's last four MLS games.
The Revs threw on midfielder Daigo Kobayashi and forward Femi Hollinger-Janzen in an effort to find an equalizer, while NYCFC replaced McNamara with defender Jason Hernandez to help shut the Revs' offense down. Hollinger-Janzen had a powerful header whiz over Saunders' bar in the 82nd minute, while NYCFC forward Villa dragged his left-footed shot wide after another picturesque ball from Pirlo put him through on goal.
The Revs had the game's final scoring chance after a corner kick led to a mad scramble in NYCFC's box, but goalkeeper Saunders fell on top of the ball to extinguish the Revs' hopes. NYCFC then put substitute Khiry Shelton through on goal and he was taken down by goalkeeper Shuttleworth just as he was about to round the Revs' keeper. Center referee Gantar had no choice but to show Shuttleworth a red card. When the final whistle sounded, the disappointed, 10-men Revs walked off the field as a jubilant NYCFC club celebrated their third consecutive shutout victory.
Men of the match
New England Revolution: Jose Goncalves
The 30-year-old Portuguese defender has played all but three games for the Revs this season but has also watched his team concede the most goals in MLS. The club captain needed to put in a sound defensive performance on Wednesday, and the four-year MLS veteran did just that. Goncalves finished with three open-field tackles, four recovery tackles, and two clearances, and helped neutralize forward David Villa. He and the rest of the Revs' back line will have to wonder how they didn't stop Lampard from redirecting McNamara's cross into the net, and although Goncalves and his teammates put in a decent defensive performance, the Revs offense couldn't find a game-tying goal on Wednesday.
New York City FC: Frank Lampard
After playing only a handful of games in 2015 and being saddled with injury troubles to start 2016, NYCFC midfielder Lampard needed to prove to his fans that he was not a high-priced flop. Lampard has done a lot to silence his critics by scoring three times over the last four weeks, including the game-winning goal on Wednesday. While Lampard's goal was not without some controversy, the 38-year-old's instinctive finish was all the more impressive considering he was surrounded by three Revs defenders. Lampard also chipped in with two recovery tackles, a successful dribble, and a key pass, but what won't show up on the stat sheet is his tireless running and strong link-up play with teammates McNamara, Pirlo, and Villa. Lampard may be in the twilight stage of his career, but the Englishman showed on Wednesday that he still has the tools to make him a valuable player in Major League Soccer.
What's next for both teams
The Revolution will have to move on from Wednesday's disappointing loss and use it as motivation when they host the Columbus Crew on Saturday, July 9, at Gillette Stadium at 7:30 PM ET. The Crew has endured a nightmare season thus far and has yet to win on the road, which bodes well for a Revolution side lacking in confidence. Saturday's game will also mark the first time Revs forward Kamara faces his former team after Kamara was traded to the Revs in May 2016.
As for NYCFC, the Eastern Conference leaders will head to Children's Mercy Park to take on host Sporting Kansas City on Sunday, July 10 at 8:00 PM ET. Sporting Kansas City is fifth place in the Western Conference and has scored 21 goals in 19 games, the fourth-lowest total in the conference. NYCFC may be fatigued after winning on Wednesday, but they will need to put in a no-nonsense defensive performance against SKC if they hope to extend their four-match unbeaten run.
Although a road match against an SKC side that has a winning record at home seems daunting, this NYCFC side under manager Vieira is currently brimming with confidence. If Vieira's men can leave Children's Mercy Park with a victory, it would go a long way to proving that NYCFC is one of the best teams in MLS this season.