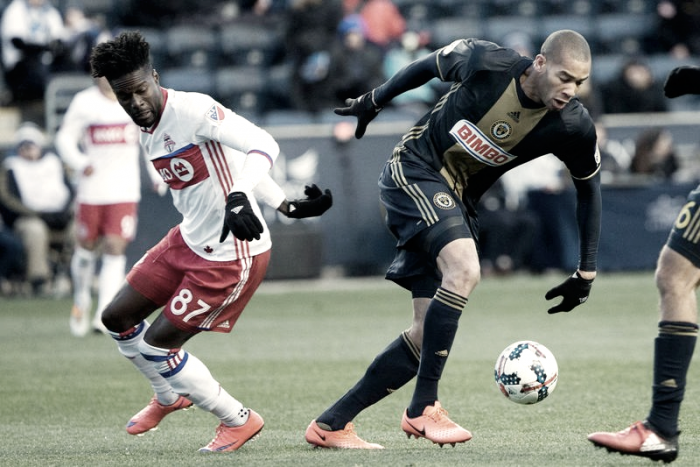 After both teams earned a point in their opening matches of Major League Soccer, two weeks ago, the Philadelphia Union and Toronto FC chalked up their second straight draw when they crossed swords at the Talen Energy Stadium, on Saturday.
Philadelphia was delighted to see their newly-signed striker Jay Simpson, former Arsenal, listing his name on the scoresheet for the first name.
On the other hand, TFC fans had the opportunity to take a closer look at their new acquisition, Spaniard Victor Vazquez who was marking his full debut with the Canadian side.
Philadelphia need to capitalize
In recent years, Philadelphia has transformed into one of the most entertaining teams in MLS. Yet, one of their main concerns remains their lack of wins, as they fail to capitalize on a majority of the goal-scoring opportunities they create throughout the whole 90 minutes. Probably, this was one of the few matches where TFC's back four was under constant threat but Clint Irwin was rarely tested nonetheless.
Jim Curtin is probably satisfied with the work of the offensive department, in particular, new arrival Simpson and the talisman CJ Sapong, who found the net both in this game. Nonetheless, their main storyline was 20-year-old midfielder Derrick Jones as he was the protagonist of another excellent performance, following his positive display on his debut against Vancouver Whitecaps.
In the meantime, Philadelphia seems to have nailed their defensive acquisitions as former US international Oguchi Onyewu was the strongest link at the back and if he can show that performance throughout the whole season, Curtin can rely on his backline without amending it week after week.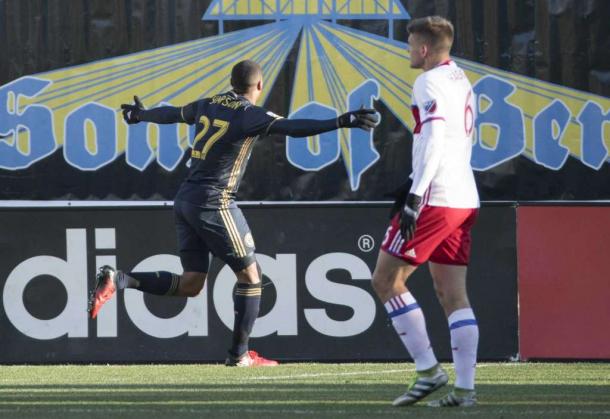 TFC lack inspiration
Despite Greg Vanney fielding all of his Designated Players, none of them could really inspire TFC to victory. Like what happened against Real Salt Lake, TFC suffered in aerial balls and playing against the wind, did not really help neither.
The real issue of TFC is probably their game tempo. Their defensive line is solid, their midfield boasts a mix of experience, youth, quantity, and quality while their offensive department is armed enough to threaten opponents. Increasing their game tempo would lead to quicker combinations and the Canadians can be in the opponents box in a matter of seconds, considering also that Vazquez has the characteristic of whipping deadly balls into the box.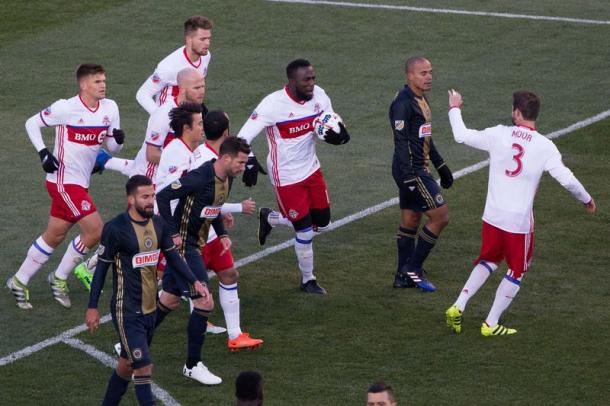 Bedoya-Altidore feud
Another thing that we might have learned is that Altidore and Alejandro Bedoya are not the best of friends. The Union's midfielder has called out TFC's striker for diving into the box, consequently earning a penalty for his side. On the other hand, Altidore replied to him saying that he was not surprised that Bedoya talked behind the screens.
Bruce Arena's side is nearing two crucial qualifiers against Honduras and Panama - are we in for some drama?