 For most of Sunday's game, the Timbers looked to be in control. They got their usual-for-2017 early goal, and despite not adding a second, they looked for all the world like they were going to close out the game. But then, late in the game, Lee Nguyen popped up in the right place at the right time, smashed in a lucky rebound, and what looked like a good night for the Timbers turned somewhat less so rather quickly.
THE GOOD:
Marco Farfan. The Revolution's Kei Kamara is a very good player in this league, and has been for years. You'd never know it from Sunday, because he was basically in the pocket of an 18 year old kid for most of the game. Wherever Kamara went, Farfan was there - closing him down, denying him passing lanes, and taking the ball off Kamara's feet on more than one occasion. Farfan is good now, and I can't wait to see what happens when he refines his skills even more, because in a season or two, he has the potential to be the best left back in the league.
Diego Valeri. I mean.
THE BAD:
Movement. Or, to be precise, the complete and utter lack of it. For some reason, the Timbers spent Sunday night reverting to their 2012 selves - for those of you who don't remember that season, that was the year the Timbers apparently laid land mines around the penalty area in training, because during games they never really went in there all that much. And Sunday night was similar.
Throughout the game, the Timbers had several really promising moves get started, only to find nobody but Fanendo Adi in the box waiting for the rest of the attack to arrive. Darlington Nagbe was anonymous, Diego Valeri wasn't the same after he was cut down by a hard foul in the first half, and Sebastian Blanco didn't get up to much either. All of those things are hopefully temporary, and I'm not really worried long-term, but when they all happen at once, it's going to be a rough game.
I'm no genius soccer tactician, but that utter lack of penetration and movement doesn't seem too smart, given that the Timbers have a ton of firepower at their disposal. But they can't really fire away if they're not in position to do so.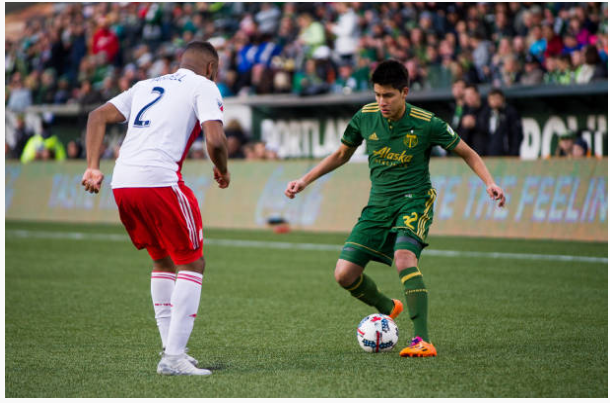 Marco Farfan, doing what he does
Image: Diego Diaz/Icon Sportswire, via Getty Images
Dropped points. It's early, it's still one point, but this game was definitely a case of two points lost rather than one earned. At home, against the supposedly weaker Eastern Conference? These are games that the Timbers need to close out in order to be taken seriously as a Shield or a Cup contender. I'm not going to lose a ton of sleep over a game this early in the season, but I definitely walked out of Providence Park in a cranky mood Sunday night.
Caleb Porter. For all the good that he's done with the Timbers, he can be frustrating at times, and last night was definitely one of those times. I'm not automatically opposed to not using a single substitute - there are situations where it's probably not the worst idea in the world to ride the horse you came in on all the way to the end. But last night was not one of those nights.
After all, the Timbers only had a one goal lead heading into "typical" substitution time, it definitely appeared from the stands that Darlington Nagbe and Diego Valeri were both tiring, and it seemed that the Timbers could use some fresh legs and energy to close out the game.
Not only did Porter not do that, he also repeatedly told the ESPN sideline reporter to tell Jay Heaps and the New England bench that he wasn't going to make any subs. That's not a good look, on about a dozen different levels.
For one thing, one of Porter's focuses in the off season was on increasing the depth options available to him, which he did. So why does he refuse to use the depth he was so intent on acquiring? And why, for the love of all things holy, would you talk to a sideline reporter about your tactics and try to get that reporter to talk to the other bench for you?
I am a big fan of Caleb Porter, but his behavior - tactically and otherwise - left a lot to be desired on Sunday.
THE UGLY:
The tying goal. One of the things I like about soccer is that any goal resulting from a mistake like Gleeson's is very rarely the mistake of one person alone. Don't get me wrong, he undoubtedly should have done better, but how about:
- Roy Miller passing the ball directly to New England out wide, enabling the cross that led to Gleeson's botched punch
- Lawrence Olum falling over while trying to defend close to Gleeson
- Diego Chara and David Guzman completely failing to mark anyone at all in the area, hanging back and allowing Nguyen to pounce and score more or less unimpeded
- Gleeson's punch. I know it's a split second decision, but that was a horrible punch. If you can't catch the shot, at least punch it out of danger, and not straight in front of you to a waiting opponent.
The nice thing about the mistakes on Sunday is that they're all fixable. But to do that, Caleb Porter's going to have to show a little more both flexibility and humility in his decision making.