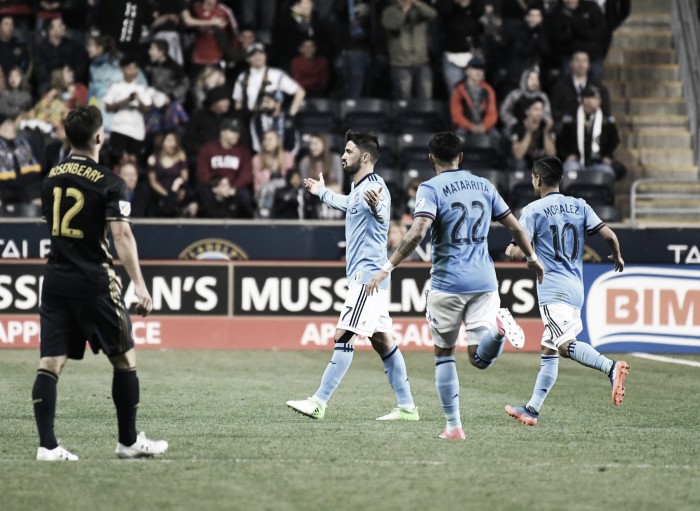 New York City FC traveled to the Talen Energy Stadium to play Eastern Conference side Philadelphia Union. Both sides will be disappointed with the start to their season for different reasons. Philadelphia is yet to win a game this season and NYCFC is yet to win a game on the road in 2017. While NYCFC has already had two wins this season, they'll feel as if they should have more after dropping points to D.C. United and Montreal Impact in recent weeks.
High pressure pays off in the first half
New York City FC is well known for their ability to possess the ball. Philadelphia Union decided they would try to force NYCFC to play the ball quicker than they like to. C.J. Sapong and the rest of his attacking partners were pressing high up the pitch which caused problems for the NYCFC backline. Maxime Chanot and Alexander Callens were both rushed to make decisions which led from turnovers from each of the defenders.
Sean Johnson, who has a history of struggling vs Philadelphia continued to do so on Friday. However, this time he did not so much struggle on the scoresheet in the first half but struggled in possession. Patrick Vieira, NYCFC's manager, has made it clear he likes for his goalkeepers to be confident with their feet, and Sean Johnson did not look all that confident vs Philadelphia's high press.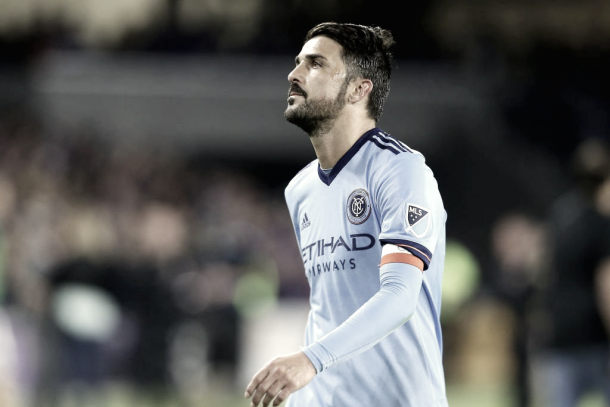 Alex Ring continues to impress
Finnish international Alexander Ring continues to do it all in the middle of the pitch for NYCFC. The winter signing has started every game for the New York side in 2017 so far and is yet to put in a disappointing performance. Ring plays as a box-to-box midfielder and covers nearly every blade of grass on the pitch when he is out there.
NYCFC's new #8 is instantly becoming a fan favorite due to his passion for the game and his willingness to leave it all out on the pitch every weekend.
Bright second half start for NYCFC
Jack Harrison scored just seven minutes into the second half for the traveling side. The Manchester United product made a great run into the box and Costa Rican international Ronald Matarrita found his feet. The English-born kid made no mistake with the ball at his feet and tucked the ball home confidently past Andre Blake. Jack Harrison's goal on Friday brought his season tally up to two on the season and shows no signs of slowing down.
Jack Harrison scored four goals in his rookie season and added seven assists.
No looking back
Following Jack Harrison's early first half goal, the boys in blue never looked back. Chances continued to fall for NYCFC as Maxi Moralez and Rodney Wallace both had great opportunities to extend the lead of the road side. David Villa had some chances as well but Philadelphia keeper Andre Blake kept his side in the game.
The chances all came from long buildup play due to Philadelphia's lack of a high press. Tired legs amongst Philadelphia's front line made it impossible for them to press high on NYCFC's backline.
Class is permanent
As NYCFC continue to score, David Villa continues to get on the scoresheet. After scoring 41 goals in his opening two seasons at the club, he continues to score goals at 35 years of age. David scored his fourth goal of the season and it wasn't definitely the best of the bunch. When all other players on the pitch are too tired to move, David Villa continues to run.
First time, on the volley from just about midfield, the Spanish National Team all-time leading scorer chipped 2016 MLS Goalkeeper of the Year. Yes, you read that right. David Villa chipped Andre Blake from just about midfield on a volley and celebrated like he had done it hundreds of times before. 2016 MLS MVP David Villa looks like he wants to lift the trophy again.
Patrick Vieira's substitutes
Patrick used two of his three substitutes on Friday night and both were positive. Goalscorer Jack Harrison was taken off first and was replaced by the second overall draft pick in 2015, Khiry Shelton. Tired Andrea Pirlo was also taken off and Vieira told Yangel Herrera, who is currently on loan from Manchester City, to fight hard in the midfield and make nothing easy for a tired Philadelphia side, and he did just that. Vieira makes two great substitutes that sealed the three points for his side.
What's Next?
Philadelphia will welcome the Montreal Impact and continue to search for their first win of the 2017 MLS season. New York City FC will return home and welcome Orlando City SC, who topped them to start the season. NYCFC will look to get back at fellow 2015 expansion side at Yankee Stadium.