 I've only been to Montréal once, for an Expos game. It was a fun game, but I was only in Montréal for about a day and a half, and spent most of it at the baseball game. I didn't get to see much of the city itself, and I've always regretted that, because it looks like a pretty great place. Every year when the MLS schedule comes out, we try to plan one non-Cascadia away trip, and for one reason or another, Montréal has never worked out timing-wise for us. And every year, I regret that, because I really want to go.
This year, though, I don't regret not being able to go to Montréal.
The Good
(this space intentionally left blank)
The Bad
Diego Chará. Talk all you want about how it wasn't a vicious hit, or a swing with intent, or that Ignacio Piatti made more of it than it was, or whatever. The fact is that Diego Chará hit an opposing player in the face, and even in refereeing-challenged MLS, that's a red card every single time. As it should be. There's no excuse for what Chará did, and it pretty much cost Portland the game, because...
Anonymity. ...having Chará out of the game meant that Darlington Nagbe ended up dropping back and playing a lot deeper than he normally does, which completely neutralized Nagbe and removed a crucial link between David Guzmán and Diego Valeri. Without that link, Portland struggled on both sides of the ball; they couldn't really create much except for acres of space in which Montréal could operate on their attack.
Timber defending. I get that it's hard to defend when you're down a man, because you're doing a ton of extra work. But the Timbers, right now, are not a good defensive team. With essentially their first choice back line in the game, they still gave up four goals to a team that had only scored 14 goals in its first 10 games this season. They also made Piatti look like an all-world superstar - he's a good player, for sure, but the Timbers made his day really, really easy.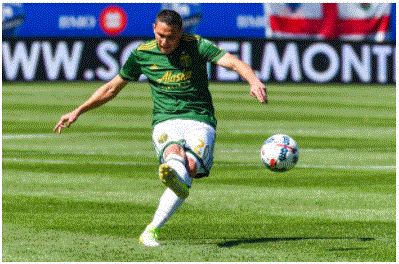 The Ugly
Tell me with a straight face that you think this is a legitimate penalty. I am the last person to blame the referees for a team losing a game, and I don't think that Jair Marrufo cost the Timbers this game - Chará took care of that by getting sent off like an idiot - but that was the softest penalty I've seen in a long time. Blerim Dzemaili took a tap on the shoulder and turned it into a barrel roll, and his team got rewarded for it.
MLS needs to do something about its referees - every year they make noises about improving referee quality, and every week in every season, there are any number of calls, by more than one referee, that can be pointed to as inexcusably bad. It's a huge problem, and until Don Garber and the MLSPU take steps to address it, MLS will be a lesser league for it.