 Cascadia rivalries are very rarely calm affairs and are very rarely uneventful. Saturday's match between the Portland Timbers and Seattle Sounders was no exception, with the Timbers left holding the empty bag, yet again, although they can feel somewhat hard done by thanks to a couple non-calls, one a clear handball in the box that should have given them a penalty and one a Clint Dempsey elbow to the face of David Guzmán that should have been a red card, and also cost Guzmán the second half of the game.
But those are all what ifs; the bare facts of the matter are that for all the good Portland did in the first half, they did as much or more bad in the second, and that's why they go home empty handed, winless now in five before facing San Jose Earthquakes at Providence Park Friday night.
The Good
Shots. The Timbers had a ton of them; 19 for the game, in fact. The offense that has struggled to click in the past few games did so very well in the first half, for the most part, until they got into actual dangerous spots. Through a combination of bad luck and a strong, collapsing-on-shooters Seattle defense, Portland's shots all obviously came to nothing, but it wasn't for lack of effort, at least in the first half.
Zarek Valentin. He isn't going to be an all-star anytime soon; he's the basic definition of "MLS journeyman". But I don't mean that as an insult, at all. He's solid. He came in to essentially replace Diego Chará on Saturday, and while he didn't replicate Chará's range and work rate (nobody can do that), he was solid enough and he didn't make a lot of huge mistakes. Which is exactly what you want out of the Zarek Valentin's of the world.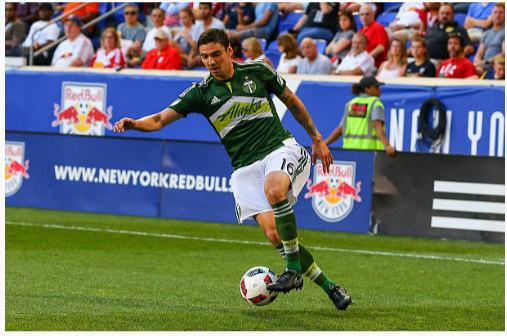 The Bad
Diego Valeri. I am in no way anti-Diego Valeri. But this was a bad game for the Maestro. Whether that's down to the fact that Seattle's defense focused on him, pulling him out of the game, or whether it was just one of those days, Valeri just wasn't his usual self on Saturday, and it really hurt the Timbers. He was slow, ineffective, and overall will probably want to forget this game pretty quickly.
Vytas. Ever since he's been in Portland, Vytas has been sort of a revelation. He's a hard worker, he's always in good position to defend the attacking play, and he's good at pushing forward generally and starting an attack. But, everyone has an off day, and Saturday was his. I lost count of the times he bombed forward down the left-hand side and crossed the ball to, well, to whoever was there - the Timbers, the Sounders, the referee, whoever. Like Valeri, he'll want to put this game behind him, and the Timbers will need him to if they are to break out of this slide they're in right now.
The Ugly
I mentioned last week, both here and on Twitter, that the words "Head Referee: Mark Geiger" are words that unite normal bitter rival fanbases Seattle and Portland in fear and trepidation, and Saturday he lived up to that billing. The two missed handballs, the hesitation to call even the most obvious fouls, and the fact that Clint Dempsey elbowed a dude in the face with no repercussions all added up to his usual messy game calling; within 20 minutes, the game was pretty much out of his hands, and he never really got control of it.
I've said it before, I'll say it again: MLS needs to do a better job with its referees. Soon.