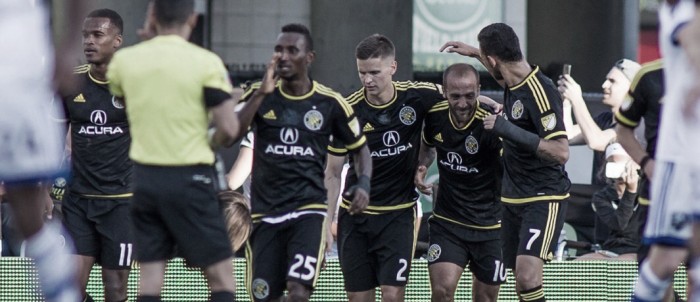 Back home after two weeks away, the Columbus Crew SC hosted the Montreal Impact in a crucial Eastern Conference battle.
Striker Ola Kamara almost replicated his goal against the New England Revolution just two minutes into the first half, but the shot went way high over the crossbar. Minutes later, Ignacio Piatti found room inside the Crew SC penalty box, but the danger was cleared out.
Wild First Half
The fans at MAPFRE Stadium wanted a penalty called when winger Ethan Finlay was taken down inside the box by Kyle Fisher. The free kick from Federico Higuain glanced off the head of Wandrille Lefevre and into the back of the net. Columbus would take the lead 1-0.
Just two minutes later, Anthony Jackson-Hamel would find the equalizer close range with the assist coming from Blerim Dzemali.
Higuain was close to getting a go-ahead goal in the 31st minute when he caught Impact keeper Evan Bush way off his line and tried to chip the ball into the net, but the Impact defenders were there to clear the ball off of the line.
Columbus again had three great chances to take the lead, but couldn't convert.
A wild first half came to a close with the score level at one.
Manneh Takes Over
The Impact came close to gaining a one-goal lead after a limping Josh Williams tracked back and nearly headed the ball into his own net. Goalkeeper Zack Steffen was there to clean up the mess and keep the game level.
Seconds after being subbed into the game, Kekuta Manneh scores his debut goal for the Crew, which gave the home team a 2-1 lead.
Just two minutes later, Manneh contributed once more, as he sent in a cross that found the left boot of Ola Kamara, who scored to up the Crew's advantage to two.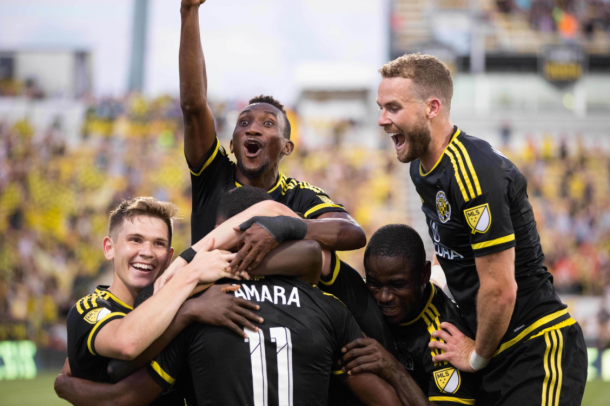 The Impact earned a free kick with four minutes remaining in the match. Dzemali kept the ball low but Steffen was there to make the save. A few minutes earlier, Steffen came up huge when Piatti took a shot and the Pennsylvania native saved the shot with his face.
A Brace For Higuain
In the 88th minute, substitute Adam Jahn headed down the ball to Higuain, who calmly slotted his shot home to get his second goal of the game. His goal gave Columbus a 4-1 lead.
This was a statement win for the Black and Gold as they cruised to a 4-1 win over the Montreal Impact. With the win, Columbus improved to eight wins on the season and remain in the hunt for a playoff spot..
Coming up
Next week, Columbus play host to expansion side Atlanta United, while Montreal will play the return leg of the Canadian Championship against rivals Toronto FC.