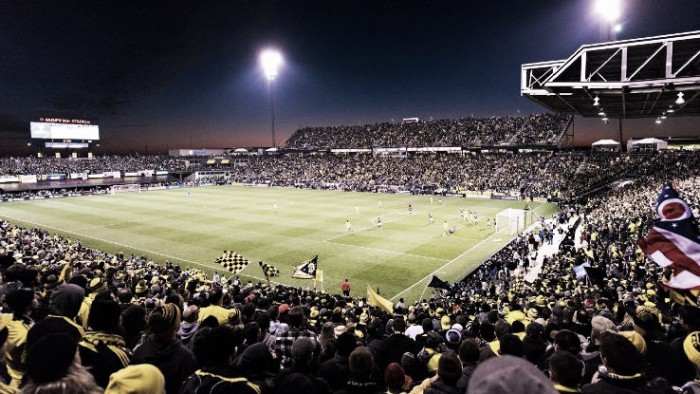 FULL TIME: Atlanta United defeats Columbus Crew SC by a score of 2-0. Thank you for joining me tonight. My name is Tyler Fisher, see ya next time!
90' Garza takes on the head to keep the clean sheet. 2-0 Atlanta.
82' Brandon Vazquez replaces Martinez for Atlanta United. Yellow card caution to Alec Kann for time wasting.
81' Manneh finds his way into the box. Tries to play it backward but it's deflected out for a corner kick.
81' Pipa gets a sight of goal but he's well offside in the process.
77' Nico Naess replaces Jonathan Mensah for Crew SC's final sub of the match.
75' Larentowicz conceded a corner kick for Columbus.
20,391 is tonight's attendance at MAPFRE Stadium. First sellout since September 26, 2015.
68' Adam Jahn replaces Justin Meram for Crew SC.
67' Julian Gressel replaces Villalba for Atlanta.
64' GOAL. Villalba nets his second of the night. 2-0 Atlanta.
61' Kekuta Manneh replaces Ethan Finlay for Crew SC's first sub of the match.
60' After a surging chance by Columbus, Higuain is stripped and Atlanta breaks. Villalba receives a through ball for a 1v1 against Steffen again, but his attempt goes left.
58' Mensah's header goes wide left of the net. Goal kick Atlanta.
55' Afful sends in a cross to Higuain but it catches the far post and out. Good chance by Columbus.
49' Columbus had good looks on goal, but couldn't convert to equalize.
45' Second half from MAPFRE Stadium has begun. Atlanta leads 1-0.
HALFTIME: Atlanta United lead Columbus Crew SC by a score of 1-0.
37' Martinez all alone against Steffen, but his shot goes wide left of the frame. Score still 1-0 Atlanta.
Atlanta United goalkeeper Alec Kann gets credit for a secondary assist on the opening goal.
29' Yellow card caution to Crew SC's Justin Meram.
28' GOAL. Hector Villalba puts the away side on the scoreboard first. 1-0.
24' Goal kick Crew SC.
19' Steffen saves Villalba free kick, and the break is on. Things starting to pick up here in Columbus.
18' Free kick Atlanta, about 27 yards out.
12' Almiron strips Harrison Afful and goes 1v1 with Steffen. His shot ricochets off of the near post and out. At the other end, Meram gets a shot off but the save is made by Kann.
11' Corner kick Crew SC. Gonzalez Pirez redirects a Meram cross out of bounds, and almost into his own net.
5' Free kick Atlanta. Josh Williams takes down to United players.
2' Carmona gets whistled for a foul.
1' KICKOFF!
7:23 pm EST: Just about 10 minutes away from kickoff. Go check out my newest poll on my Twitter page (@LWOS_TylerF), to let me know who you think will win tonight's game!
6:37 pm EST: Here is the starting lineup for Atlanta United.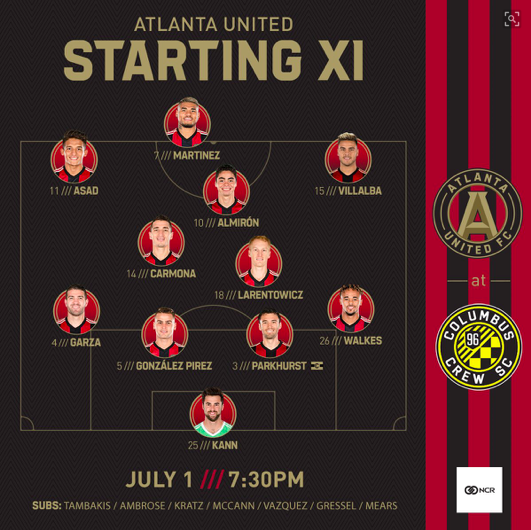 6:32 pm EST: Here is the starting lineup for Columbus Crew SC.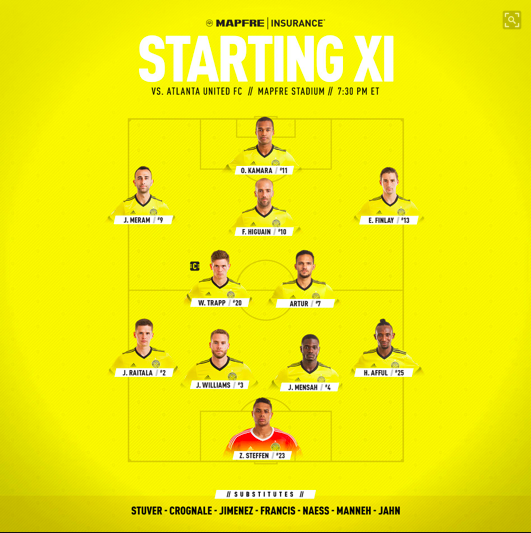 6:27 pm EST: Asamoah Gyan brings one back for Ghana. 2-1 in the 62nd minute.
6:20 pm EST: Kelyn Acosta makes it 2-0 for the USMNT!
5:36 pm EST: Walked into the press box just in time to see Dom Dwyer score the opening goal. 1-0 USMNT
Prediction: Midweek clashes are usually rough. Especially if you have to travel from state to state. But having almost a week off can be beneficial. Columbus is the more rested team in this scenario and will use their health to come firing out on all cylinders. They will win this match, but not by much.
Here is the projected lineup for the home side Columbus is led by head coach and sporting director Gregg Berhalter. They will be lining up in a projected 4-2-3-1 formation as well.
Columbus Crew SC 2-1 Atlanta United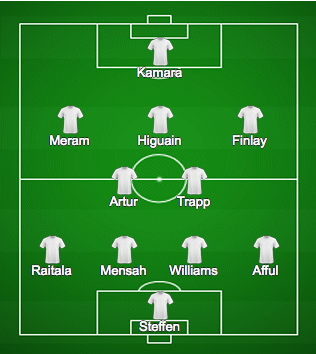 Here are the projected lineups for the game starting with the road team Atlanta United. They are led by head coach Tata Martinez and will be lining up in a projected 4-2-3-1 formation.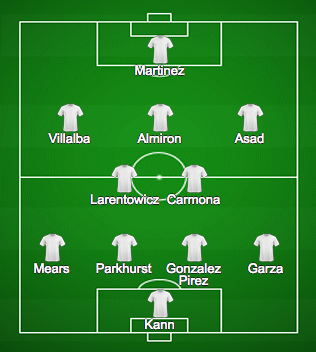 A key point for victory for the Black and Gold will be to play their game. Columbus has a certain style of play that's identifiable to any and every team. They play differently than any other team. Stick to the plan, and you have yourself three points in front of a home crowd.
On the home side, one player to keep an eye on will be Federico Higuain. The midfielder is finding his groove at just the right time. He and forward Ola Kamara both sit with nine goals this season. "Pipa" Higuain is the saving grace for Columbus. Without him in the central midfield position, Columbus would be vulnerable and not be good.
One key for Atlanta in this match if they want to win, will be to pressure Crew SC high. A high-pressure line will force Crew SC to play quick, thus throwing them off of their usual game. If executed correctly, Atlanta can leave Columbus with three full points.
One player to keep an eye out on for the away side will be midfielder Miguel Almiron. In the recent meeting between the two clubs, Almiron put the icing on the cake after he made it 3-1. He also leads the team in goals this season with eight. Martinez sits behind him with seven.
The match is set to be played at MAPFRE Stadium in Columbus, Ohio. Kickoff is scheduled for 7:30 pm EST.
You can catch up on all the new issues by clicking here, and here.
"My initial tweet was competitive locker room talk, just like when players tweet their 6 a-side winning team picture. Gregg and I spoke early the next morning and discussed why it was sent out and how it was portrayed. We had a quick talk, everything was kosher. After training as I got home, a teammate sent me a text about his media response to the tweet. I was taken by surprise and not happy. He completely twisted any truth of the meaning of the tweet and said nothing about the conversation we had. Clearly, it's not a good situation." - per Patrick Murphy of Massive Report
Duka was made aware of his statement by a teammate. Shortly after, Duka contacted Massive Report to voice his side of the issue.
"We've talked to Dilly about it. What I'd say is there's a huge trust built inside the locker room and you don't want to violate that trust. That's all I'll say on that matter." per Patrick Murphy of Massive Report
Head coach Gregg Berhalter addressed the media in his statement.
Midfielder Dilly Duka apparently isn't happy with his role at the club, and he made it known to Twitter.
In other news, there has been trouble in Crewville.
For Columbus, they will be without winger Niko Hansen who is undergoing hernia surgery. But, they will regain two Ghanaian defenders in Harrison Afful and Jonathan Mensah. There will be a question on if they will start or not. Mohammed Abu, the other Ghana native is out on International Duty.
Atlanta is back with forward Josef Martinez. Meanwhile, they wait for the full recovery of two more key pieces in Kenwyne Jones, and Jacob Peterson. Head coach Gerardo "Tata" Martinez expects to have them back after the Gold Cup break.
Columbus, on the other hand, is looking to get more wins. As the International Break nears, Columbus wants to start the month of July off right.
With Atlanta playing their US Open Cup match midweek, they will be going into this match with tired legs. Atlanta wants to shift momentum back to their winning ways. With a win against Columbus, they can leapfrog into fifth place in the Eastern Conference.
The last match for Atlanta United came in US Open Cup play. The Five Stripes traveled to Miami, Florida where they took on Miami FC. They would go on to lose 3-2 and be eliminated from the tournament.
However, Columbus responded in their matchup with a 4-1 win over the Montreal Impact. A brace from Argentine midfielder Federico Higuain lifted Crew SC to a win.
These two teams met just a few weeks ago in Atlanta, Georgia. The outcome leaned in favor of the home side Atlanta as they cruised to a 3-1 victory over the Black and Gold.
Hello, and welcome to VAVEL USA's LIVE coverage of Major League Soccer! My name is Tyler Fisher and I will be your host for this must-watch match. Today's game features Columbus Crew SC as they host expansion side Atlanta United.