FULLTIME: Columbus Crew SC come back from the Gold Cup break, earning a 1-0 win over the Philadelphia Union.
Both teams have used their allotted three subs. The final sub came from Crew SC when Adam Jahn replaced Ola Kamara.
A lot of things happened after the Meram goal. Sorry if I forgot any major details.
17,418 is tonight's attendance at MAPFRE Stadium.
68' Yellow card caution to Jack Elliott of the Union.
66' GOAL! Justin Meram opens the scoring for the home side! 1-0 Columbus!
Artur putting on the Brazilian speed to pressure McCarthy.
59' Simpson breaks away from two defenders and rushes on to a ball on net, but Steffen is there to claim it.
A sequence of attacks for Columbus, but they can't convert.
54' Mensah stops a promising attack, forcing a throw in for the Union.
Hector Jimenez replaces Harrison Afful to start the second half.
45' HALFTIME: Columbus Crew SC 0-0 Philadelphia Union.
42' Free kick Columbus. Manneh to take it. Deflected out for a corner kick Columbus.
40' Manneh finds Meram to his left, realizes he can go on a first touch. A finesse curl just misses the upper 90 of the net. Scoreless with four minutes left in the first half.
38' Manneh had a good look on goal with the ball sitting at the penalty spot that was eventually cleared out of play.
36' Kamara starting a counter attack. Finds Manneh at the switch side of the pitch, but it's intercepted.
Within the first 30 minutes of this match, Philadelphia has had one corner kick. Columbs has four.
29' Corner kick columbus. Again.
25' Meram slots a ball into the penalty area, but Artur is offside.
23' Close chance for the Union. Epps curls one towards net but it's wide left of the target. Goal kick.
Afful loses the ball but takes it right back to start an attack, but it's out for a throw in.
21' Corner kick. Third so far for Columbus.
18' Quick pass from Trapp to Afful but it's too far for comfort.
Manneh goes down holding his left ankle. Not a good sight for Columbus.
13 minutes in, still scoreless.
5' Well crafted attack by Columbus. A series of one-touch passes leads to a chance for Crew SC, but the cross in is deflected out by Yaro. Just a few seconds later, Kamara volleys a shot on target but McCarthy parries it out for another corner kick.
3' Free kick Columbus.
1' KICKOFF!
7:34 PM EST: Both teams and officials are making their way on the field. National anthem coming next.
7:25 PM EST: Just about five minutes away from kickoff!
6:56 PM EST: Midfielder Justin Meram making his 175 MLS start tonight.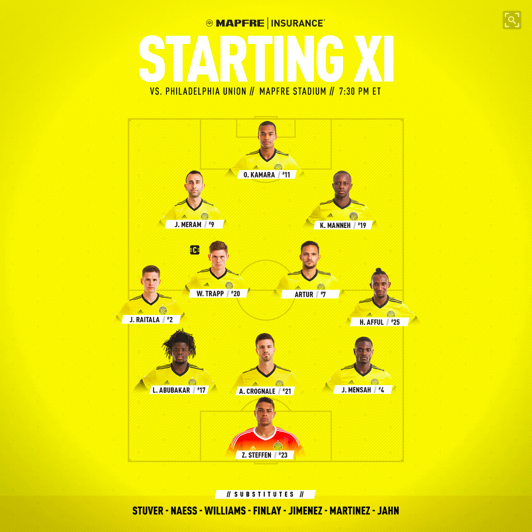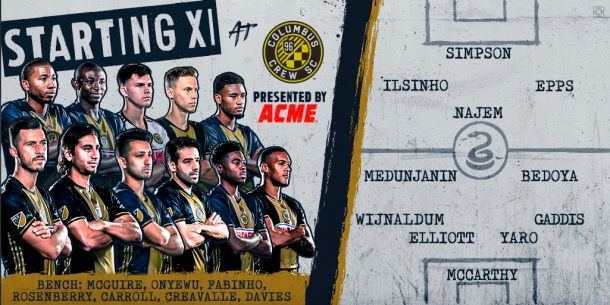 6:49 PM EST: Starting lineups are out for both teams.
6:17 PM EST: The last regular season outing between these two teams resulted in a 2-1 win for the Union.
5:54 PM EST: Rain, rain go away! It's a sunny evening here at MAPFRE Stadium. I'm all settled in the press box, looking forward to covering this match! As always, poll is up on my Twitter (LWOS_TylerF ) so go vote and tweet me questions!
3:56 PM EST: Big thunder just hit where I am. Heavy rainfall at the moment. Looking to clear about the 5 o'clock hour.
2:30 PM EST: As of now, The Weather Channel indicates that there will be a 30% chance of rain at 8, 40% chance of rain at 9. Better than the 60-70 that was predicted earlier.
11:15 AM EST: Good morning! It's a very rainy day in Columbus, Ohio. Here's to hoping the match won't get postponed! I'll keep you guys updated throughout the day.
So, I'm going to do something new with my predictions. I will do a FIFA 17 simulation using online squads, to determine my prediction result of the match. Starting with this game. You can catch the live inline prediction on my YouTube channel (Tyler Fisher). I ran the game already, and with a 2-0 scoreline, Columbus Crew SC will defeat the Philadelphia Union. Goals by Ola Kamara and Justin Meram will give Columbus a full three points at home.
The match officials assigned to this match are given the assignment by the Professional Referee Organization (PRO). The head official will be Silviu Petrescu. His assistants will be Philippe Briere and Eric Boria. The fourth official will be Fotis Bazakos.
The All-Time series leans in favor of the Black and Gold heavily. Overall, Columbus leads with a 10-7-1 record. When playing at Columbus, they too lead 5-4-0.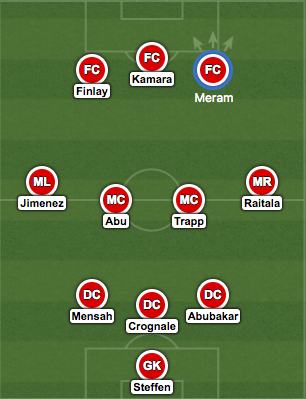 Here is the projected lineup for the home team, Columbus Crew SC. They are said to line up in a 3-4-3 formation. The head coach and sporting director is Gregg Berhalter.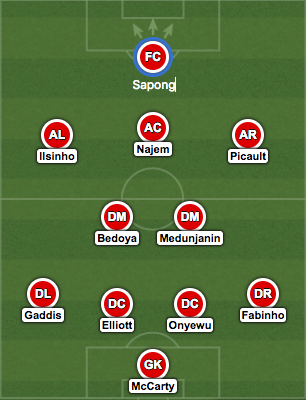 Here are the projected lineups for both teams, starting with the visitors, the Philadelphia Union. They will probably line-up in a 4-2-3-1 lineup. Their head coach is Jim Curtin.
Fun fact for the Union: Following the 2-1 loss against the Impact, Philadelphia have now lost three of their last four road MLS matches and won only once in nine overall road games this season, earning them a 5L-3D record
A win over a team above them in standings would be ecstatic for a team who's looking to make the playoffs in consecutive seasons,
A key for the Union, they are getting the return of Alejandro Bedoya. With his return, this could give a much-needed boost in the midfield. However, they will still be without number one goalkeeper Andre Blake as he is preparing for Jamaica's semifinal match with Mexico in 2017 Gold Cup Cup.
A key to the match for Columbus is that if they are still true to playing three in the back, they need to make it work effectively. It worked really well against Frankfurt, but the high pressure from the German's scattered the ball back to goalkeeper Brad Stuver multiple times in a consecutive sequence. The high full backs will need to do their part if their main tactic is to track back to cover wing space. One key player to watch out for from Crew SC will be midfielder Federico Higuain.
The Union sits just two spots back from Crew SC. They can level or get a better place in the standings because they have played one less game than the Black and Gold.
Fun fact for Crew SC: With their 2-0 loss to Atlanta United, marked the first time in their last 19 home games that they were shut out.
It's also worth noting that neither Kamara, Federico Higuain, nor Justin Meram made the MLS-All Star roster. Shocking right?
Columbus has to switch gears as we head into the second half of the season. Currently sitting in seventh place in the Eastern Conference, Columbus has nine wins in 20 games played. A recent league result held positive when Crew SC defeated new expansion side Minnesota United by a 1-0 scoreline. Winger Kekuta Manneh scored the only goal that gave Columbus three points on the road.
For the home side, they have had more than 10 days off of league play. Their most recent match was an International Friendly against German Bundesliga side Eintracht Frankfurt. Norweigan striker Ola Kamara was the lone goal scorer in that match when he tapped in a low cross from Christian Martinez in the 25th minute.
The visiting Union is coming into this match today after being defeated by the Montreal Impact by a score of 2-1. Without midfielder Ignacio Piatti, Swiss International Blerim Dzemali stepped up to the plate and scored the game winner to give the Impact a full three points at home in heavy rain. Without Piatti, there wasn't a problem. Mostly. Although the Impact relies heavily on their Argentine maestro, the attack was then led by Dzemali, Michael Salazar, and homegrown player Ballou Tabla. However, the defensive pairing in Chris Duvall and Laurent Ciman, who gave away big chances to the lone Union goal scorer Fafa Picault who drew the visiting side level just before halftime.
Hello and welcome to VAVEL USA 's Live coverage of Major League Soccer. Today's match brings you the Philadelphia Union, as they travel to the Buckeye State to face Columbus Crew SC. My name is Tyler Fisher and I will be bringing you live updates and commentary of the match today! The match will be held at MAPFRE Stadium in Columbus, Ohio. The match is set to kickoff at 7:30 pm EST. You can catch the match on MLS Live, The Comcast Network, CW Columbus, Spectrum Sports OH, and BCSN2.